No question about it. Woolworths has finally got itself a management team that's turning the business around after the failed strategies of its past 2 CEO's.
This morning's profit result reflects this. The business is stabilising and has regained its competitive mojo. This is reflected in very strong same store sales growth in its supermarkets which was up 6.4% in the June quarter. While management reports sales growth has since backed off to around last year's average levels of 3.6%, it seems that customers are responding to lower prices, refurbished stores and a renewed focus on customer service
The bottom line is that Woolworth's management team is delivering well on a clearly articulated strategy. Over the next couple of years, this carries potential for earnings growth driven by productivity enhancements plus the potential to create value by improving Big W to the point where it's a saleable proposition.
However, all this needs to be put in the context of industry risk. Price competition between Coles, Woolworths and Aldi has been cutting profit margins and this could be exacerbated by the arrival of Amazon.
At around 21 times forward earnings, Woolworths might be "fully" priced in light of these medium term industry risks.
 This morning's rally seems to have attracted profit takers and this has seen the price back off a key chart level
Weekly chart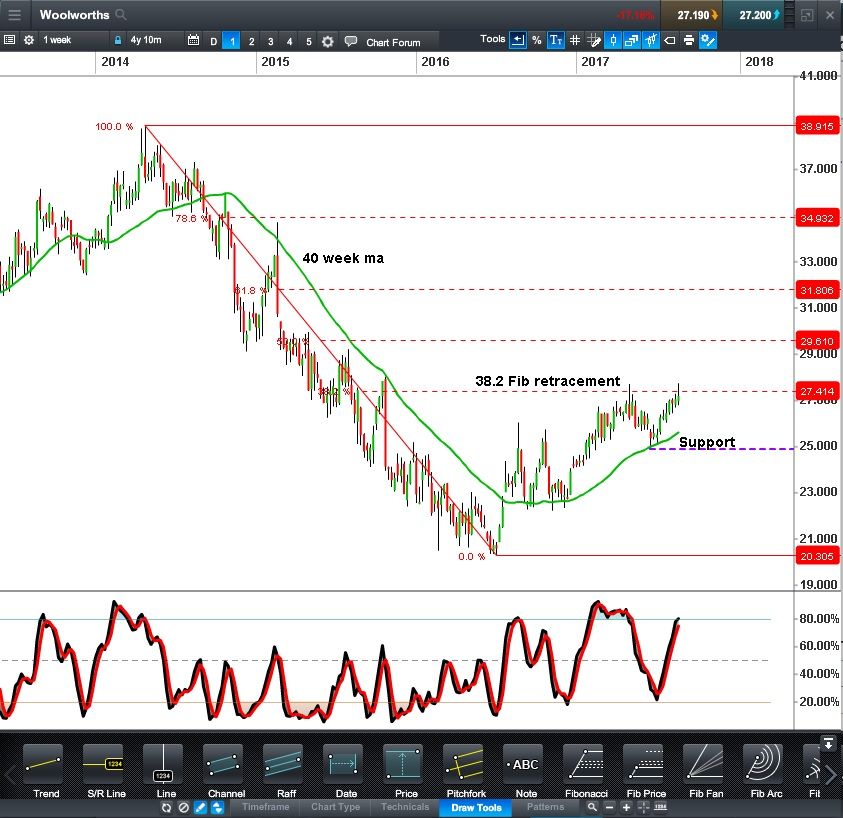 Looking firstly at the weekly chart, a key feature is that back in May, the market reached but then fell away from the 38.2% retracement level. This is common behaviour. From here a break up through 38.2% would be potentially bullish, indicating potential for a rally to higher retracement levels.
However, Woolworths failed to break up this morning, creating a potentially bearish scenario for the short term.
While on the weekly; you can see that this is one of those charts where the 40 week (200 day) moving average has consistently acted as support and resistance. It formed resistance for most of the major downtrend. Since then it has acted as support. That makes the $24.80/$25.50 level significant support. A clear break below that would complete a double top and presumably require some fresh bad news
Daily chart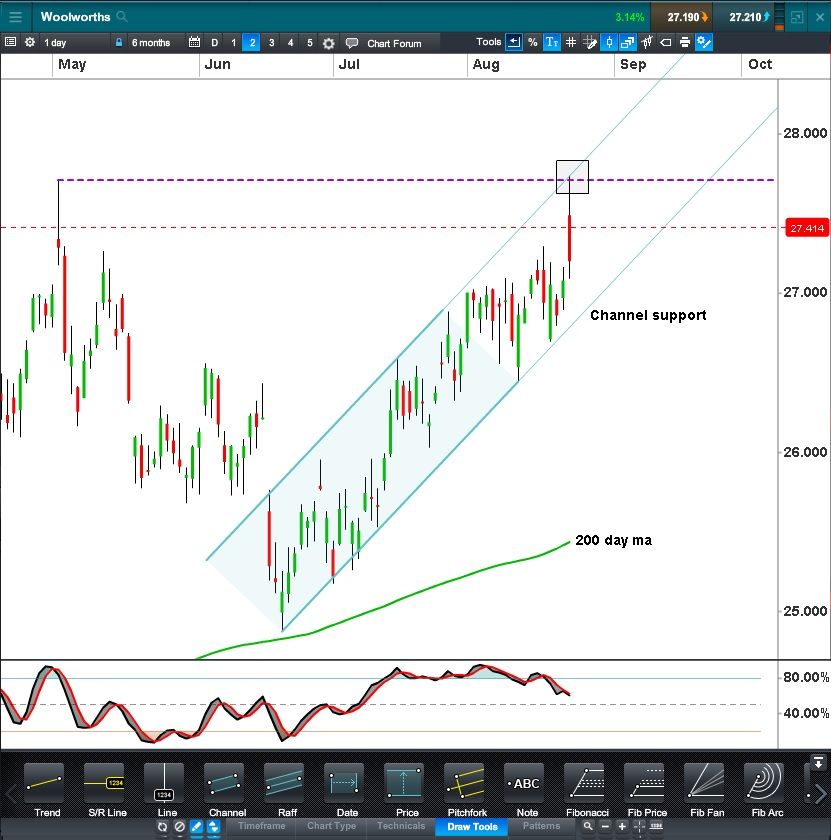 The daily shows this morning's profit taking turning the tide neatly at the resistance of last May's high
This also picks up the resistance line of a trend channel that has defined the rally over the past couple of months.  That makes the trend channel support a key level. A clear break below that support at around $26.80 could indicate a pull back towards the 200 day moving average which might be a more attractive risk: reward entry point for those looking to buy Woolworths and back the management team.