The oil market backed off chart resistance last night after news of production increases by Opec and Russia. As often happens, energy producer Woodside Petroleum has hit resistance at the same time.
Oil
Opec pumped more oil in April, swamping the benefit of production cuts in the US. According to Bloomberg, Opec's production increased by .484m barrels a day to 33.217 m. Russia chipped in as well, increasing exports by 214,000 barrels to 3.117m
The Opec increase was mainly attributable to Iran and Iraq. Iran is surprising to the upside with the speed that it's been able to restore production after sanctions against it were lifted. Total production was up by another .3m in April to 3.5m barrels per day.  Iraq contributed a further .16m barrels to world surpluses, increasing its daily production to 4.31m
This saw Brent oil reject the chart resistance, outlined in my post on Friday
Woodside chart
Woodside is  mainly a gas producer. However, it's gas prices have a lagged relationship to oil making the share price responsive to significant changes in the oil outlook.
Woodside's share price is currently sitting at chart resistance made up of:
An established down trend line

The 40 week (200 day) moving average and

The 38.2% Fibonacci retracement of the last major decline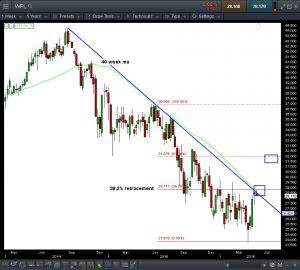 Woodside Weekly
Source CMC Pro Platform
As with oil, if Woodside does fall away from here, it might only mean the end of the first leg in a larger upward move. It's common for the first move in an upward correction to finish at the 38.2% retracement
Looking at things the other way, if there is a clear break through this resistance in the near future we could see a rally to higher retracement levels like 61.8% at around $32