With a year of blockbusters for Walt Disney – including Ant Man and the Avengers: Age of Ultron, here's a preview of  Disney's full year results and thoughts on the year ahead which will see its most anticipated movie, Star War: The Force Awakens.
In this report, I cover:
Disney's performance following a year of movie blockbusters
How Frozen merchandise has flown off of the shelves to help Disney overtake Mattel's Barbie
The impact online competitor Netflix is having on Disney's broadcast networks
How Walt Disney shares have outperformed traditional competitors Time Warner
The impact of this year's highly anticipated movie Star Wars
Walt Disney is scheduled to report earnings after US markets close on the afternoon of Thursday November 5 (Friday morning Australian time). The quarter itself is expected to be a bit of a lull, covering the period in between the company's two biggest releases of the year.
Earnings for the September quarter are expected to be $1.14 per share, down from $1.45, which included results from the Avengers: Age of Ultron. This quarter's results could get a boost from "Ant-Man", but there are two main areas traders may focus on in the results and outlook.
First, results from the broadcast division could attract attention. Slower ad growth raised questions about how much new streaming services like Netflix are eating into the audiences and profits of existing broadcast networks like Disney's ABC and ESPN. Weakening prospects for this side of the business sent the shares sharply lower after last quarter's earnings announcement. The shares have clawed back much of those losses but could be active around this quarter's report.
The chart below shows how Disney shares have outperformed traditional competitors like Time Warner but their advance pales in comparison with Netflix in the last year.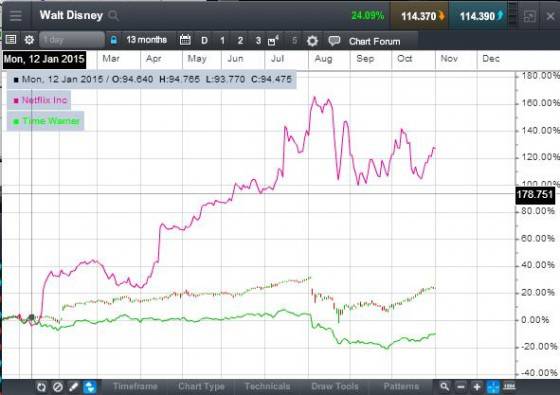 Walt Disney CFD Daily
Click to Enlarge
Second, and by no means least, traders may focus on what guidance Disney may give about the prospects for profits from is upcoming Star Wars films. Details surrounding the plot of "The Force Awakens" have been scant, but that hasn't stopped fans from buying up advance tickets in droves.
Initial demand was so strong that several ticketing sites crashed under the volume. Recent speculation has traders wondering if Star Wars could exceed the $209 million opening weekend for Jurassic World, and even go on to beat the box-office record set in 2009 by James Cameron's "Avatar".  Electronic Arts has already indicated that the Nov 17th launch of the new Star Wars: Battlefront game is expected to be a big contributor to its earnings this quarter, with 13 million copies expected to sell this fiscal year.
With Star Wars opening late in the quarter (Dec 18th) a strong start could carry strength over into the new near and the next quarter as well. A successful relaunch of the franchise under a new generation of filmmakers could stoke speculation for the success of the five additional Star Wars movies that have been scheduled so far over the next several years.
The chart below shows how strongly Electronic Arts have performed this year, indicating strong expectations for Star Wars launches this year.
Disney shares had been in an uptrend as well through much of 2015, but were knocked for a loop by last quarter's results, gapping down from $120 to $114 initially but then falling toward $90 before finally regaining their footing. The shares have been recovering over the last month, but have started to run into resistance at the August gap.
With RSI suggesting the shares may be getting overbought, the share be vulnerable to a disappointment in earnings or guidance. On the other hand, strong Star Wars expectations could give the shares the force to power through resistance and resume their uptrend.
Finally, traders may take an interest in Disney's merchandising efforts and how that may affect other companies, in particular the competition between Disney's Frozen items and Mattel's Barbie line. Last year, Frozen products knocked Barbie off her throne for the first time in decades, Falling Barbie sales have been weighing on Mattel's fortunes throughout 2015 as well with the toymaker recently posting another big miss.  The chart below shows how Disney has outperformed Mattel in a big way over the last year, although interestingly Hasbro has done better than both of them.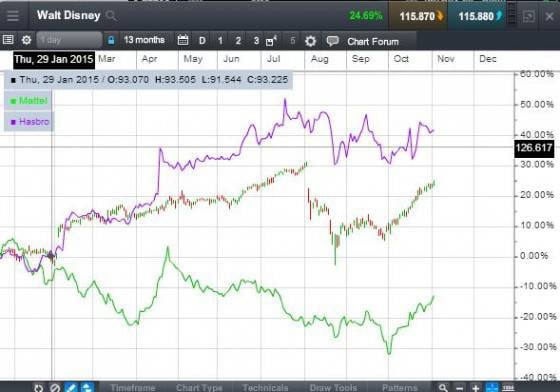 Walt Disney CFD v Mattel and Hasbro