As we head into the big Black Friday and Cyber Monday shopping weekend, here's a look at its growing importance for national retailers in the UK and US.
It's increasingly looking like Santa may have a lump of coal for traditional bricks and mortar retailers, as more and more shoppers move to make their holiday purchases online.
Q3 earnings season for major merchandisers is now underway, and many traders will be focusing on guidance for the upcoming holiday season – the key quarter where many retailers make most of their profits for the year, and hope to earn enough to sustain them through the winter.
Recent news from retailers shows a striking difference between traditional and online retailers.
Macy's beat the market by a penny on earnings in its October quarter, but posted a 3.9% same store sales decline – much worse that the (0.7%) the market had expected. Worse for the key November to January quarter, Macy's indicated it expects to earn $2.54-$2.64, which, again, is way below the market $2.95 consensus, with same store sales expected to decline significantly in the (2.0%) to (3.0%) range.
Back in October, Wal-Mart saw its share plunge after announcing if expects EPR to drop (6%) to (12%) for the February 2016 to January 2017 fiscal year. In August, the company had cut its current fiscal year EPS guidance to 44.40-$4.70 per share down from $5.05 per share.
In contrast, Amazon.com beat the market on both sales, $25.3B to $24.9B, and EPS, $0.90 to $0.84, in its last quarter and is widely expected to grow sales by 22% over year in the coming quarter to $36B.
Holiday seasonal staff hiring plans also show the growing gap in demand expectations between online and traditional retailing. Amazon is expecting to hire 100K workers, up 25% over last year, whilst Wal-Mart and Macy's are expected to hold steady at 60K and 85K respectively. A number of retailers are expected to hire less staff this year, including JC Penney and Toys R Us. The shift to online purchasing also appears to be having a positive impact on logistics companies, with FedEx planning to hire 55,000 seasonal staff, up 10% from last year.
The holiday selling season has kicked off with a big bang overseas. On Single's Day in China, when online retailers run big promotions, both Alibaba.com and JD.com surpassed their sales from last year by noon, with Alibaba seeing sales of over $14bn in revenues in one day. Wow!
The big selling days in the United States, Canada and the United Kingdom are still to come – Black Friday, the busiest shopping day of the year in the US, is on Friday the 27th on November, with some stores opening in the evening of the 26th Thanksgiving holiday. Over that weekend we should get anecdotal reports on how many people pried themselves away from Turkey and Football to go hunting for deals.
Cyber Monday arrives on the 30th of November this year, when people who couldn't get what they wanted in stores historically have gone hunting for items online. IMO, however, the whole thing has become so big with stores in the UK and Canada also taking part in Black Friday sales that it's really the whole weekend, not just one day any more.
That being said, this year, retailers in the UK aren't showing quite as much enthusiasm. ASDA is cutting back on its Black Friday presence preferring to spread its sales over a number of days throughout the month. This comes as a bit of a surprise considering its owned by Wal-Mart, the king of US retail. It does show, though that even in global companies, local preferences count.
By Boxing Day, the traditional day for holiday sales in the UK and Canada, we'll see if anyone still has the urge to spend in stores or if they are more interested in going to see Star Wars over the 12 days of Christmas.
The widening gap in expectations between Amazon and traditional retailers can be seen in the chart below. Amazon's share price has nearly doubled over the last year while other retailers have stagnated or fallen.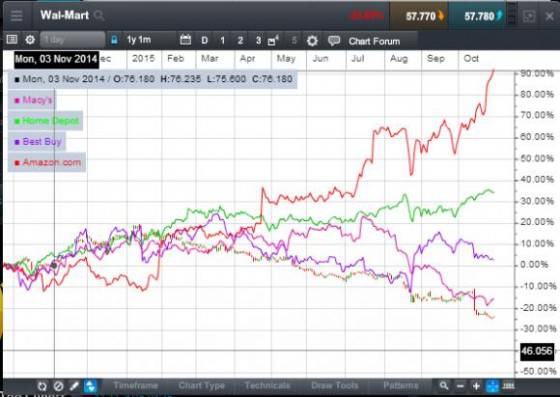 Walmart CFD daily
Click to Enlarge
A look at online retailing stocks suggests that the biggest story in retailing is Amazon's incredible outperformance over the last year relative to its peers both traditional and online. It will be interesting to see in the coming weeks if Amazon continues to outperform or if others try to catch up.
Action in Alibaba could be particularly significant as the shares have spent this year dealing with a hangover from the high expectations set by its big IPO, but it has started to recover lately.
Somewhat surprisingly, the growth in online shopping hasn't had a halo effect on companies who would be charged with delivering purchases to consumers. While Amazon's stock has exploded over the last year, UPS and FedEx have stagnated. Royal Mail outperformed them earlier in 2015 but the gap has been closing in recent weeks.
UK retailers have had a much better environment this year. UK retail sales excluding autos and fuel have been running at growth of 3-5% all through 2015 (wow!), although they have slowed a bit in the last month. This strong performance can be seen in the shares of major UK retailers. Overall, a robust selling environment may mean that UK retailers may not be under as much pressure as their North American counterparts to pursue deep discounts in pursuit of a one day win.
The chart below shows that UK retailers have outperformed Wal-Mart throughout the year. Marks & Spencer and Kingfisher have performed particularly well. Burberry and Tesco, however, have been trending lower for over six months now, they just have been falling at a slower pace.
Canadian retailers have had their ups and downs in 2015 after the Canadian economy was rocked by the twin oil price and CAD crashes. This sent the oil patch into a recession and has forced the broader into transition mode as it rebalances. Recent stock performance suggests that expectations aren't very high for holiday shopping.
The one interesting exception to this, however, has been movie theatre chain Cineplex which has been rallying over the last month, likely on anticipation of a strong finish to the year at the box office
It's been a rough year for movies and entertainment stocks, as the growth of Netflix and other streaming services has started to take a really big bit out of their cable channel profits. The movie side, however, could be heading for a big quarter with the surprisingly strong hit The Martian, setting the stage for the latest instalments in hugely successful franchises: James Bond, Hunger Games and Star Wars.
The chart below compares Disney with three companies that can be considered relatively more pure plays on the movie industry, Cineplex, IMAX and Lions Gate. After getting crushed in the summer, Disney has been on the rebound on expectations of a strong finish to the year at the box office. IMAX has posted an even bigger turnaround since the summer with so many movies that should look great on the really big screen on the way, while Cineplex's gains have been more moderate. Lions Gate was stronger in the summer and already appears to have priced in significant expectations.