What happened to all those "$10 a barrel" calls on oil? Strangely enough, now that oil has rallied by more than 50% off its February lows, the uber bears are silent. High global inventory levels mean a sustained oil price rise much beyond current levels is unlikely. However there is a case that energy stocks continue to carry a discount based on the risk of lower oil prices, and that further upward share price moves are justified by current market levels.
Much of the current energy market optimism relates to a meeting scheduled for this Sunday. Members of OPEC and other major oil producing nations, such as Russia, will discuss potential responses to low prices. Given nationalistic statements from Iran, Saudi Arabia and Venezuala in the lead up to these talks it seems very unlikely a workable agreement to limit supplies is possible.
The key issue working against agreement is trust. Too many agreements within and with OPEC have been observed in the breach. Too many times, bridge-building words were swept away by a flood of overproduction. Oil prices are rallying despite this dynamic, suggesting markets are tighter than previouslu thought. It's more likely the late rally last week related to the surprising and ongoing USD weakness.
Regardless, the oil market appears to have bottomed, and the cycle is turning.
The "right" investment decision is a matter of both market and personal considerations. In particular, the current components of an investment portfolio have bearing on the best stock to add to that portfolio. No matter how strong an investment case, if an investor already has substantial holdings in a stock, adding to those holdings reduces diversification and increases risk.
Luckily, many Australian investors have little or no exposure to the energy sector. Investors looking for long term growth and income should be aware that the sector is trading near eleven year lows. And while the S&P ASX 200 Energy index is up 10% since February, the bluest of energy blue chips is not: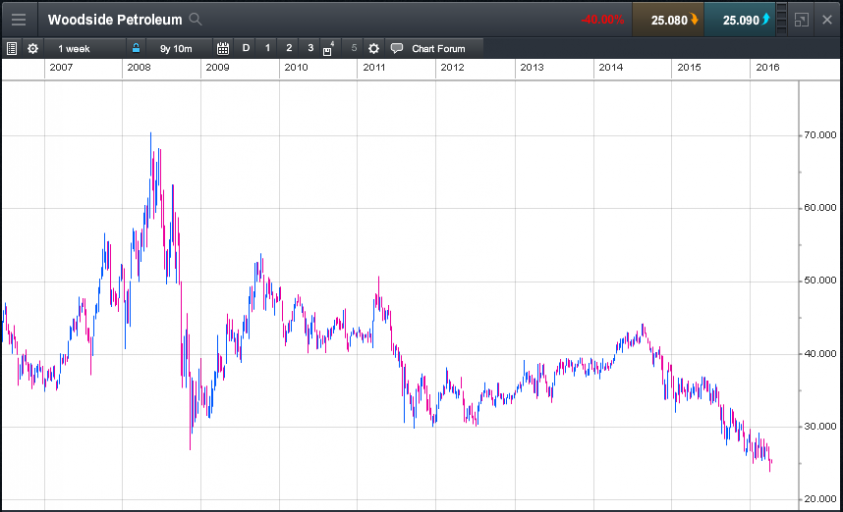 When a whole sector is trading cheaply, there is no need for investors to get too clever. When risk premiums are applied on a sector basis, they're often indiscriminate, meaning the best stocks are discounted as much as the worst. In my view, that's where Woodside Petroleum (WPL) sits.
Yes, Woodside's pre-GFC high is above $70 per share. Even post GFC, it has traded above $54, or more than double the current price around $25. The problem is a downward trajectory for earnings. In 2014, Woodside delivered US $3.05 in earnings per share. In 2015, this fell to US $1.37, although the consensus forecast was closer to $1.21. For the coming full year, analysts expect that same EPS to fall to just $0.75, before rebounding in 2017.
There may be two major problems with these numbers. The first is the oil price projections. The EIA forecasts for the daily market imbalance in the second half of this year are already moving from deficit towards balance. A balance in the daily supply and consumption by the end of this year would be a surprise to current oil estimates.
The second problem has to do with the long term supply contracts that underpin Woodside's major gas projects. Just as these contracts dragged on earnings as energy prices rose, they are supportive as spot gas prices fall. This may lead to the Woodside outperforming on its next earnings release.
It's hard to see purchases of Woodside at current share prices hurting the long term performance of a portfolio. Given the sharp response to any positive news in the market, it appears oil and energy shares are still shorted and/or under-owned. A single hurricane, contract, or pipeline explosion could change the outlook very sharply, and remove the first chance in eleven years to buy Woodside Petroleum shares close to $25.