As the saying goes a picture tells a thousand words. I thought this was a really instructive Santa rally chart produced by Bloomberg's technical analyst. It shows average daily prices in the S&P 500 for the past 30 years expressed as a percentage gain on the previous year.
Santa rally chart - S&P 500 Index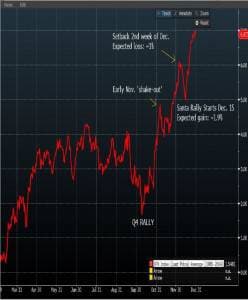 Santa Rally Chart
Source: Bloomberg
The chart shows that on average, Santa rallies begin on 15 December and that there is a correction leading into them in the 2nd week of December.
We are a bit early for the pullback according to this script. But it's only an average and last night's price action is at least a warning signal that a correction might be getting under way. The S&P 500 index made a large red candle last night. It was also a reversal day with the candle making both a higher high and lower low. The close was also below the previous day's low. Another lower close tomorrow would confirm a short term downtrend has begun.
Of course the ECB decision is due early tomorrow morning Australian time so a wait and see approach to all this might be prudent.
CBA chart
CBA is of course the biggest stock in the Australia 200 index. If  the index is going to have any sort of a pull back, CBA and the banks are going to have to fit in with this scenario.
That makes the CBA chart pretty interesting for index traders today. It's moved below yesterday's low this morning, potentially leaving a trend peak right at the AB=CD level as shown on the chart below. This also coincides with the 61.8% Fibonacci retracement and makes it a classic chart set up for a turning point that could set up for a correction.
Given the strong upward momentum of the past 2 days it may pay to wait for a close below yesterday's low to provide a bit of extra comfort about this scenario. If there is no trend peak here, CBA may yet push higher perhaps up to around the 200 day moving average or higher Fibonacci levels before correcting. This might fit more exactly with the 2nd week of December pull back scenario for the S&P 500.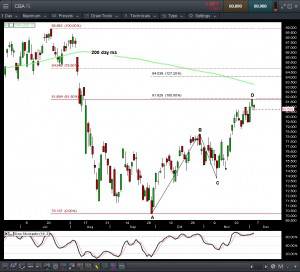 CBA.ASX
Source: CMC Pro Platform