%WIDGET|58989b52-657c-4563-9a2b-3d1eac192130%
Buying of Australian bank stocks has certainly had some urgency about it over the past 3 days.  Westpac, for example, is up 9%. There was a big gap higher at the open on Wednesday and each of the last 3 sessions has finished at or near its high.  You'd have to think short covering was in the mix there somewhere.
Sign up for market update emails
That said a couple of key technical levels are looming. The first is around $31.50. That level sees the 200 day moving average coincide neatly with a couple of key Fibonacci levels in the 61.8% retracement and a 127% ABCD projection. If the share price sails through this, $32.50 becomes a level of interest. Here the past trend line support coincides with the 78.6% retracement and the 161.8% ABCD projection.
Westpac is currently trading on a forward PE of around 12.5 compared to an average of about 13.3 since the beginning of last year.  On that basis it's still on the cheap side at $31.50. Given recent strong momentum $32.50 does not look too much of a stretch.  A typical trader's approach would be to use a trailing stop once $31.50 is hit looking to run the trend up to around $32.50
Westpac chart levels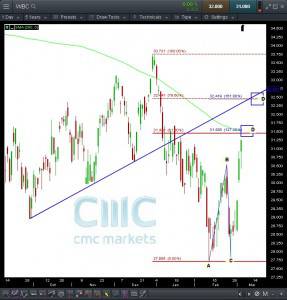 Westpac chart levels
Source: CMC Pro Platform