Markets have some concerns about Wesfarmers but there's a lot to like about this stock as well.  Chart support is close and it now has a dividend yield of 5.1% before franking.
Relentless price competition amongst supermarkets is the biggest concern. However, Bunnings, Officeworks and Kmart are strong businesses.
 The fact that Target has been brought under the wing of the proven Kmart management team looks like a plus. Despite Brexit, acquisition of the UK Homebase hardware group looks much more of an opportunity than a risk. Bunnings management are taking a cautious approach; applying their proven expertise to turn around a company with an existing revenue stream and scalable infrastructure.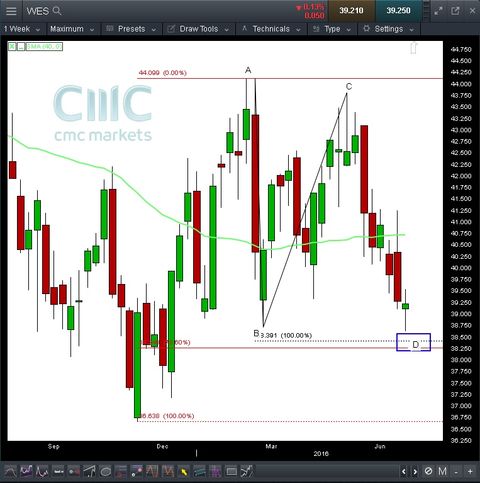 The recent sell-off sees Wesfarmers back to around 19 times F16 earnings and a dividend yield of 5.1%. That's good enough value to make chart support around $32.25-$32.50 look interesting, I reckon. This support consists of the 78.6% Fibonacci retracement and a harmonic AB=CD pattern. These harmonic patterns have been a regular feature of the Wesfarmers chart in recent times.
As usual with this type of support it's wise to let the market show some signs of rejecting it. If in these volatile times, the share price just drops straight through the support, even lower levels may yet be on offer.