Trade Me Group (TME.ASX) is a New Zealand based, but dual listed, online market place and classified advertiser. Its shareholders had a pleasant surprise in the form of a strong price rally in the stock price following release of its results on 20 August. Even after this rally, TME is trading on what looks like a relatively undemanding multiple of around 15 times forecast earnings.
The rally extended for a little over a week after the results were announced but has since drifted in an ever tightening range. This range has established a "pennant" pattern on the chart.
Pennants consist of a near vertical "flagpole" rally followed by a relatively tight symmetrical triangle pattern. They are looked on as potentially bullish, continuation patterns, representing a brief pause in a high momentum rally. The pattern is completed by a clear break above the triangle resistance, provided price hasn't worked too far into the corner of the triangle by the time the break occurs.
In this case, a clear break above the pennant resistance would also set up for a break above the 200 day moving average.
If the pennant doesn't set up and instead, there is a deeper correction, then the 50% and 61.8% retracement levels broadly between about $2.90 and $3.00 might be worth keeping an eye on. Signs that price is bouncing off these retracement levels might indicate the end of the correction.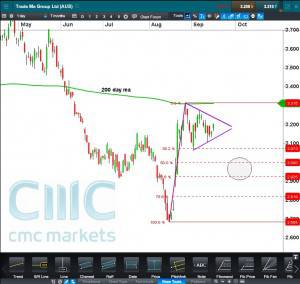 Trade Me CFD Daily
Click to Enlarge