Adam's weekly watchlist
By Adam Harris, Trade With Precision
Many "younger" or less experienced traders seem to feel the need to aggressively and energetically trade the much lower timeframes, from the one minute, to the 15 or 30 minute charts.
But while there is plenty to be said for the benefits of short timeframe trading, I also enjoy taking advantage of swing trading opportunities on the higher timeframes such as the Daily and Weekly charts. And though I focus predominantly on the Daily charts, there are some occasions when the Weekly can offer a tighter stop-loss and therefore better reward-to-risk entry into an established trend.
My most interesting trend observations for the next two-to-10 days follow below. And I've included what I feel is a sensible approach to risk management. After all, this is a probabilities and numbers game, and I need to be confident that the edge is in my favour, while also preparing for the possibility that events may change during the course of a trade unfolding.
AUD/CHF – Weekly Swing (short) possibility
First on my watchlist is the AUD/CHF weekly chart, with a potential swing entry forming.
Firstly, I like the look of the Monthly chart. It's in a confirmed downtrend with lower-highs and lower-lows, and the 50, 20 and 10 moving averages (MAs) in the correct order. A bearish candle is currently printing.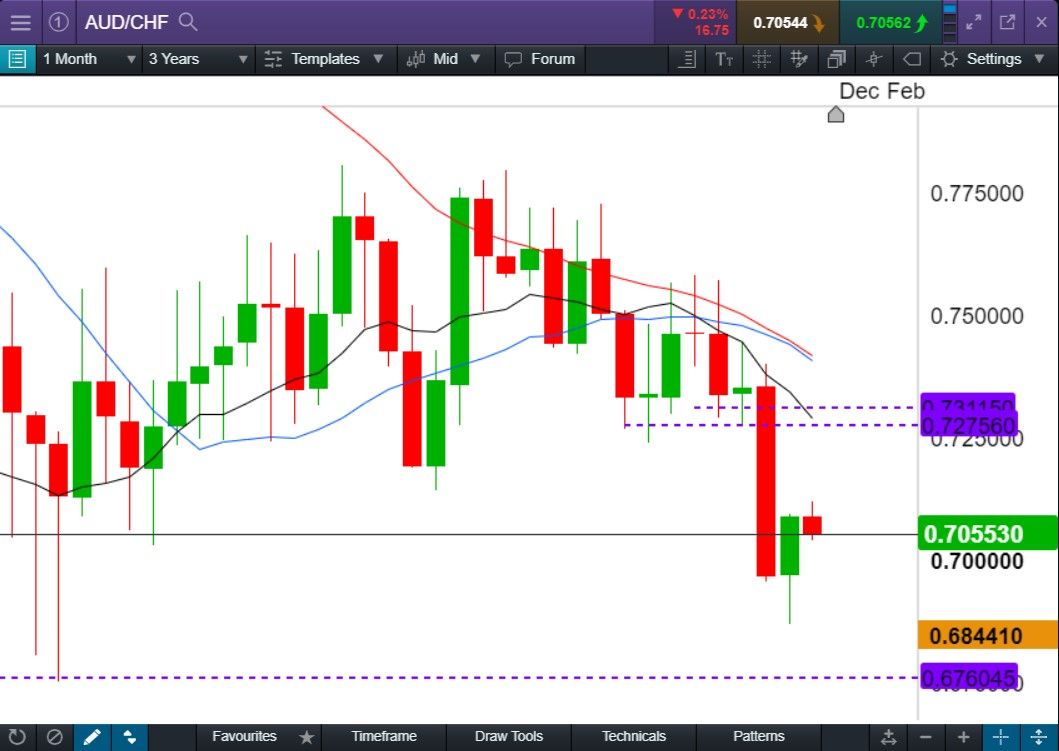 Taking a look at the Daily chart, the MAs and price action here are also in a good order for bearish momentum. There is currently a small bearish (red) candle forming, which will need until the end of this week to close and confirm its bearish and size dimensions. Smaller candles generally offer me better reward-to-risk entries, with my first target being a 1:1 breakeven take profit.
Price is also in the equilibrium sell-zone area of the 10 & 20 MAs.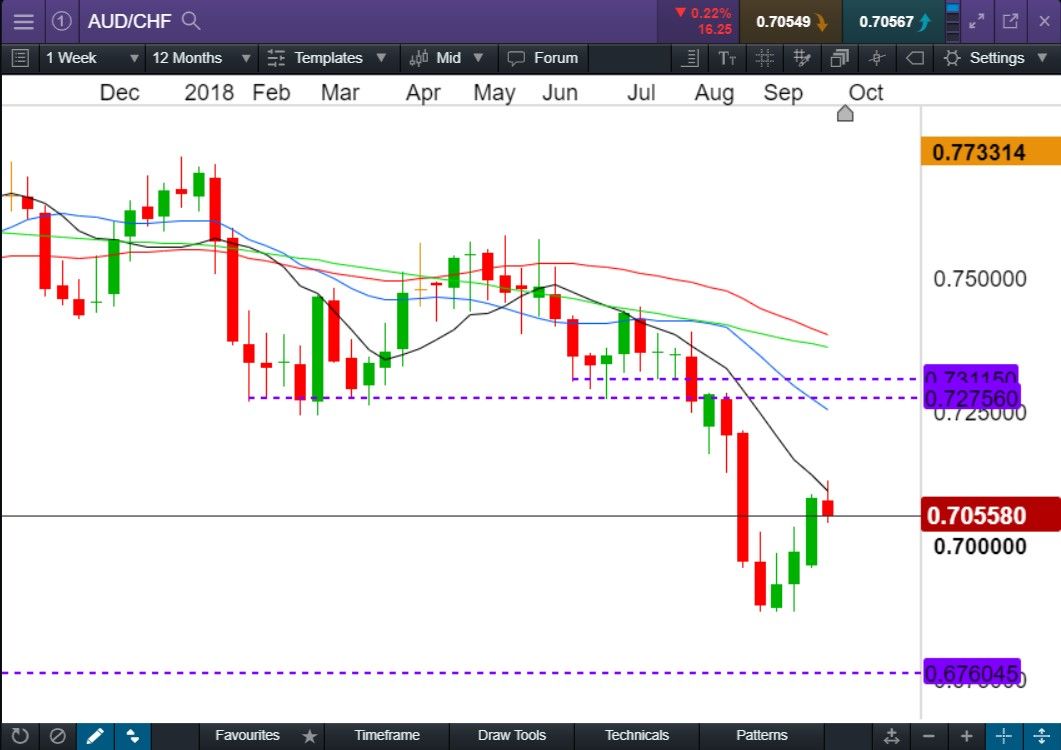 Finally, I note that price is touching, fairly precisely, a 38.2 percent Fibonacci retracement level from the most recent swing high. This is an additional level of resistance, which supports the possibility I will enter the trade.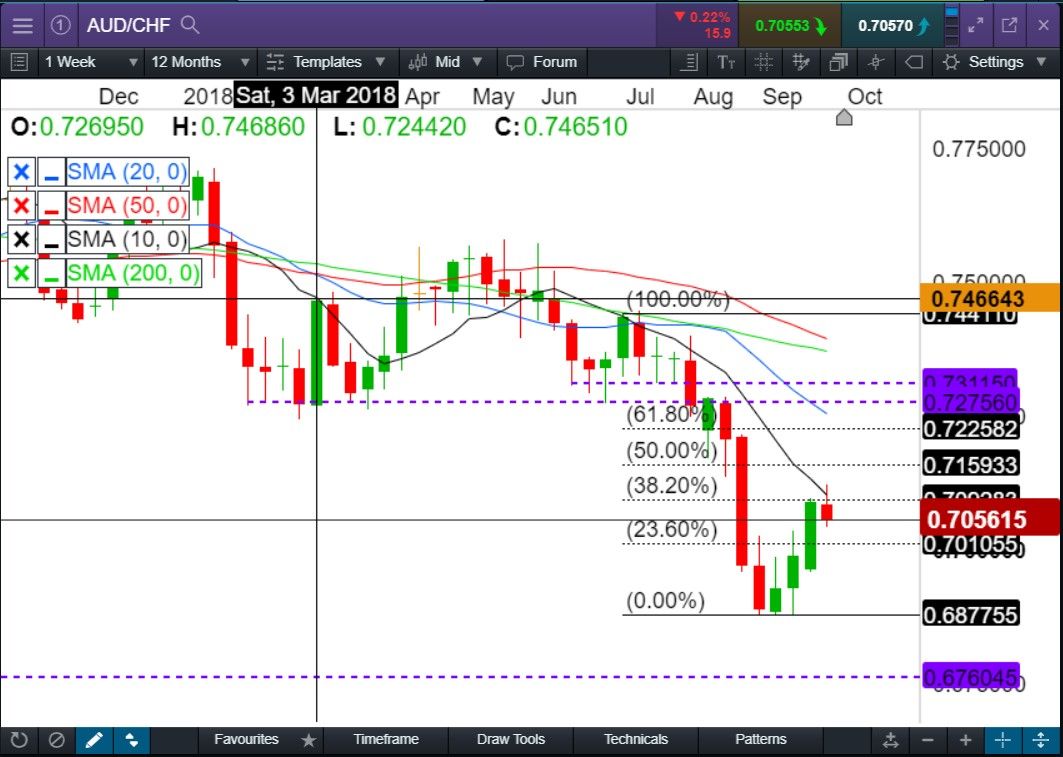 My approach will be to split my orders into two separate 0.5 percent account risk sell-stops, both with the same entry, typically close to the low of the closed candle, and the stop-loss close above the high of the same closed candle. The first order has a take profit of 1:1, and the second a take profit of 3:1, which I usually also manage by trailing my stop-loss in order to trap the potential profit. My only minor concern is price's proximity to the 0.7000 price level, which could add interference.
Palladium - Monthly bullish opportunity
Next, I also like the look of Palladium, which I don't often trade, preferring Platinum. However, the Monthly Palladium chart is looking considerably bullish now, with the MAs and price action forming a steady upwards momentum and having recently bullishly taken off from the MAs after a six-month or so consolidation.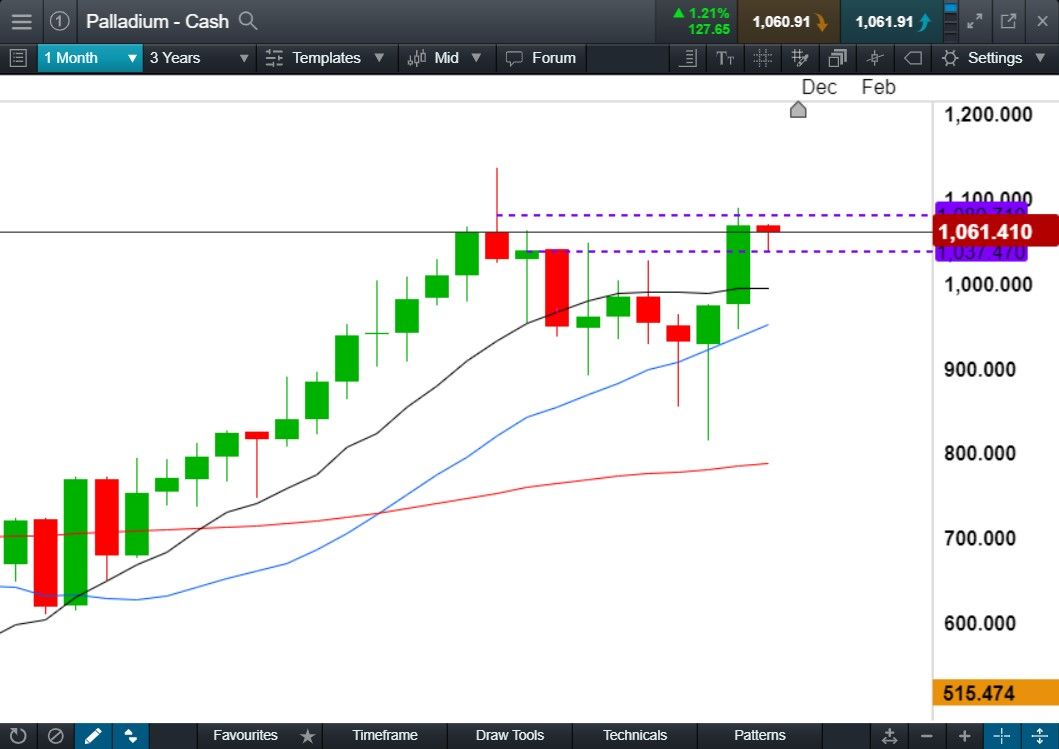 Next, I notice that the Daily chart is currently in the 10 & 20 MA Buy Zone, with a bullish candle printing as if preparing to take-off and continue upwards.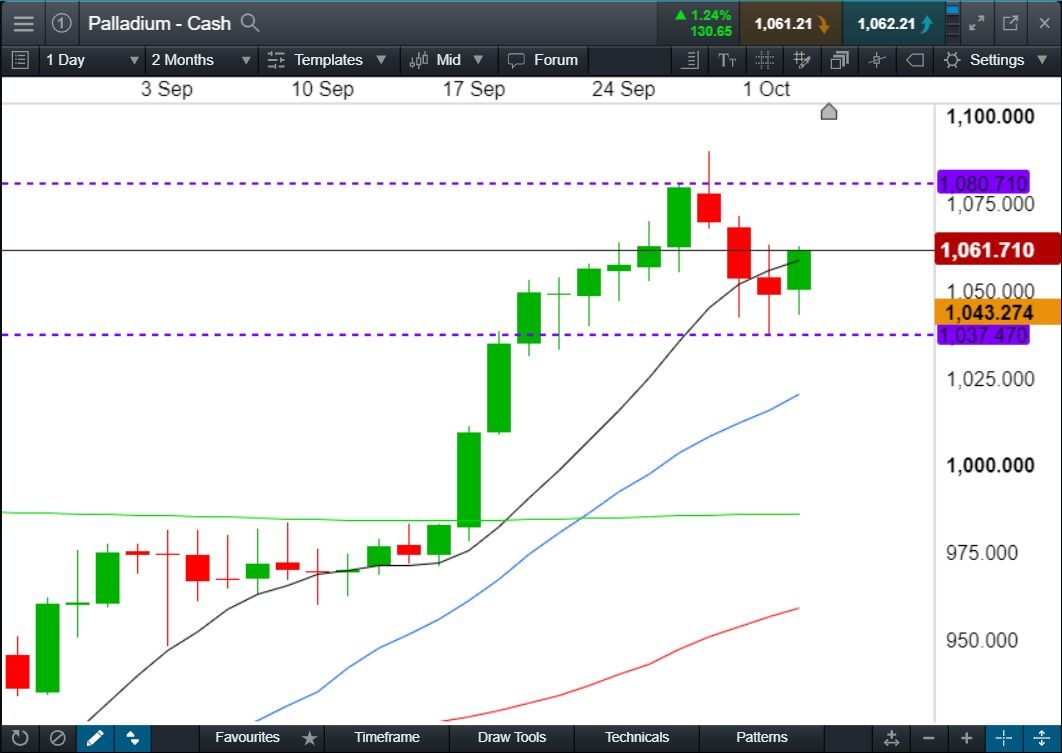 I have some concern with there not being too much more potential upside, given the recent historic high, so I may reduce my account risk and also set my take profit with a single order to bank just below this level. My entry will be with a buy-stop order just above this candle, if time permits. And importantly, my stop-loss will be set just below the previous red doji candle's swing-low. I am, after all, looking to find the turning point in this uptrend. This particular pattern is in a nice trend, but this isn't necessarily the best reward-to-risk opportunity on my list.
Finally, I am interested in the look of the recent bullish trends across many of the Oils and Gases. Unfortunately, none of them are within a day or so of providing me with entries, but they are absolutely on my watchlist. By having a look at the charts below, it seems to me there is a strong correlation between many of the charts, so for now, I have chosen Crude Oil Brent as my particular potential favourite.
Below is a sample of several charts to demonstrate the visual similarity and variety of potential trading opportunities that may become available in the near term.
Low Sulphur Gasoil Daily: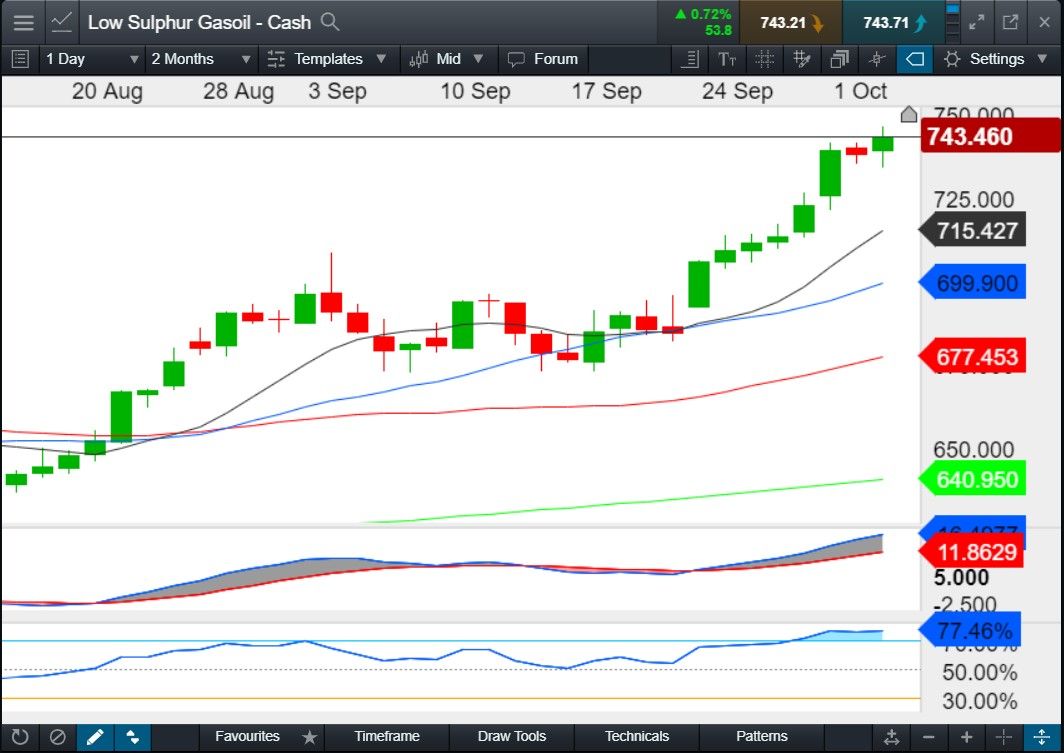 Heating Oil Daily: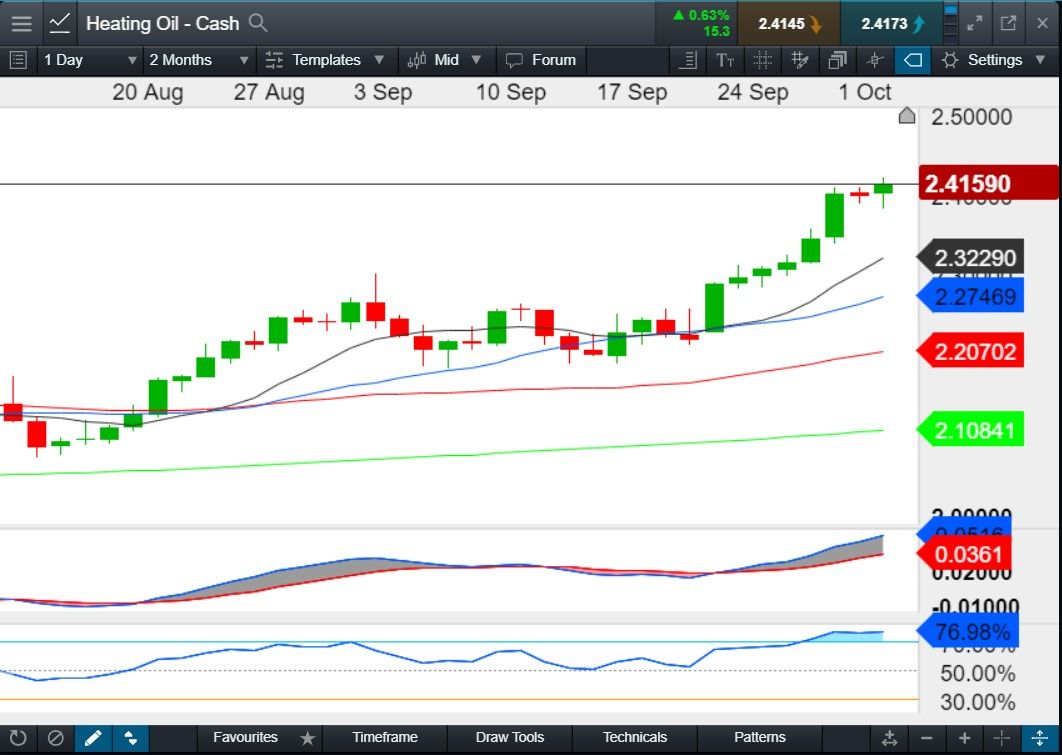 Crude Oil West Texas: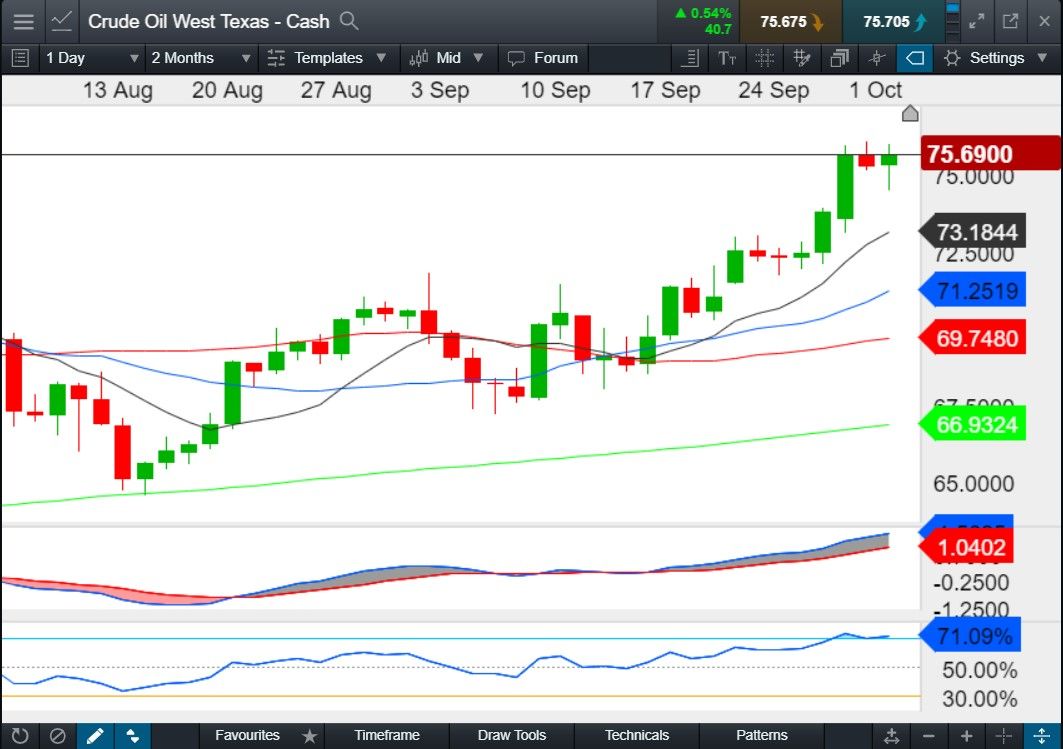 And then on to my selected chart that I will be stalking - Crude Oil Brent.
Crude Oil Brent - Steady upward momentum
Here the Monthly chart has a healthy, steady upward momentum with smooth well-structured price action and the 50, 20 and 10 MAs in the correct order. Price action is currently not too over-extended, based on previous extensions.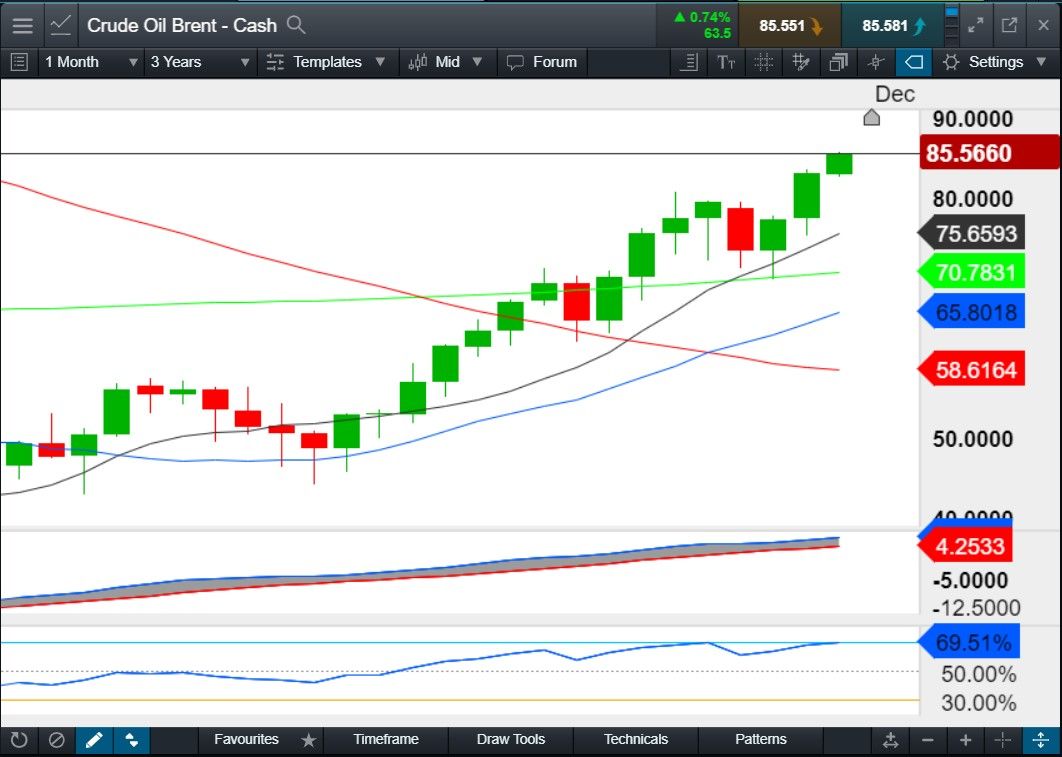 Meanwhile, on the Daily chart, price may be due for a retracement, similar to the other Oils charts above. In the case of the Crude Oil Brent chart, though, there is good price action structure and a healthy upwards momentum, supported by the two momentum indicators at the bottom of the chart.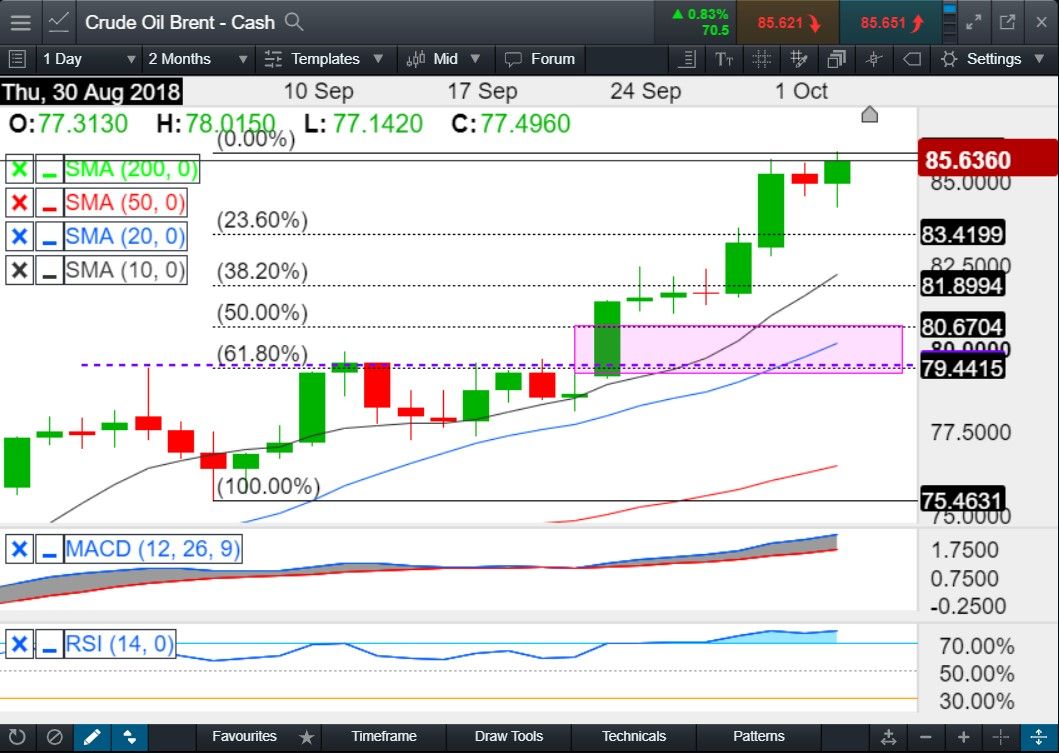 Keeping in mind that there is no technical retracement yet, if I overlay a Fibonacci retracement measurement over the current price action on the Daily chart, it's interesting how the 61.8 percent level overlays almost ideally with a recent resistance level. It is also close to a round number (80.00) and is overlapping with the Buy Zone between the 10 & 20 MAs.
These are all potential signs of a higher-probability level of bullish support where price may provide me with an elegant entry into the trend as it resumes its next extension.
So, I'll be stalking this chart, hoping to get a small or decent-sized candle to place my order around. Again, I'll employ a buy-stop just above the high of the candle, with my stop-loss below the low of this candle. And also possibly below a level of support close to 80.00 if this is available within a close distance.
I'll look to take profit from the first order at my 1:1 target if the trade unfolds in my favour. The second order with a 0.5 percent account risk will hopefully achieve a 3:1 reward-to-risk target, and I'll keep an eye on the closed Daily candles to trail my stop-loss behind at a sensible distance, such as the Daily Average True Range (ATR) value.
Happy trading.