By Adam Harris, Trade With Precision
My weekly scan of the markets indicates to me that there could be a higher than average amount of uncertainty and "twitchiness" in the markets. But this doesn't necessarily mean there are no decent trading opportunities. What it usually means is that I either need to shift my focus towards different asset classes, or move to a higher timeframe where the market is less volatile - in this case, the weekly chart.
Currently, some global indices and global equities are in an awkward weekly/monthly correction phase. Personally, I find that this phase does not offer clarity on the next likely direction. I believe this will likely become clear towards the end of the week.
In the currencies, although the AUD charts still appear weak, and now the Swiss Franc appears to have started to weaken as well. There just aren't any standout trades for me here.
So, I'm left with the commodities that have the most appeal.
There are a number of trending products on my watchlist below, so let me talk through them. I've grouped them in terms of correlation.
In each of the cases, my maximum risk per trade will be one percent, and I always choose to trade with a stop-loss. I prefer to split my orders into two, with half my risk in each, and taking partial profits at a 1:1 target, managing the remainder with a trailing-stop approach behind each subsequent closed candle.
Oils and Gases
I am stalking most of the charts in this category on the Weekly timeframe. Based on my trading methodology, the Daily has no clear trend, but the Weekly and Monthly are in uptrends with price making higher-highs and higher-lows.
Low Sulphur Gasoil - Weekly Chart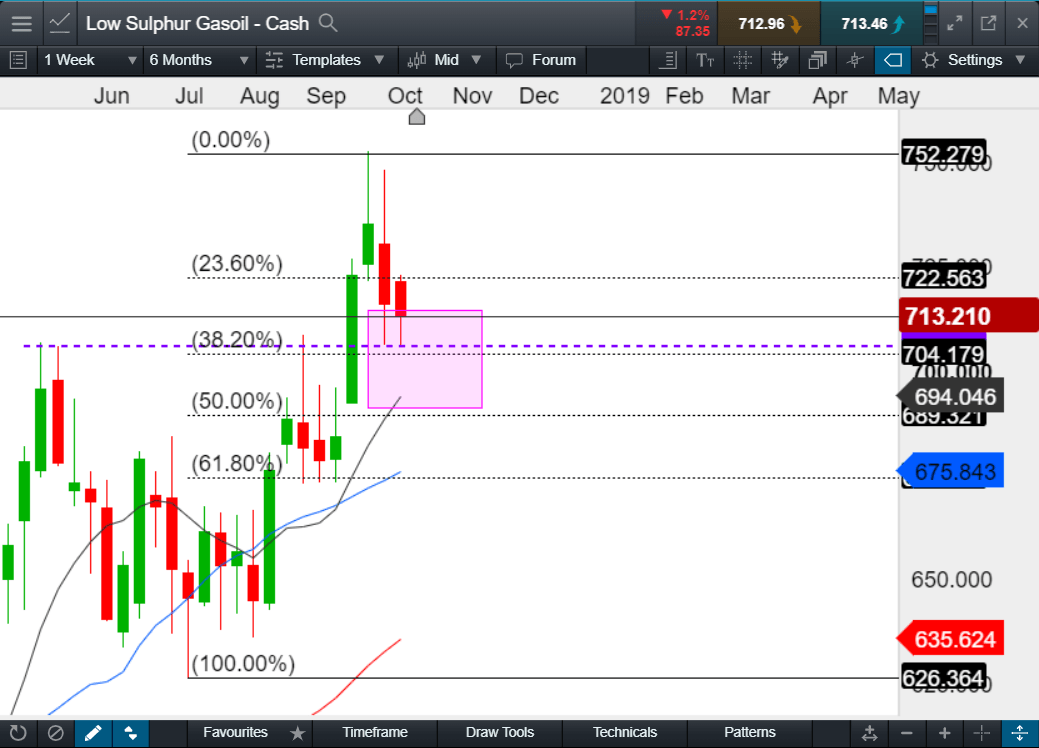 This chart is in an uptrend and is currently retracing into the moving averages (MAs), which also overlap with a level of historical resistance with the potential to become support. Encouragingly, this is also layered with a large round number i.e. 700.000 and a Fibonacci retracement level of 38.2 percent (as well as the 10 and 20 MA zone). I'm waiting for a small bullish candle to form. My entry would be on the break of the high of this candle, with my stop-loss below the low, and ideally with the additional extra technical protection offered by the key level at 700.00.
Heating Oil - Weekly Chart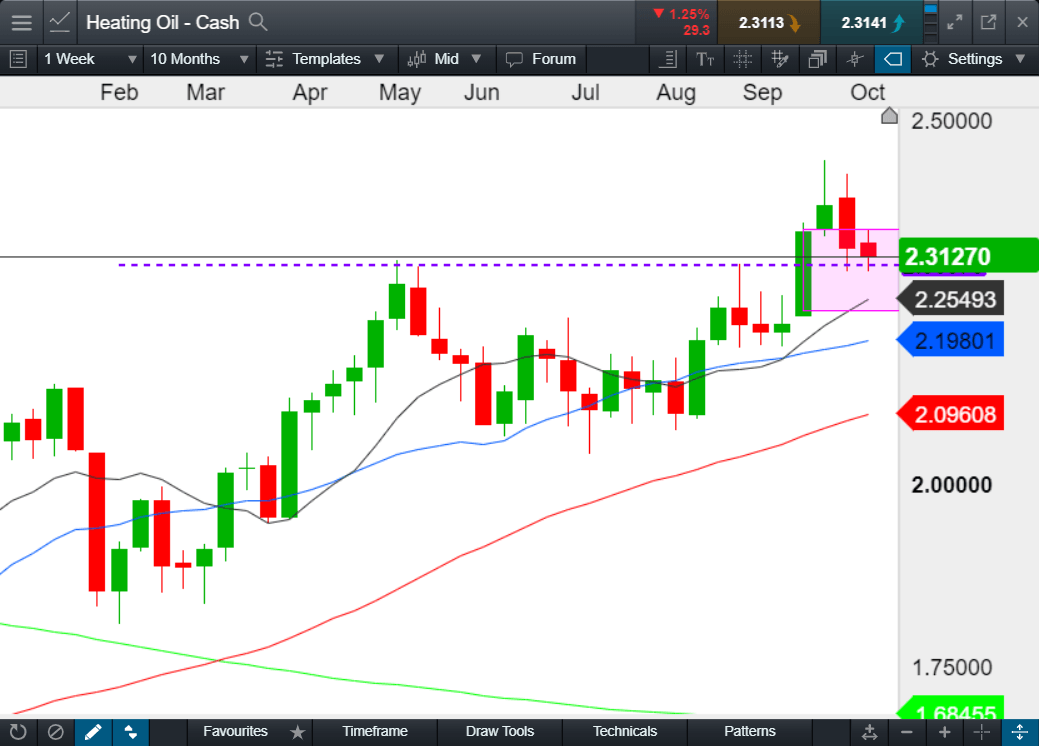 Heating Oil offers an almost identical opportunity. I'll be waiting on a small bullish candle to form in the 10 and 20 MAs at the 2.3000 level, with the stop-loss hopefully benefitting from the extra technical protection at that level. I may even consider a break above the high of this week's candle, if it closes as an indecision candle, regularly found at turning points.
Brent Crude Oil - Weekly Chart
As discussed above, there is a very similar set of conditions occurring on this Weekly chart. A level of technical resistance, which could become support at a round level of 80.00, close to a Fibonacci level of 50 percent, the 10 & 20 MA Buy Zone. This same level may add stop-loss protection if placed below it. A bullish signal candle is currently closing here, and my approach would be an entry on any break above its high next week.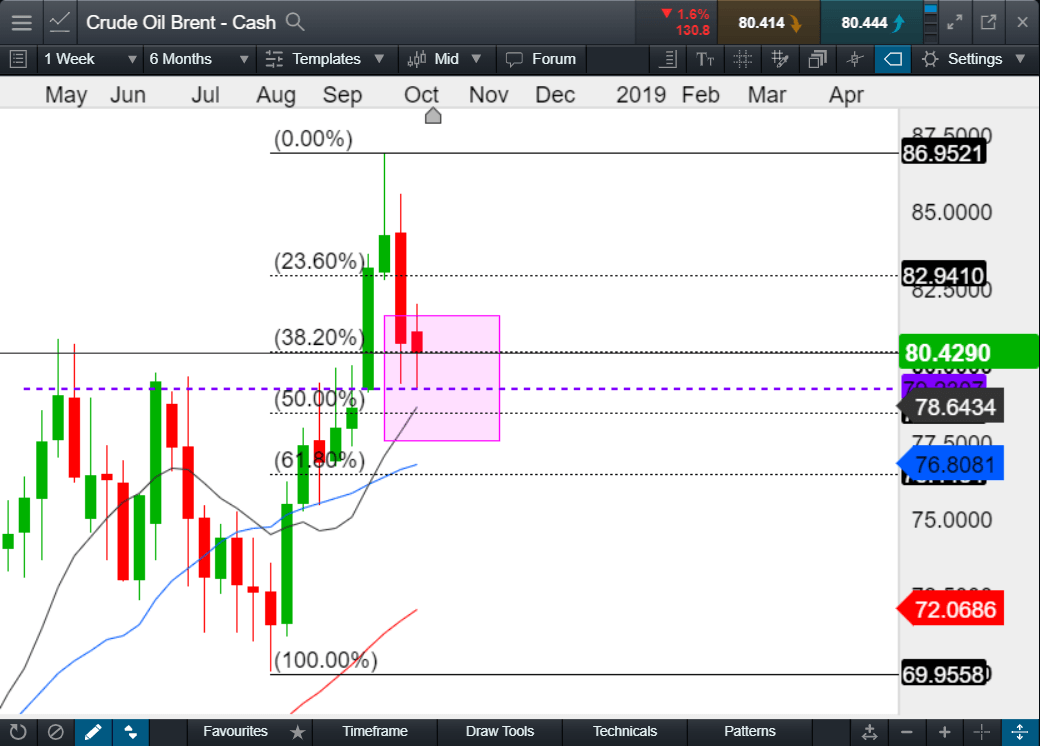 Metals
Gold – Daily Chart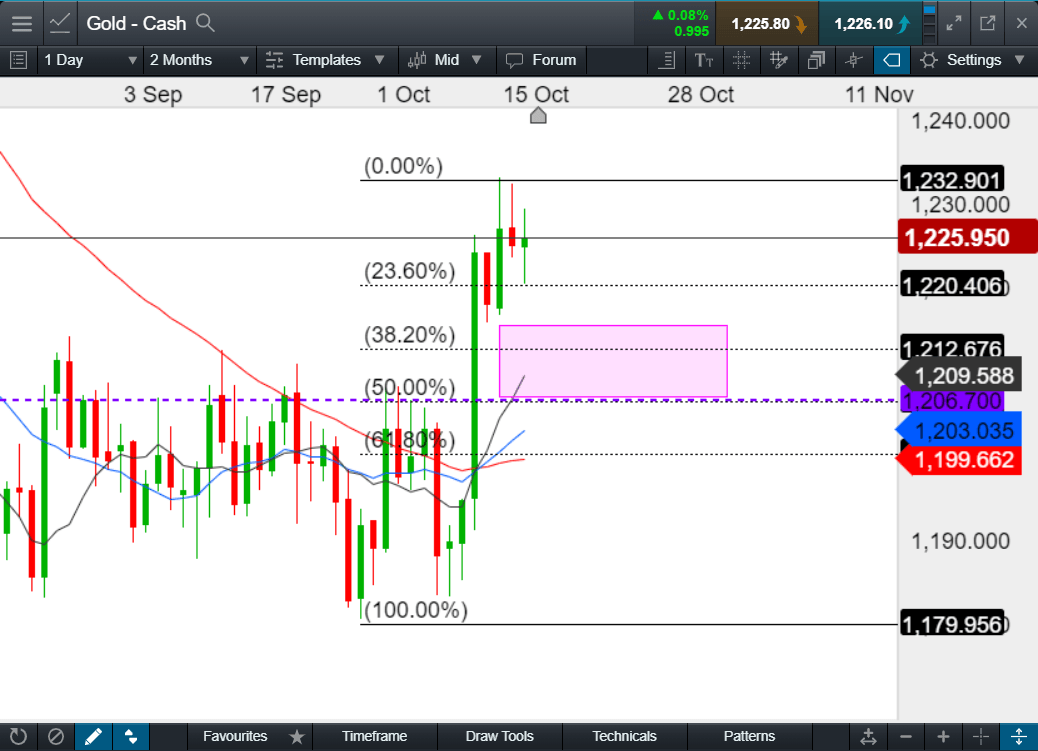 This chart has a decent Weekly uptrend, and has recently broken up through stubborn resistance. This same level could become reliable support if retested. I'm waiting for price action on the Daily timeframe to retrace down to this level around 1.210, which overlaps with a 50 percent Fibonacci retracement level and the MA Buy Zone. Then I'll wait on a bullish candle for my entry. Again, as with the above trades, I like the idea of my stop-loss being below this level for extra protection.
Platinum – Daily Chart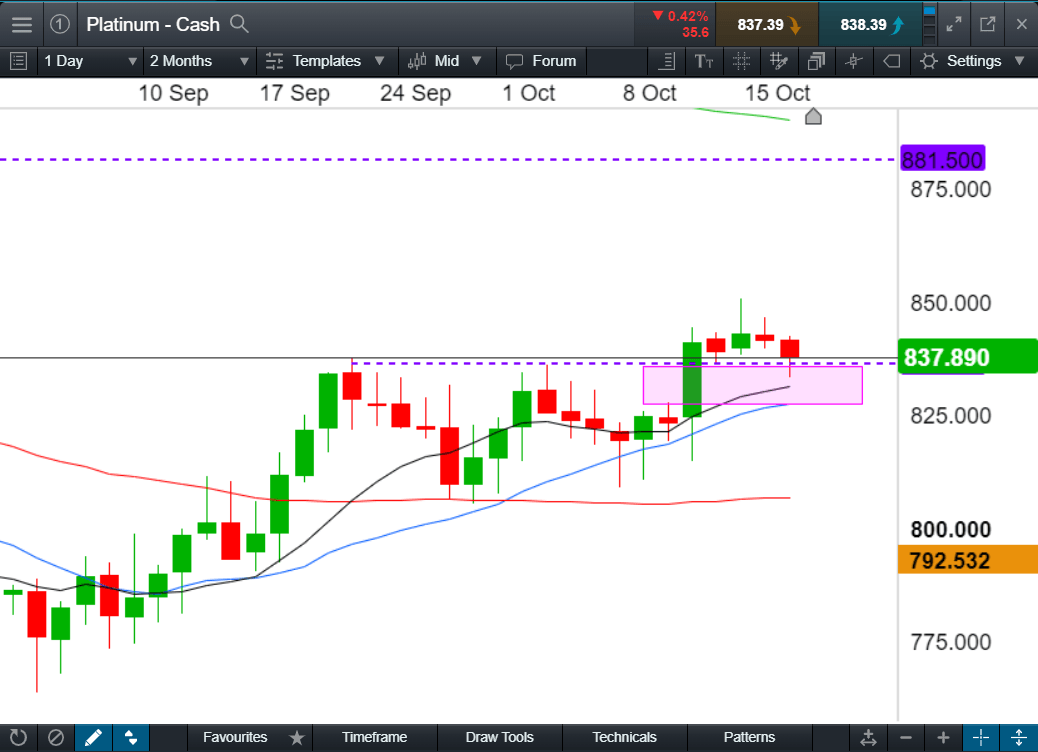 As with Gold, price is on a level close to 830.000 and this is a decent area for a bullish candle to potentially form. The Daily chart may produce this signal with the next one-to-two candles. If price ends up falling well below this level, on this chart or any of the others, my trade setup may become invalidated.
Crops and Cattle
Corn – Daily Chart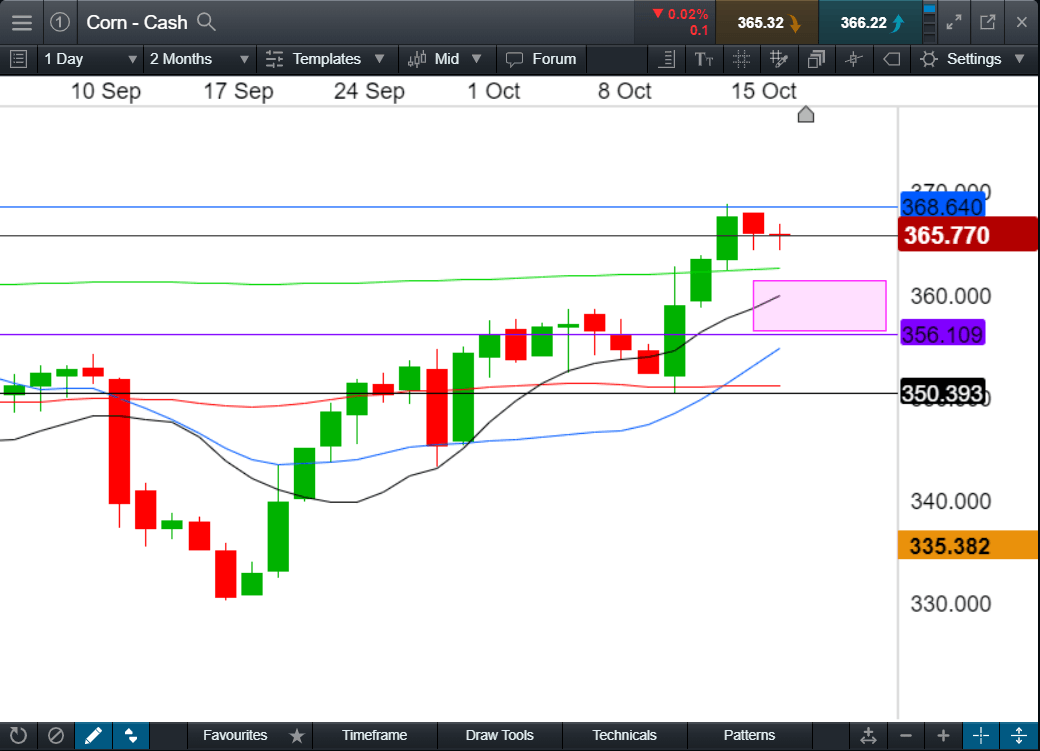 This chart has a clean trend and price looks as though it may be retracing shortly. I'll be stalking it as price approaches the MAs close to the 360.00 price level for a bullish entry candle.
Live Cattle – Weekly Chart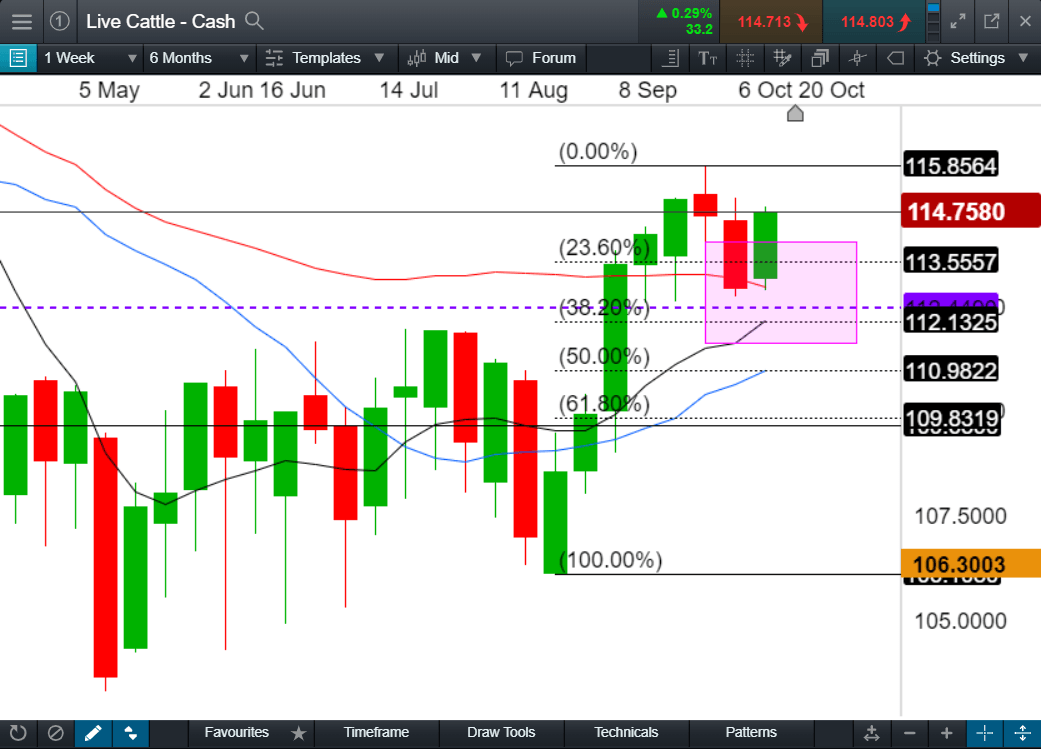 This Weekly chart has just broken out of a consolidation and is currently appears to be forming a bullish candle in the 10 and 20 MAs, close to a 38.2 percent Fibonacci level, with resistance near the 113.000 level. I'm waiting on a close of this candle and any break above the high of it next week, with my stop-loss below the 50 percent Fibonacci level for additional stop-loss protection. This possibly bullish candle looks like a classic attempt for this market to form support at the existing resistance level. I'm waiting to see if it follows through on that. Ideally the candle should not be much bigger than it is now, or the trade might not work any longer from a reward to risk perspective.
Happy trading.