Australia is one of those countries where England is referred to as "the old enemy". These days, thankfully, the reference is usually confined to sporting contests. Over the weekend, Rugby World Cup hosts the English Red Roses will play against the Australian Wallabies. We turn to GBP/AUD to determine a winner.
No doubt there will be Rugby and currency "purists" who will question the relevance of this analysis. These people must be unaware that in Australia EVERYTHING is correlated to sport. As an example, following the wrong football team can be a serious impediment to a political career. The recently deposed Prime Minister, Mr Tony Abbott, supported the loathed Manly Warringah Sea Eagles, whose fans are infamous for crowd signs such as "Nobody likes us, we don't care" and "Manly hates you too".
In Australia, sport is not a matter of life and death. It's much more important than that.
So the outcome of the weekend's game and GBP/AUD are inextricably intertwined. Remembering that Australia is seeking a lower currency,  the news is not good for the Wallabies: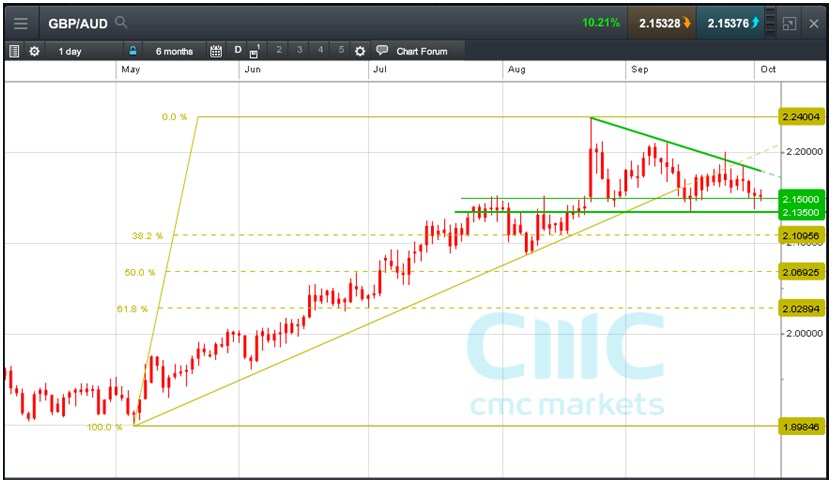 The uptrend running from May to September is broken. The declining highs since August are indicating weakness, and the triangle is pointing to a potential high energy break out. The pair is currently sitting just above a support zone between 2.1350 and 2.1500.
Breach of the support could see significant down side. Traders could sell on a break of 2.15 (aggressive) or 2.135 (more conservative) with Fibonacci retracement levels around 2.1100, 2.0700 and potentially 2.0300 as targets.