Contrarian traders lead a miserable existence. Around half the time, their trading peers consider them eccentric. Some of the time they suffer as fools, and at times are cast as dangerous lunatics. This is the price of defying popular opinion. However, for a few days a month, or perhaps a few weeks a year, they're elevated to genius status.  Will you let USD/JPY make you look like a genius?
The Fed is tightening this year. Right? The BoJ must stimulate further. Right? Tighter USD, looser JPY. USD/JPY must go up. Right?
Chart says no.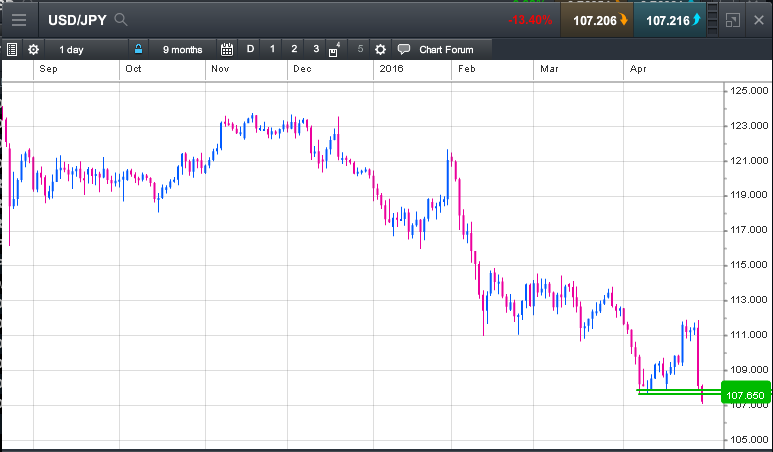 This week, the Fed sounded dovish to neutral, and the BoJ passed on further stimulus. This combination saw USD/JPY make a leg down through support levels today, potentially heralding a continuation of the previous down trend.
The reason I like against-consensus trades is that when triggered they may run longer and harder as popular thinking is confounded and positions are stopped out.
There are challenges in reconciling this momentum with the fundamentals. Regardless, the chart is unambiguous. Traders prepared to back the price action are likely sellers at current market prices around 107.20, with a stop loss at 107.90. (Above the secondary resistance – it's worth drilling into the 4 hour chart to establish).
Some may prefer a target around the previous support / resistance close to 105.60. Others may prefer a trailing stop loss to ride the trend. While having your peers consider you a genius may give you a warm glow, it won't increase your bank account.