The US Federal reserve lifted interest rates overnight, ending the zero interest rate era. Market reactions were calm and positive. Shares rallied, the USD fell slightly and bond rates rose modestly. In trading this morning, Australian investors are going on with it, adding to yesterday's 2%+ rise.
In its statement the Fed clearly defined a data dependent path back to "normal" monetary conditions. Subtle shifts in language appeared to express more confidence in the economy. A "balanced" economy, and inflation heading "to" rather than "towards" 2% appears to have swung any doubters, and the eventual vote was unanimous. Inflation and employment will be the drivers of future moves, and the current accommodative stance remains in place. This means holdings of maturing bonds will be rolled forward, maintaining liquidity.
Investors responded to the positive signalling coming from the Fed, giving a bounce off support for the Australia 200 index: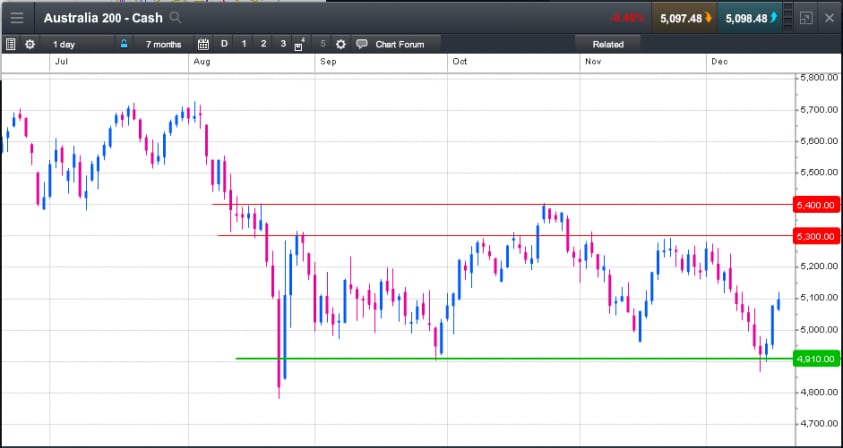 The expiry of the December SPI futures contract this morning could see double an average day's turnover, and large investors will likely take advantage of the enhanced liquidity at the opening. However, that's likely the last period of liquid trading for the year.
The clearly positive momentum as we hit thin trading has me convinced we'll not only see a Santa Claus rally, but that the index will test the zone between 5300 and 5400 by December 31.