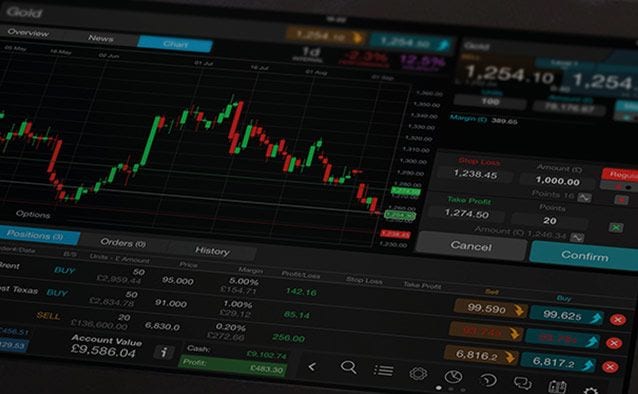 Guest Post by DV34
Our regular guest blogger DV34 has been kind enough to share his outlook on the Dollar Index and how this might play out with EUR:USD  and GBP:USD
Following my previous post noted in mid September which you can find here I thought I would follow on from my initial analysis to see where we stand 6 weeks later…
As noted in the previous post, the pattern I believed was unfolding was called a 'Shark' pattern that could possibly turn into a pattern called a 5.0 and offer a nice shorting opportunity soon.
So for a quick background the pattern looks like this:
The ratios shown relate to the last two points e.g.
1.13 or 1.618 extension of XA           = point B
1.618 or 2.24 extension of BA           = point C
50% retracement of BC                      = point D
The text book '5-0' Pattern, For more information on 5.0 Patterns refer to Scott Carneys work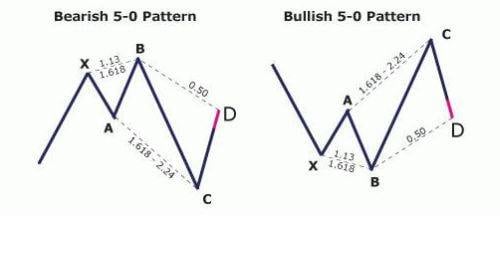 A shark pattern often precedes a 5.0 pattern with one being a buy, and offering a possible 'stop and reverse' situation if the trade works out 
For a little more history on the USD Index and how it is compiled I thought it might be useful to give an overview to those who do not know.
There are two main USD index futures contracts quoted in the media, one gives equal weight to other currencies. Some analysis view this as a 'pure' USD index which I don't necessarily agree with as it assumes all countries economies are equal, which clearly they are not. 
The following is an overview of the USDX weighted index… (Sourced ex Wikipedia 12/11/2012) 
"The US Dollar Index (USDX) is an index (or measure) of the value of the United States dollar relative to a basket of foreign currencies.
It is a weighted geometric mean of the dollar's value compared only with
Euro (EUR), 57.6% weight
Japanese yen (JPY) 13.6% weight
Pound sterling (GBP), 11.9% weight
Canadian dollar (CAD), 9.1% weight
Swedish krona (SEK), 4.2% weight and
Swiss franc (CHF) 3.6% weight 
USDX goes up when the US dollar gains "strength" (value) when compared to other currencies.
USDX started in March 1973, soon after the dismantling of the Bretton Woods system. At its start, the value of the US Dollar Index was 100.000. It has since traded as high as 148.1244 in February 1985, and as low as 70.698 on March 16, 2008. 
The makeup of the "basket" has been altered only once, when several European currencies were subsumed by the Euro at the start of 1999. 
USDX is updated whenever US Dollar markets are open, which is from Sunday evening New York time (early Monday morning Asia time) for 24 hours a day to late Friday afternoon New York time. 
USDX can be traded as a futures contract on the Intercontinental Exchange (ICE). It is also available in exchange traded funds (ETFs), options and mutual funds." 
The reason the USD is so important is because it is the reserve currency of the world and commodities and some key leading world stock indices (Dow, S&P etc) are generally quoted in USD.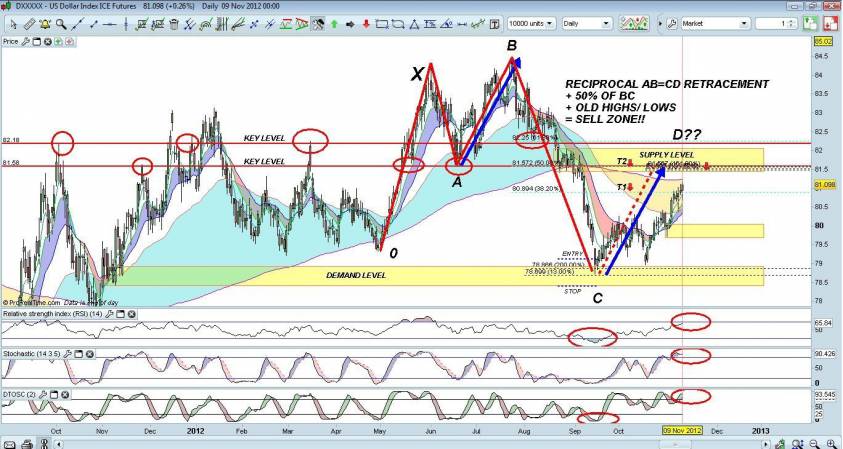 US Dollar Index Daily
The shark pattern posted earlier at point C is playing out as planned, and nearly at the T2 level and possible stop and reverse zone near the key levels marked around ~81.60 and ~82.20.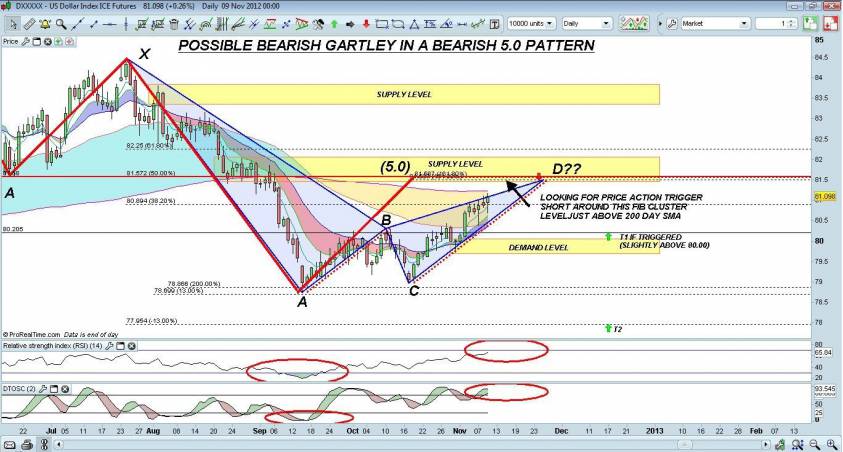 US Dollar Index Daily
The retracement back up from the low has also completed in a possible 3 wave correction that creates a fib cluster at ~81.57 that also forms a bearish Gartley pattern at the projected 5.0 pattern level which is near the 200 day sma.
There is an AB=CD leg shown, where the CD leg = 1.618 x the length of the AB leg from point C right at the 50% zone and also indicators are also very close to being overbought and possibly crossing.
Although this already looks appealing I want to wait for a price action trigger before entering short.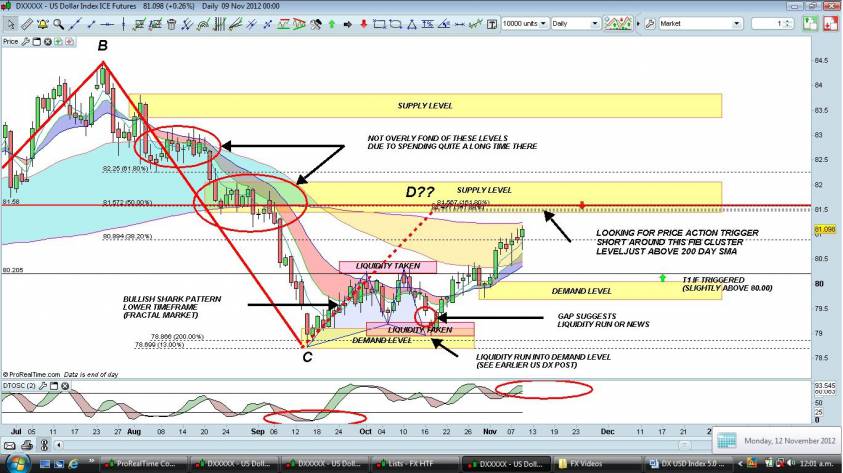 US Dollar Index Daily
The key reason to wait is because looking closely at the daily chart is formed another smaller shark pattern from 78.90, which took liquidity above and below swing highs and lows before rallying.
The fact it has two bullish patterns within each other suggests waiting for a price action confirmation before acting on any short signal.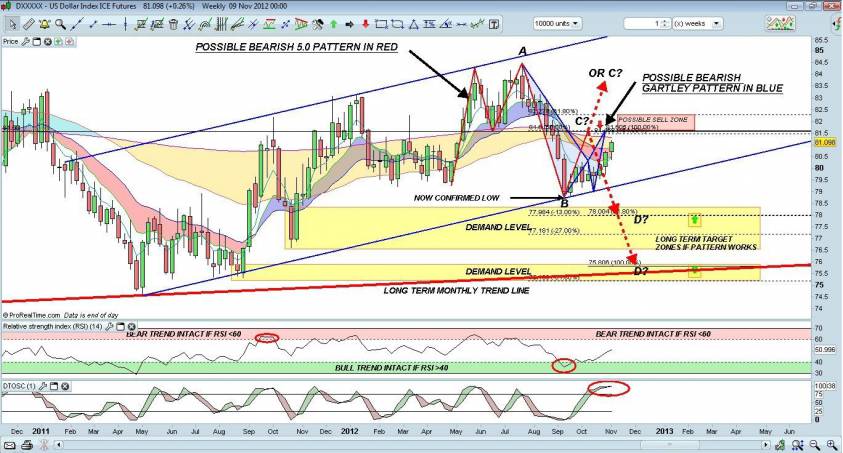 US Dollar Index - Weekly
If the 5.0/ Gartley pattern level proves to be resistance around 81.60 then the correction lower could be substantial, this is currently aided by the fact that price is getting close to the 200week sma and the DTOSC is close to crossing over from the overbought zone. 
Personally if I get a short entry on a lower timeframe it would be wise to take some profit before 80.00 as it is a significant level but if this does not hold then price could go as low as 78.00 or possibly 76.00 longer term.
Seeing the USD index is made up primarily of the EURUSD, USDJPY and GBPUSD (69.5% Eur, Gbp only, 83% all three) it is worth checking to see if they also share a similar view. 
EURUSD Daily (by far the most important)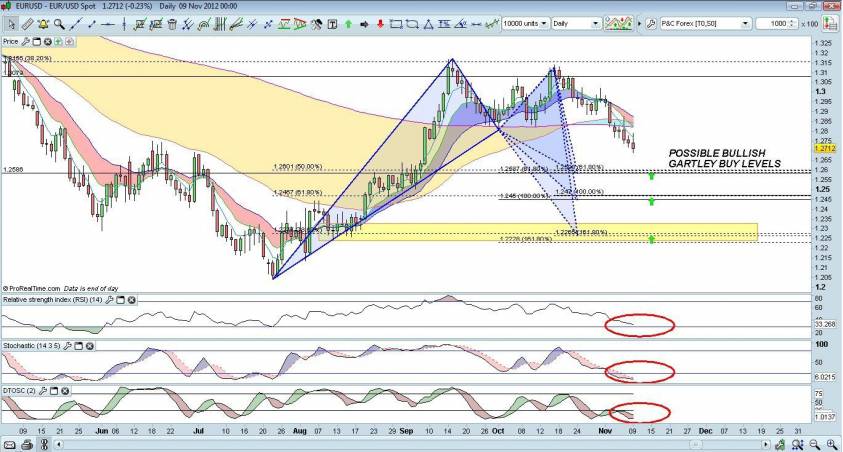 EUR: USD - Daily
GBPUSD Daily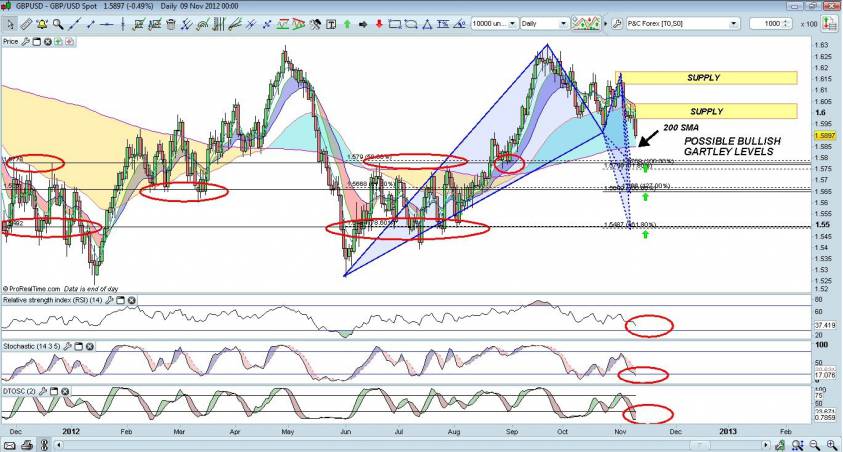 GBP:USD - Daily
I omitted the USDJPY due to not being able to form a view as it is in a large sideways pattern
These pairs confirm what we are seeing on the USD index as they are inversely correlated, the Euro and Gbp are not far away from the first Fibonacci PRZ zone which coincide with key levels, and the indicators are nearly in the oversold zone.
However the first support level is still 100 pips lower, with the next level being 250 pips lower…
Therefore my bias based on the higher timeframes suggests we may have some upside left in USD short term. But we could possibly see some significant support on euro and gbp very soon and resistance forming on USD index very close to the same time – hopefully at our key level…
I will try and follow this up with a possible entry zone if I see one within the next few days.
DV34