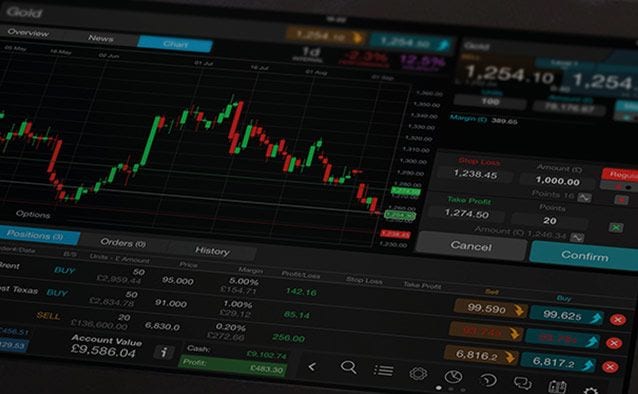 From Trade with Precision's Craig Cobb:
The US 30 cash or Dow Jones is a very heavily traded market for good reason. Large volumes, huge volatility make it a very good market for traders from intraday to longer swing trading time frames. With the recent run on the US 30 I want to have a look at where this market is and what the key levels are for the week ahead. What happens this week may shape the next couple of months on this behemoth of an index.
Firstly, it needs to be said that the US 30 monthly chart (below) has been in a ripper of an uptrend the past few years and as you would expect the daily and weekly have agreed with this monthly trend giving many good trading opportunities. The monthly as it stands is still very much in a great uptrend after a strong rejection of the 17,000 level. This market has needed a good pull back for some time to give the overall trend strength to continue higher. Well we have had that and now I see good reason that we may be close to or at the end of this pull back.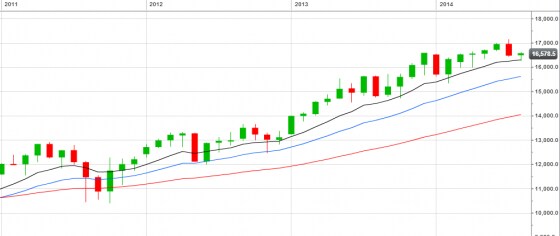 Drill down to the weekly (below) and the picture starts to unfold a little further. The weekly is still in an uptrend. I have to read the chart as I see it and there are still higher highs and higher lows when looking at the bigger picture; however the level of 17,000 and the market's reluctance to break through this ceiling to the high side is more obvious. Something else that stands out for me is the 16,600 level (the red line marked on the chart). It was a strong resistance level which was subsequently broken with ease however price is now back at this level and testing it. This is an interesting point as we could see this 16,600 level become resistance and the base for the market to fall away from. Let's consider this level on a lower time frame.

Looking at the daily now (below) and the level of 16,600 becomes even more clear as does the fact the level didn't hold even for a single day in the recent sell off a couple of weeks back. This to me shows a market keen to be selling and disregarding a seemingly strong level. Sellers were very much in control.
With price now having slowed down and pulled back up into the moving average zone I find myself thinking that the US 30 is at a critical point. If price breaks up above 16,600 and buying continues then this recent pull back will be just that, a pull back in the monthly and weekly time frames and it's likely we will see prices move higher over the coming weeks/months. I have to say though that I am leaning more towards a failure to hold 16,600 and a move lower taking out the lows on the daily chart and a down trend commencing.

We could be on the cusp of some big volatility here ladies and gents as many market participants have varying views and opinions on the next likely direction. Let's not get ahead of ourselves though, the next day or so will be critical; if we break above 16,600 I will be looking to be a buyer. If the market fails then I will go with it and look for shorting opportunities. For now, I am remaining focused, and looking to trade whatever happens!