Chart resistance
Much has been made of the US 30 struggling to get past the psychologically significant round number of 20,000.
What might be equally significant is that US 30 is also at trend line resistance. This trend line has acted as a turning point on 4 previous occasions since 2011
High valuations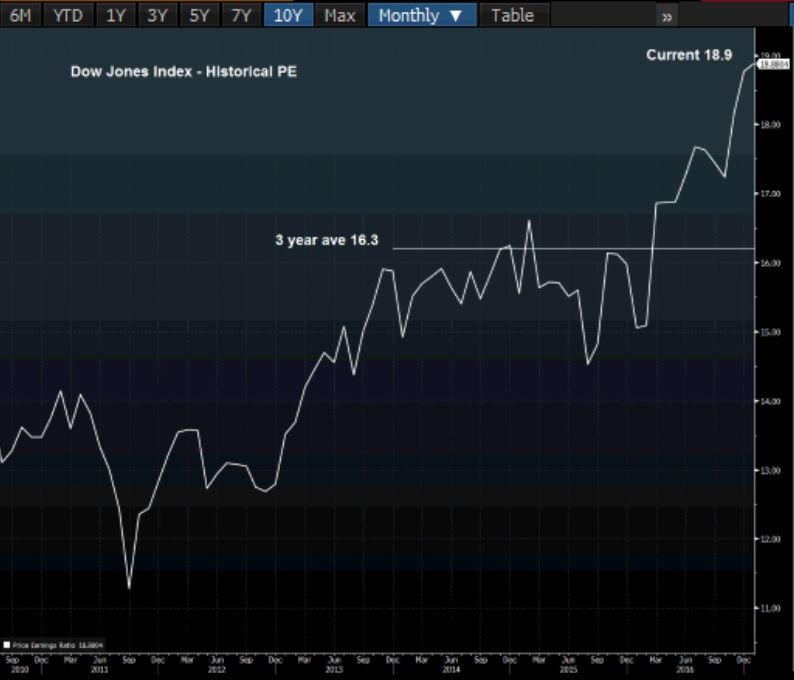 The Dow Jones is currently valued at a multiple of 18.9 times last year's earnings. This is well above the average of 16.3 that applied over the past 3 years.
This valuation is not necessarily a worry but it does indicate that investors have significantly increased their earnings outlook for stocks in the Dow. That makes it vulnerable to a significant sell-off if anything happened to upset these rosy earnings outlooks.
Price to earnings ratios (PE) are driven by two things, bond yields and the outlook earnings growth..
The lower the bond yield, the lower the earnings yield on stocks tends to be. Low earnings yield is just another way of saying high PE. Earnings yield is earnings divided by price. PE is price divided by earnings.
At 2.45%, US 10 year bond yields are above the average of 2.16% for the past 3 years. So the lift in the Dow PE looks to be driven by increased confidence in the earnings outlook since Donald Trump was elected.
 Ironically, stocks have also been supported by money flowing out of bonds and emerging market currencies since the US election.
Neck line support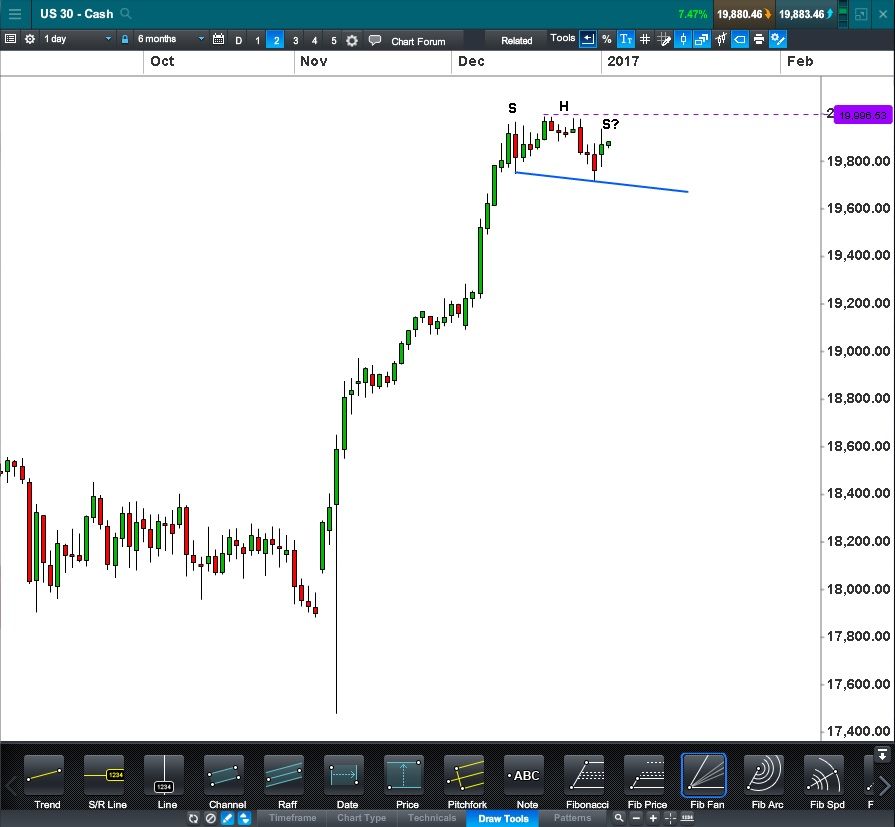 While the big picture trend line is setting up potential resistance in the Dow around 20,000, recent price action is creating a possible support line around 19,700
This is starting to look a bit like the neck line of a possible head and shoulder style pattern. That would only be confirmed if US 30 leaves a peak around yesterday's high then goes onto break convincingly below the neck line support.
Given high valuations and the level of optimism built into the current earnings outlook, if this bearish head and shoulder pattern completes, a significant downward correction could be on the cards.
Even more useful
For traders looking for a sell set up, the even more useful alternative might be if the head and shoulder does not set up and instead, US 30 rises to and fails again around the 20,000 resistance. That might allow sellers to get set with a relatively close stop above the resistance looking for a return to the neck line and potentially, a break below it for a deeper correction.