On the final day before the 2016 federal election the Election Sentiment Index has bounced. However, the bounce still leaves the index well below zero, leaving the sustained downtrend in sentiment over the election campaign intact. It's hard to avoid the conclusion that the political sphere has damaged investor confidence.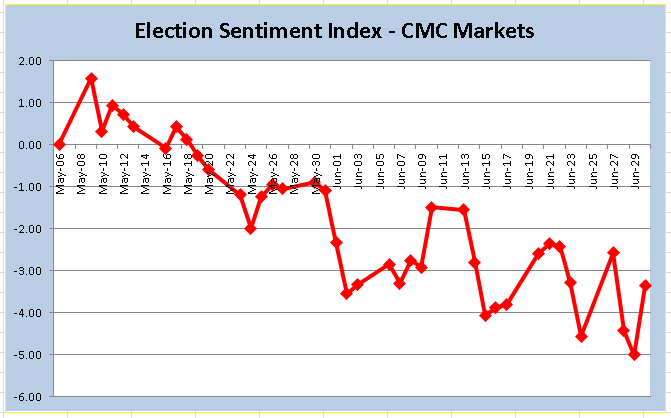 There are a number of potential reasons for this negative impact. Perhaps the most important factor is the prospect of another hung parliament. If no party gains a clear majority in the Senate the ability of the new government to implement its agenda is curtailed. Such a "weak executive" puts much needed structural reform of Australia's economy at risk. 
Polls repeatedly show the major parties within a few percentage points of each other, and minor parties making clear inroads. The sustained fall in the ESI suggests investors are pricing three more years of protracted negotiations and compromised policy.
Investors are no doubt aware of risks, as well as the most likely result. These risks include an undefined and/or misconceived Royal Commission into the banking system, major changes to superannuation and changes to the healthcare payments system. These risks have weighed on specific stocks, sectors and the broad market.
There could be a couple of lessons for politicians from the performance of the ESI. Where there was little campaign news, the ESI tended to bounce. No news from Canberra is good news for investors. Secondly, individual Australian investors dominate the share registers of major companies. It's estimated that the 60% of CBA shares are held by individuals, either directly or Self-Managed Super Funds. In the past, banks have proved a useful political football. Now that they comprise around half the value of the main share market index, there may be political costs in bank bashing.
What is the ESI?
The ESI examines the performance of the Australian share market. It takes the daily performance of the Australian share market, and strips away performance drivers such as global stock sentiment and commodity price moves. In stripping market factors, the ESI singles out the impact of shifting political currents on Australian market thinking during the 2016 federal election campaign
When the ESI moves higher, Australian investor sentiment, as measured by the share market, is improving. Conversely, negative moves for the ESI suggest the election campaign is weighing on stocks.