It's that time of year again when the John Lewis and Marks and Spencer TV ads hit the TV screens and the tills start ringing in anticipation of the start of the Christmas shopping season and the increasingly dreadful US import of Black Friday and Cyber Monday.
Unlike previous years we seem to have been spared the unsightly scrums of UK consumers queuing overnight and brawling with each over an end-of-range flat screen TV. If anything, while the shops have still been busy the bulk of the shopping has taken place online, and either been delivered direct to the doorstep or to the local store for collection.
The retail sector has undergone a massive sea change in the last few years and the growth of online retailing has significantly altered the dynamic in that regard. Who wouldn't prefer to do their shopping by way of mouse click than endure the scrum of a busy shop. If anything, physical stores tend to be more of a shop window where items tend to get viewed, as consumers become more price sensitive and shop around.
The increase in price inflation this year has undoubtedly impacted UK consumer shopping habits, particularly with wage growth lagging significantly behind price rises for most of the year, and as such UK retail sales for 2017 have been disappointing overall, but this isn't altogether surprising given how strong they were in 2016. Even without Brexit we would have seen a slowdown in consumer spending. This can be clearly illustrated by looking at the peaks and troughs of retail sales over the last fifteen years.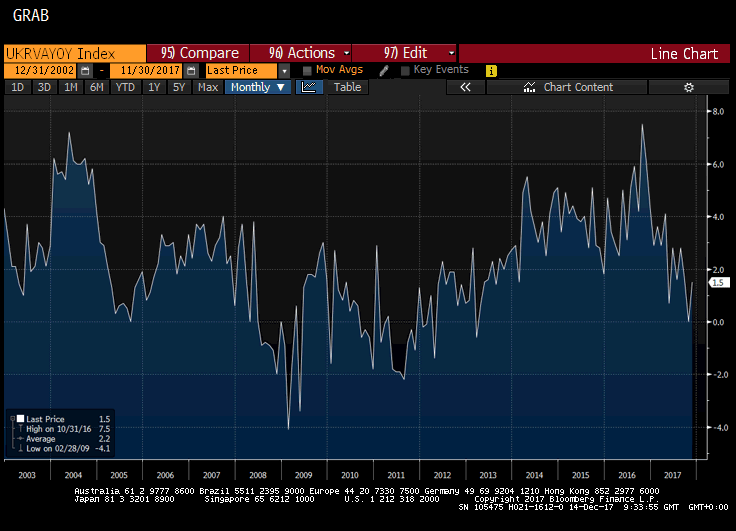 Source: Bloomberg
As can be seen from the chart above the last time UK retail sales saw annual growth levels of 7% in 2004, we saw a sharp pullback over the next 12 months with each subsequent month after that seeing a modest rebound. The big slide after that can be explained by the 2008 financial crisis.
The current slide from the highs in 2016 appears to be playing out in a similar fashion to what we saw in 2004, though where we go to from here remains an open question given current levels of consumer indebtedness, but it can certainly be argued that last year's Bank of England rate cut hasn't exactly helped matters in that regard, due to sharp rises in the costs of imported goods as a result of a lower pound.
As a result the general retail sector has struggled this year and as a result has underperformed the FTSE 100, with Next, Marks and Spencer and Kingfisher, who make up just over 40% of the sector all having a difficult year.
Even Inditex, who own Zara and New Look, which has traditionally done well has struggled this year, though Associated British Foods, who own Primark has shown that if you have a product that consumers want to buy, then the business should still perform well, though ABF's share price is also skewed by its sugar business.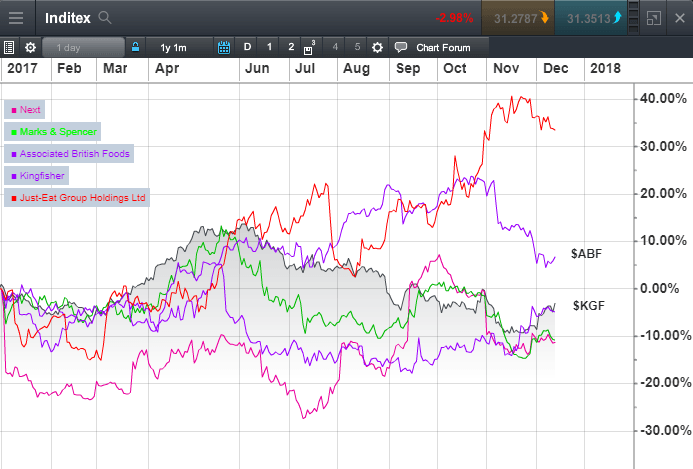 Source: CMC Markets
Not all retailers have underperformed this year, on line retailer ASOS, which is listed on AIM has seen share price gains of over 20% year to date, but it has been helped by an expanding international offering and the fact that it has lower fixed costs than ordinary high street retailers.
Just Eat Holdings has been the best of the retail bunch, making up 11.3% of the FTSE 350 General Retailers index, and finding its way into the FTSE 100 in the process, though how it classifies as a retailer is beyond me. It seems to be more of a technology disruptor in the mould of Deliveroo or Uber than a traditional retailer in the true sense of the word, which means I'm inclined to dismiss its importance in the context of the wider retail story.
It's been a similar story for more bespoke clothing retailers, with the likes of Burberry and Ted Baker, though of all the brands covered here there is one standout performer, that being Boohoo.com which has been on a veritable rollercoaster ride.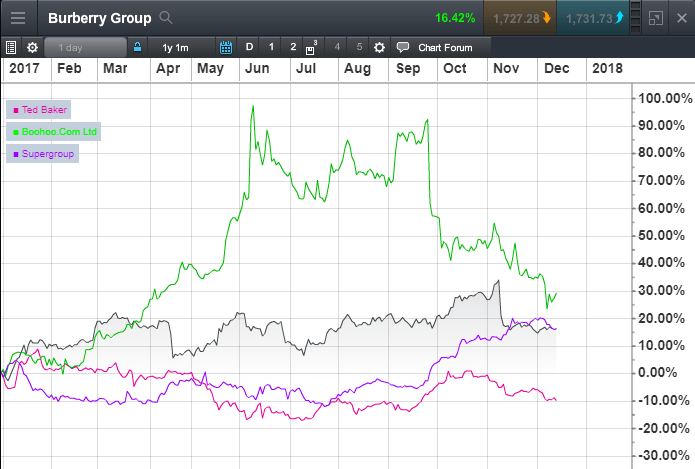 Source: CMC Markets
It's been a disappointing year for Ted Baker, having seen peaks of 3,600p in 2015 the shares have struggled to make progress this year, despite opening new stores in Los Angeles and Shanghai.
Profits have been good while sales have also improved, but weak trading conditions in the US appear to have hit confidence in one of its biggest markets. It also appears to be paying the price of the share price rises seen since 2010, with the share price up over 440%. Since the peaks of 2015 the shares appear to be looking to stabilise at a new natural level above the post Brexit 2016 lows of 2,065p.
The opening of more overseas stores for Ted Baker as well as concessions in premium department store locations in Europe, the US and Asia has seen the company grow profits consistently in the last few years from revenues of £254m at the end of 2012 to £531m at the end of 2017.
Profits are expected to come in at £63m for the current fiscal year, double the figure seen at the end of 2012, but up £1.9m from the £61.3m seen at the end of 2017. It is particularly notable that profits growth has slowed in recent years, but that isn't too surprising given the costs involved in recent international expansion.
Burberry has had a difficult ride since the departure of Angela Ahrendts in 2015 while replacement CEO Christopher Bailey's report card has been a rather more mixed affair. His replacement Marco Gobbetti appears to favour a higher end approach, announcing a focus towards the top end of the luxury market at the most recent results at the beginning of November. These saw a rise in profits and revenues for the first half of the year with the strongest growth in the Asia Pacific region.
Pre-tax profits are still expected to be below where they were in 2015 despite higher revenues, but the company does appear to be on course to see a significant increase in profits after a disappointing 2016. 
SuperDry owner Supergroup has had a solid year, its shares up 20% year to date, helped by expansion in the US and is also looking to crack the Chinese market. Group revenue rose 20% to £400m in the first six months of this year, with profits on course to rise from £84.8m in 2016 to £98.5m in 2017.
Boohoo.com has had a roller-coaster year despite increasing revenues and profits at its most recent trading update. The company posted an increase in revenues of 106% and a 99% increase in profits, but the shares tanked sharply. The fall in gross margins appears to have ruffled investors feathers as investment in new brands and marketing shaved some froth off the top line, while a share sale of 4.65m shares by joint CEO Carol Kane the day after wasn't interpreted as a vote of confidence, prompting further weakness.
Despite this the company said it remains on course to increase revenues by 80% for the current fiscal year.
Ultimately the health of the retail sector is likely to depend on how well the UK economy continues to perform in the weeks ahead. The key is likely to lie in whether average incomes start to improve in the coming months and whether inflation starts to come down, if they do then retail sales should start to recover.
The material (whether or not it states any opinions) is for general information purposes only, and does not take into account your personal circumstances or objectives. Nothing in this material is (or should be considered to be) financial, investment or other advice on which reliance should be placed. No opinion given in the material constitutes a recommendation by CMC Markets or the author that any particular investment, security, transaction or investment strategy is suitable for any specific person