By Adam Harris, Trade With Precision
It feels as if this year has flown by more quickly than usual, as we wrap up October and start the final step in the journey to Christmas. It's been a stranger year in the markets, and it is unclear how much of that can be attributed to US President Donald Trump's domestic and international economic and trade policies.
The Global Indices in the US, which have been the most bullish so far in 2018, have recently given back almost all of the gains since the start of the year. In other parts of the world, Indices have actually been declining for some time now.
It can sometimes be difficult as an investor to remain optimistic during these bearish times. However, as a trader, there are potentially profitable times ahead with opportunities to short these markets. At the time of writing this column, the Indices - including many equities - are experiencing some volatility and may be in between weekly and monthly cycles. I have therefore decided to stay away from them for now and will wait to see if a clearer picture emerges over the coming weeks.
My focus today is on two charts, a currency pair; AUD/CHF, and a commodity; Gold
AUD/CHF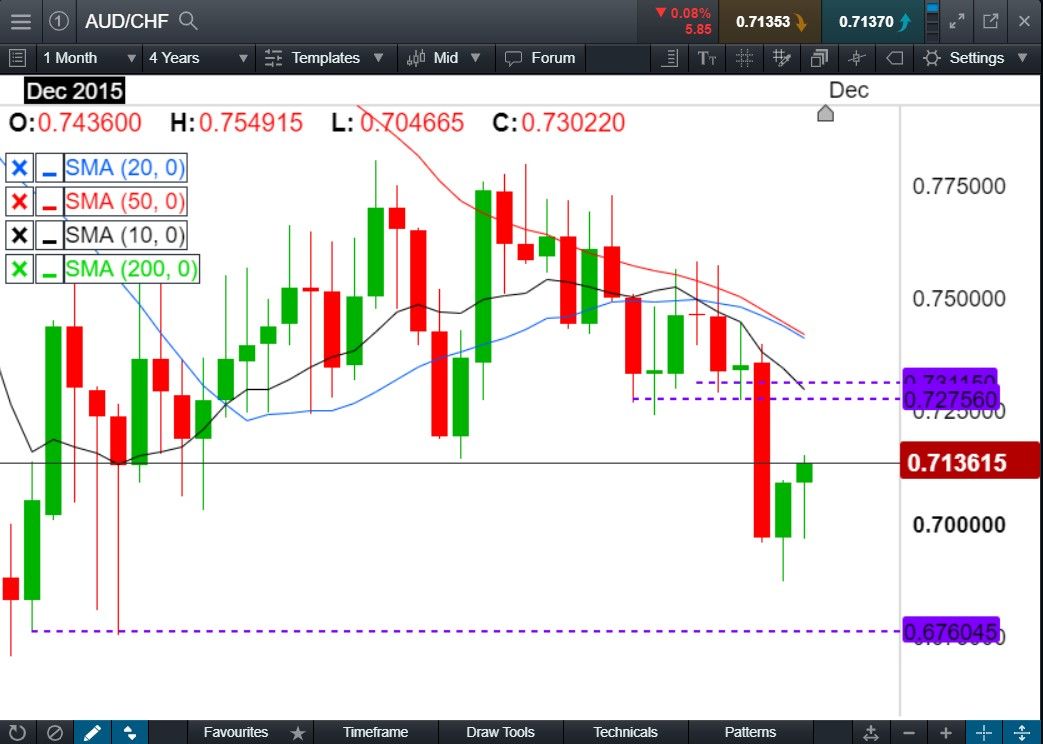 The AUD/CHF Monthly chart technically has a down-trend of lower-highs and lower-lows and has produced a swing-low. It may now be starting a retracement up towards the Moving Averages (MAs) and the upper levels of previous support, where it could test for resistance. I may take advantage of any shorter-term move up with a trade on a lower time frame.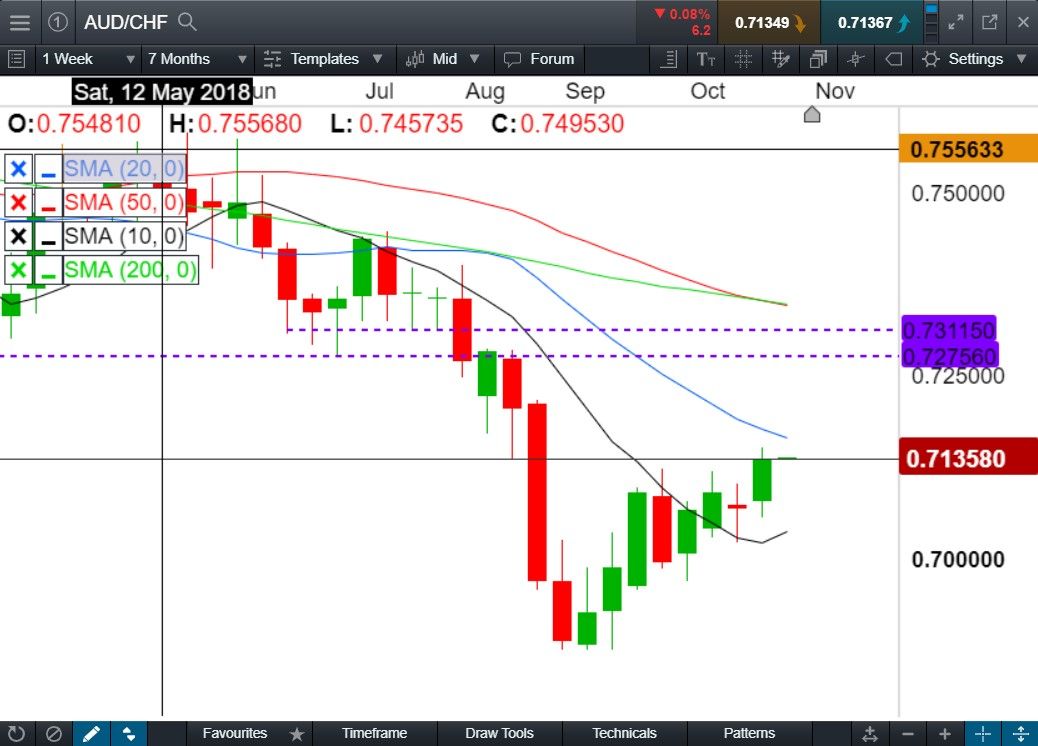 The Weekly chart can be interpreted as in the Sell Zone between the 10 and 20 MAs, and it could form a bearish candle here. In that case, I would reassess my options, but there is also some room for price - which is over-extended on the monthly - to attempt to reach 0.7250.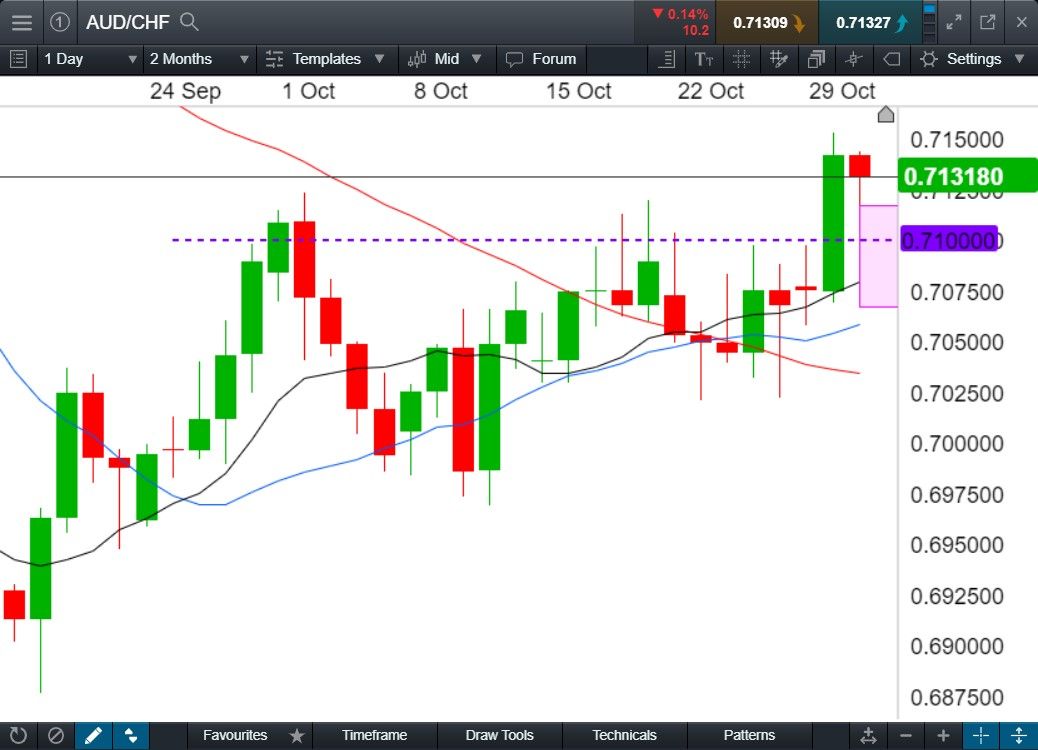 The Daily chart is the most appealing to me, with price having recently broken up through a level of resistance at 0.7100, and it's this level I'll be stalking for a long entry.
As price hasn't yet retraced back down to test this level for support, I cannot measure a Fibonacci retracement and determine if there is a layer of additional support close to this level. But I will do this closer to the time.
I am stalking a bullish candle that may form at this level, overlapping the 10 and  20 MAs' Buy Zone. If the setup occurs on this level, I will place my stop-loss below the level and candle, and/or at a previous swing-low for additional technical support. I will split my orders in two, with one of them looking to achieve breakeven at a 1:1 target. The second order, I would then manage with a trailing stop behind each closed subsequent Daily candle. 
GOLD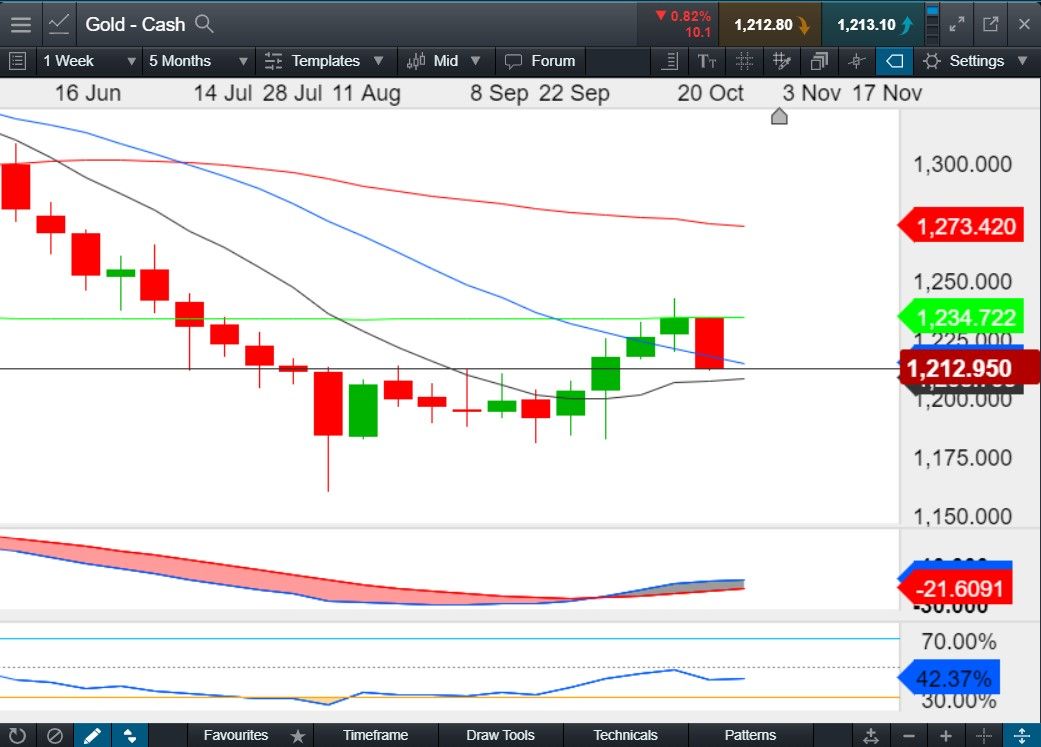 Gold's Weekly chart has started a technical up-trend with higher-highs and higher-lows, with a bearish candle currently approaching a level of Daily resistance .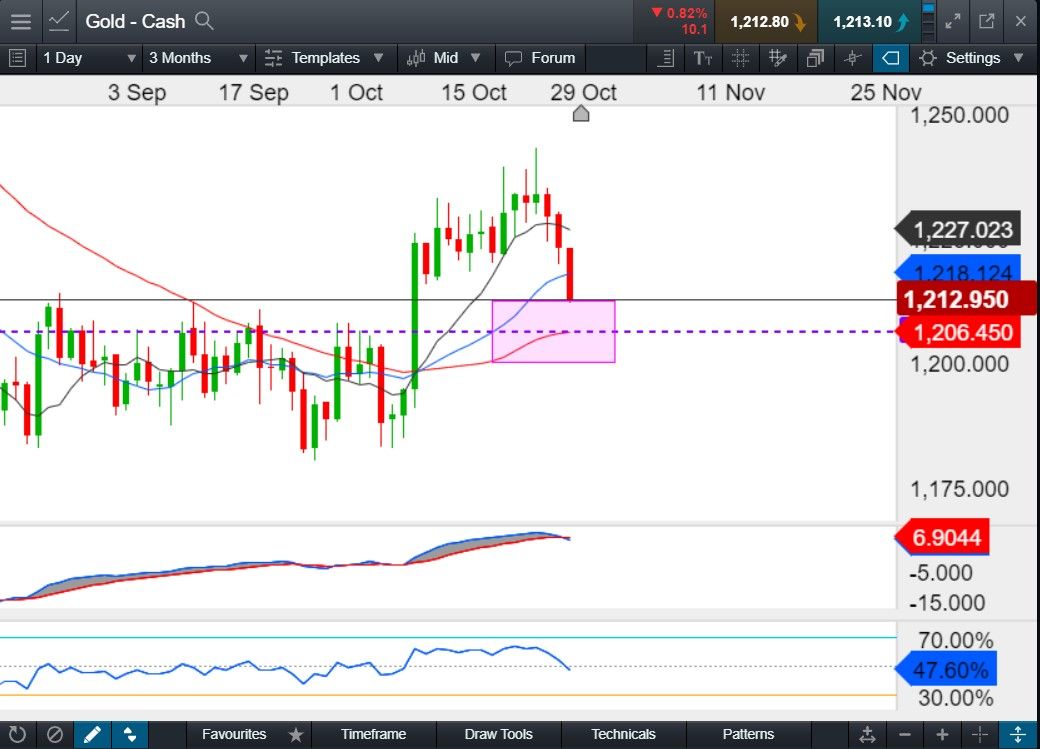 The Daily chart shows this more clearly. The recent level of resistance close to $1,200 was broken, and I had been stalking this level for a long entry. Price is now retracing back down to the level, and I am waiting for a bullish and/or rejection candle to form at this level. My entry will be above the break of the high of this potential candle, with my stop-loss below this level and the low of the potential candle for that extra technical protection.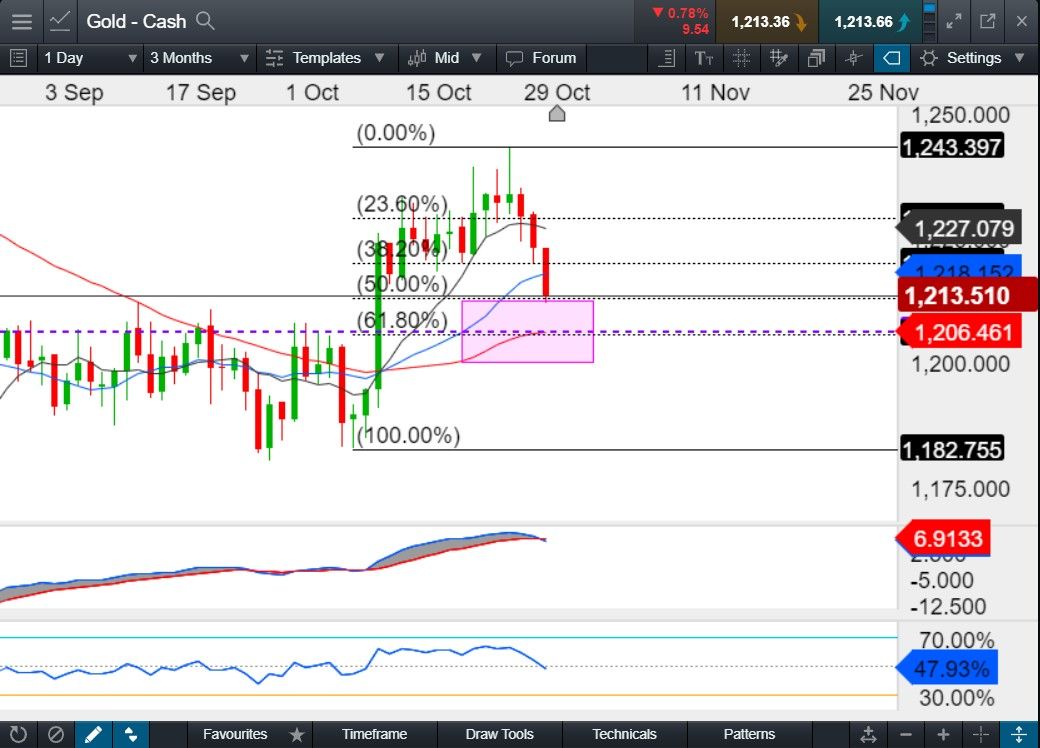 In this case, I can measure a Fibonacci retracement, and see that there is a 61.8 percent retracement level that overlays with this horizontal level. I intend to enter this trade using a split-order approach.
Happy Trading.