By Adam Harris
Precious metals have been offering some quality trends of late, but other commodities too have seen some action. Today I will cast my eye over Palladium's attractions and will also look at whether it's time to think about getting a taste of Corn.
Taken in isolation, the lower to mid timeframe trend for Palladium currently appears to be in an aggressive downtrend. Notice on the 4-hour chart below how price is making a series of lower lows and lower highs?
But by viewing the higher timeframes such as the monthly and weekly timeframes, the behaviour of price action shows a different picture - namely one of a healthy retracement back into the buy zone. The buy zone is in the area around the 10 & 20 moving averages that is often the point of equilibrium in a steady trend.
Recent price levels have formed showing varying degrees of support that also overlap the buy zone, are the psychologically significant 1,000, and the less significant - but nevertheless identifiable - level of 1,030 marked in the chart below.
I will be focusing on these two levels as key price areas where I anticipate that Palladium could find support. Specifically, I will be awaiting price to produce a bullish candle, preferably in the small-to-medium range, to signify that it's time to buy back into this long-term trend.
I will not be acting on the trade signal if the bullish candle is too large in relation to recent price action, thus diminishing the potential reward. I will also stay away if the signal fails to occur at or above my suggested levels.
From a risk management perspective, my approach will be to enter on the break of the high of this closed bullish candle, while placing my stop-loss below the low of the candle, and even better, below the most recent level of support. I almost always create two separate order tickets, splitting my risk in half across each. Both orders would have the same entry and initial stop-loss.
I will also very likely look to take partial profits when price reaches a 1:1 target and will certainly consider trailing the stop-loss of my second order as price heads toward my 3:1 target.
Turning to the grains, Corn also has a very interesting and newly established trend with great potential to the upside.
The weekly chart shown below has recently broken free of a long period of consolidation and is now above at least two key levels of horizontal support and is in an established uptrend.
In many cases, after a breakout of this sort, price could retrace and test these levels to find potential support. Also note that while I am currently monitoring the weekly chart, I plan to use the daily to plan my actual entry if my trade signal is generated.
The daily has a good trend in place and is currently beginning to become over-extended. This means that price has begun to extend too far from the 10 and 20 moving averages. For this reason and already mentioned above, I will stalk and anticipate an entry around either of these two levels, specifically 350, or 345, which also beautifully frames the daily moving average Buy Zone. It becomes even more appealing as these two levels are very close in proximity to a 50% and 61.8% retracement on the weekly timeframe, which could potentially add additional support in that respect.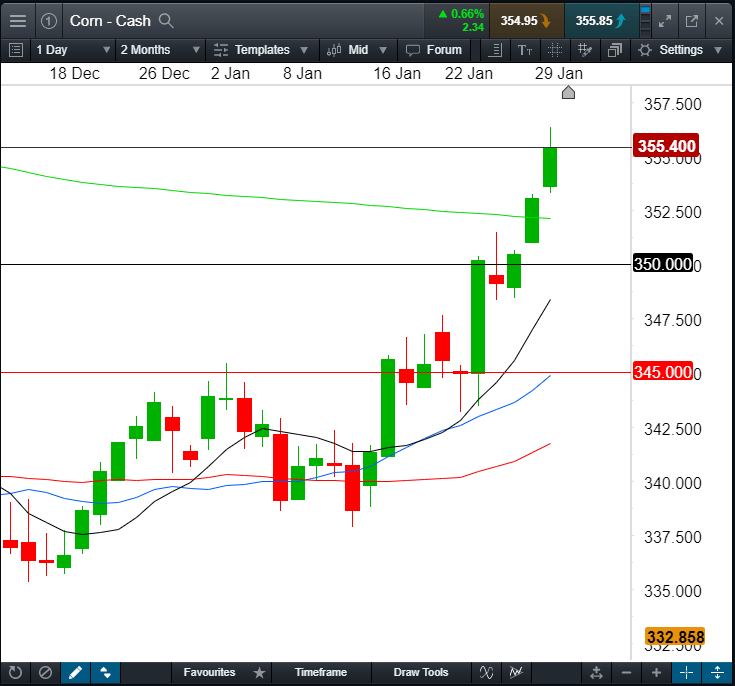 Again, I will be looking for a small-medium sized candle, bullish in nature, which is to say, either a rejection candle, or green indecision (Doji) style structure.
I will approach my trade and risk management similarly to the Pallidum strategy above, by placing two orders with half-risk each, identical entries and initial stop-losses, with one order taking profit at its 1:1 target and trailing the second order as it approaches its 3:1 target.
Both of these potential setups are just in the planning stage at present, however I always prefer to create scenarios whilst I stalk potential setups. It's great to be starting the year off with so many strong trends in play already- the key for me will be to choose my battles wisely.