From Craig Cobb at Trade with Precision:
With a higher timeframe trend change and plenty of upside potential, copper is on the radar for me over the coming hours and days. I love to trade when there has been a confirmed and strong trend change on the higher timeframes. The reason for my enthusiasm for trading around higher timeframe trend change is the pure size of the potential rewards on offer. Let me break down what I am seeing, and looking for in copper ...
The above chart is the weekly chart and as you can see based on the arrows there is now a higher low followed by a higher high. This now represents a change of direction on this long-term timeframe that could see a prolonged move to the upside.
Moving on to the daily chart, the trend it is even more defined with two higher lows and a strong break of resistance occurring overnight. There is also nothing worth noting in terms of resistance above which could hinder copper's move higher.
Now that it is pretty clear that the weekly and daily trends are both established it's time to move down the timeframes looking for a potential trade setup or to plan out a scenario in which I might actually take a trade.
This 4 hour trend is an absolute cracker and is pointing to nothing but strength on copper. Notice how I have now included the MACD and RSI indicators on the chart. I have added these indicators because they are essential for the strategies I use. Both the MACD and RSI are convergent with price, that means they are in agreement and this is yet another good sign.
On this four-hour timeframe I am now waiting for the price to pull back into the buy zone which is around 214 to 215. If price was to pull back into this area, then I would be waiting for a small bullish candle as my trigger to raise an order to go long copper. My order would be one pip above the high and my stop 1 pip below the low.
What if it doesn't pull back that far?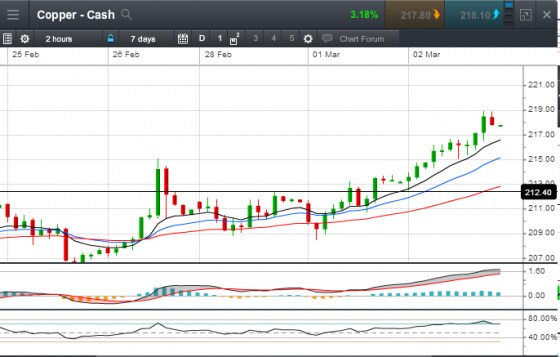 If it doesn't pull back that far then I will move to the two hour chart and look for a small bullish candle in the buy zone which will be around 215 to 216. The same rules for entry would apply to that of the description given in the four hour chart.
My trade management, should I get triggered into a trade, will be to scale out half of the position at 1:1 and leave the second half to run for what I hope to be a very big move based on the daily and weekly timeframes. I would trail stops accordingly based on the price action on the chart.
The reason I love using the higher timeframe trend reversals for intraday trades is so that from time to time when everything lines up I can snag a big move with the same size risk as normal but with far higher reward potential.
I hope this helps and I hope that copper sets up!