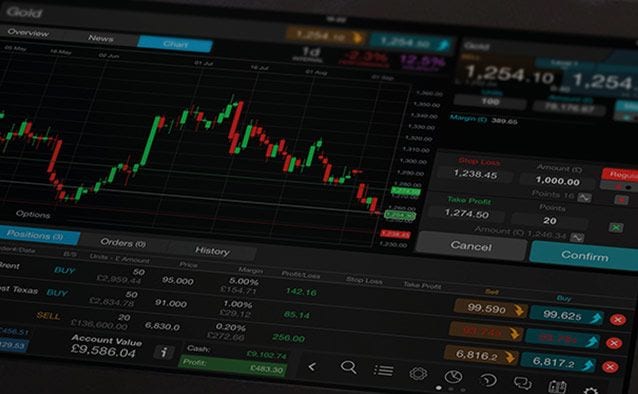 Colin Cieszynski has done some interesting analysis on how Apple's stock price has performed before and after product launches. With the next Iphone launch due at 2am Wednesday AEST, I thought readers may be interested in what Colin has come up with.
Apple's Iphone Launch
This will be an important event for investors and traders, not just for tech geeks. Keeping ahead of competitors is crucial for the valuation of a technology  stock like Apple.
Here are a coupe of interesting things Colin has identified about the how the market has behaved around Apple's product launches.
Historically, the best performance by Apple shares has been in the period between the launch event and when the new phones actually appear in stores ( individual traders will need to make their own judgement  about the Steve Jobs effect here)
In each of the last 7 years, the stock price reversed direction once in store sales started. This suggests classic enter on the rumour and exit on the news behaviour by traders. As the table below shows, this behavior applied both when the launch event got the market optimistic and when it made investors nervous.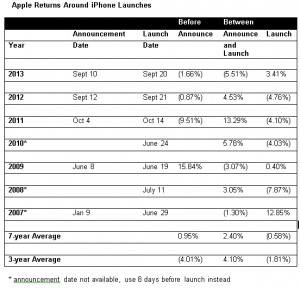 Iphone launch trading
Click to Enlarge
Apple stock chart
I blogged on Apple last week when it was testing potential trend line resistance.  This resistance was rejected  which now brings potential trend line support  around .00 into play if the market does get nervous after the product launch. The 55 day moving average is also at .40, adding to the possible significance of this support zone
For traders who are short after resistance was rejected, one approach would be to tighten stops right up if price hits the support zone. This provides some protection in case price bounces off this support but leaves you positioned to benefit for a break of support and a deeper correction. Others may be happy to go long if the support zone is hit and rejected with a trend low.
If the market loves the product launch, the resistance might prove useful again. A rally to and rejection of this line might also fit into Colin's contrarian analysis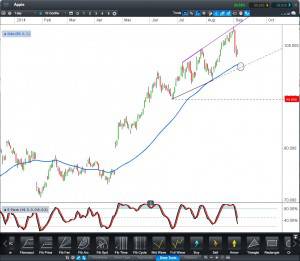 Apple CFD Daily
Click to Enlarge