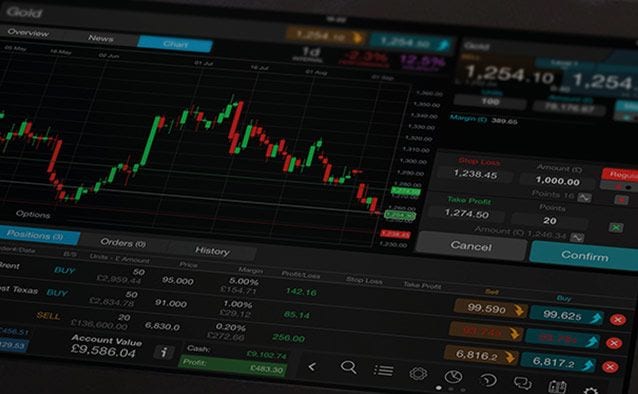 The calming of market concerns over the re-unification of Crimea with Russia is benefiting risk assets generally, and commodity currencies in particular. The AUD and NZD strengthened overnight. While CAD has been weakening against the USD, and NOK is towards the middle of a trading range, the overnight moves put AUD and NZD near one year highs, offering traders tightly defined trading opportunities.
Over the last few weeks, the AUD/USD has featured, as it moves closer to a contrarian move higher. The case was made in A Contrarian's AUD/USD and in AUD/USD - Au Contraire . Yesterday, Ric Spooner highlighted the AUD against the USD, CHF and GBP in Risk On - Aussie Dollar Chart Resistance in Play.
Here's the AUD/USD chart this morning: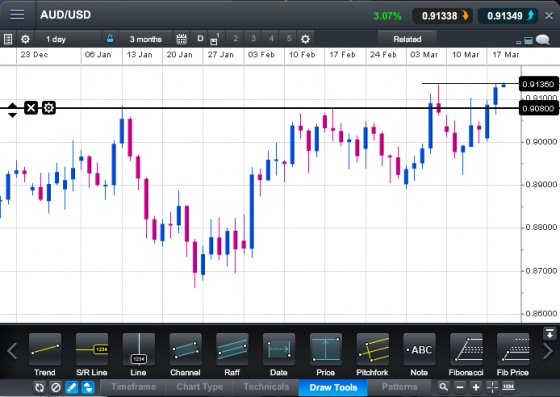 Admittedly, this could break either way. After cracking the neckline at 0.9080, bullish traders may wait for a move up through recent highs around 0.9138 before buying. Alternatively, failure back through 0.9080 may be a short entry signal. How traders treat these developments will depend on individual trading plans and views - but it's certainly worth watching this pair at the moment.
Perhaps more interesting is NZD/USD: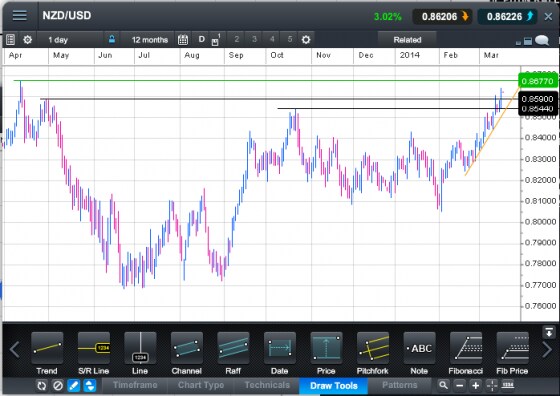 The rising trend has pushed through previous resistance and is heading towards the year high around 0.8677. A break through here is less ambiguous than a AUD/USD break, and could see NZD/USD pushing for the all time high for the pair at 0.8844.This would be in line with fundamentals such as higher interest rates and stronger demand for agricultural commodities, although some analysts point to a 20% over valuation on long run, trade-based averages as a reason for caution.
Surprisingly, among the commodity currencies themselves, there is a clear break out: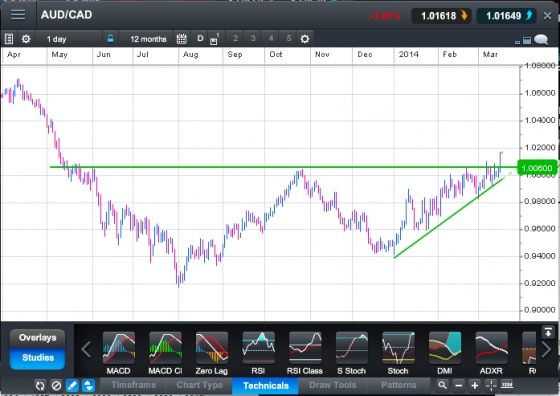 This break out may be pointing to an eventual climb to the one year highs around 1.07. Traders who are bullish AUD ( or bearish CAD) may find this a better alternative than AUD/USD. Adding to potential CAD bearishness, the pattern recognition scanner picked up this potential triangle break out: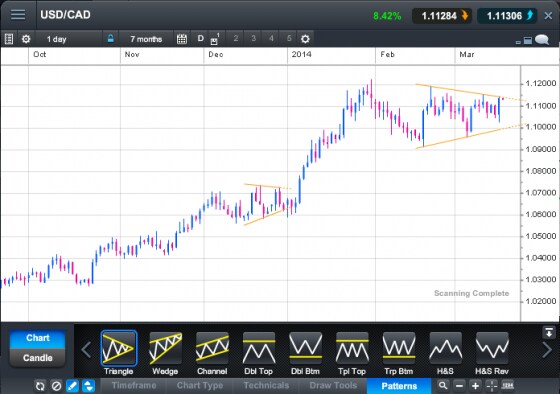 A weakening of CAD, provoking a move through 1.1150, could spark technical buying of USD/CAD.
Whichever way they break, it's likely commodity currencies will be on traders' radar, at least for the short term.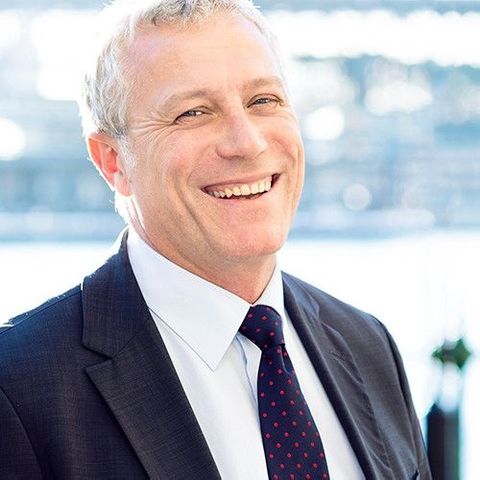 Michael McCarthy