Favoured by traders, conspiracy theorists and Trump economic advisers, gold is a special commodity. However, after a recent good run, gold's days in the sun could be coming to an end. The chart says it all.  The tightening price range is now broken - to the downside. There is potential for a move to $1295, $1248 and even $1210.
Why?
Technical analysts don't need an answer to "why?". The breach of the triangle is enough. For those who look beyond the charts, there   are factors to consider. While the trillions of dollars, yen and euro sloshing around the global monetary system are supporting all asset classes, its becoming more apparent that the US fed will likely turn the interest rate screws this year. This is a good news / bad news scenario for markets. The US economy is strong enough to withstand higher rates, but those rising interest rates will hurt valuations.
Non-income producing, "safe haven" assets are likely to fall first. Think bonds.......and gold.
The mechanism to force gold down is a higher USD. Many traders watch the USD index, rather than the USD against any one currency, to get a sense of the inherent USD direction. And the trade weighted index is showing signs of a possble up trend forming: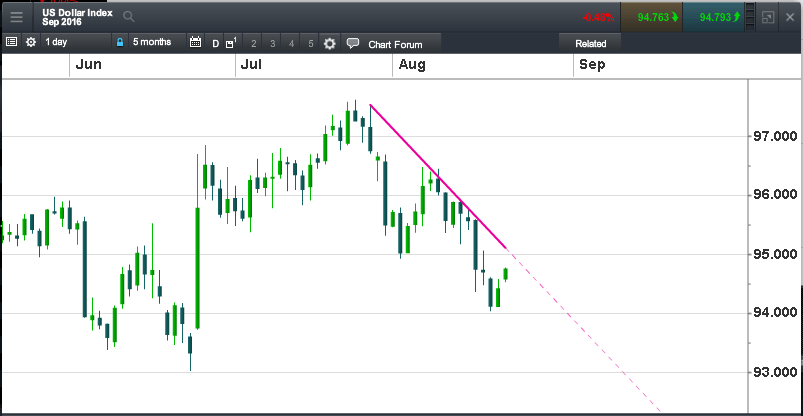 As always, there are many ways to express a view in markets. Strong USD or weak gold? You decide.