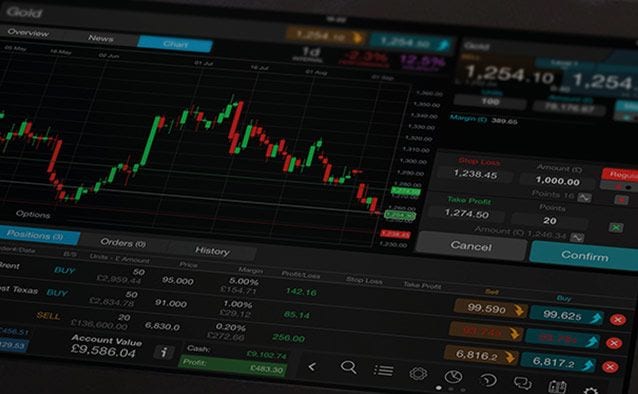 (The following is a comprehensive look at implications of tonight's US Federal Reserve announcement. Originally distributed to CMC's North American clients, I've asked Colin to post it here as well  - MM)
With the US economy generally continuing to improve since the last FOMC meeting in July, it looks likely the central bank may continue its tapering program with another $10B cut to QE3 asset purchases at its upcoming meeting.
However, US Dollar trading action of late suggests that traders are looking past the current meeting to the end of QE3 and beyond to the start of interest rate increases. Since the end of June, the US Dollar Index has rallied 5.9%, crushing all markets in its path including other major paper currencies, hard currencies like gold, and commodities which are usually priced in USD.
This rally indicates that traders are expecting the Fed to take a more hawkish tone relative to other major central banks in the coming months.  The Fed has already started on this path, moving up the end of tapering and the end of QE3 to its late October meeting from mid-December with a final $15B cut to purchases planned for then. The Fed has also indicated it intends to outline its plans for normalizing monetary policy by the end of this year.
In contrast, the ECB has announced plans to start its own asset purchases in October. The Bank of Japan continues its own QE program while facing calls to do more. The Bank of England may find its hawkish hands tied depending on the political situation in the UK after this week's Scottish independence referendum.
Normalizing monetary policy means not only taking the Fed's foot off the gas and bringing interest rates back in line with inflation over time but also reducing the size of the Fed's balance sheet which has ballooned over time.
At this week's Fed meeting, traders may react to any changes in tone or signs of when and how aggressively the central bank plans to act on normalization. Signs of a shift have already started to appear. Last meeting saw one hawkish dissenter emerge and more could present themselves this time around. Fed Chair Yellen gave a balanced presentation on monetary policy at the Jackson Hole conference coming in less dovish than had been expected. Recent talk has indicated the Fed could change its guidance at the upcoming meeting to signal it may be preparing to act sooner.
Connecting the dots: How far and how fast could interest rates rise?
It's increasingly looking like higher interest rates are a question of not if, but when interest rates start to rise, how fast could they increase?
This month's meeting includes FOMC member projections and a press conference with FOMC Chair Yellen. The member projections may capture a lot of attention.
Chart One: FOMC member interest rate projections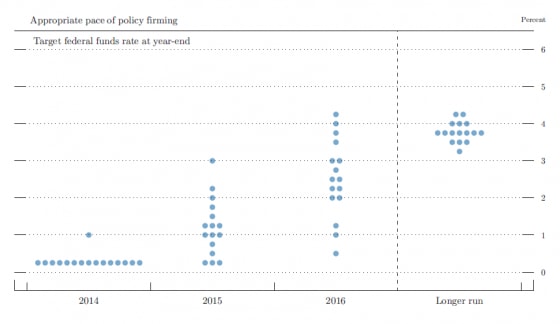 Source: www.federalreserve.gov
The chart above, where each dot represents an FOMC member projection for interest rates shows that in June, a  the main group of members expected a 1.00-1.25% fed funds rate by the end of 2015 and 2-3% by the end of 2016.
To bring interest rates back in line with inflation would mean raising them toward the Fed's long-run inflation objective of 2.00%, which is similar to other major central banks that have inflation targets like the Bank of Canada and Bank of England.
If the main group of dots moves up, it would indicate to the street that the Fed is becoming more hawkish.
Historically, the Fed has been methodical in its actions and it has tended to keep on a direction for a long period of time. The steady QE taperings since December are an example of this along with the 13 straight interest rate cuts between 2001 and 2003, the 17 rate increases between 2004 and 2006, and the 10 straight rate cuts between 2007 and 2009.
Based on this, it appears likely that once the Fed starts raising interest rates, it may do so in 0.25% increments over several meetings.
In 2015, the FOMC has eight meetings scheduled. To reach 1.00% by December it would need to start raising rates from the current 0.25% level by its September meeting at the latest. To reach 1.25% they would need to start by July and to finish 2015 at the Fed 1.50% would need to start no later than June.
It's also possible the Fed may raise rates a few times, rather than pause again to see the effect before acting again as the Bank of Canada did after two increases in 2010 and the Reserve Bank of New Zealand has done after four increases earlier this year. Overall though, the sooner the Fed starts to raise interest rates, the higher they are likely to be by the end of 2015.
The Fed's Balance sheet and the Great Shell Game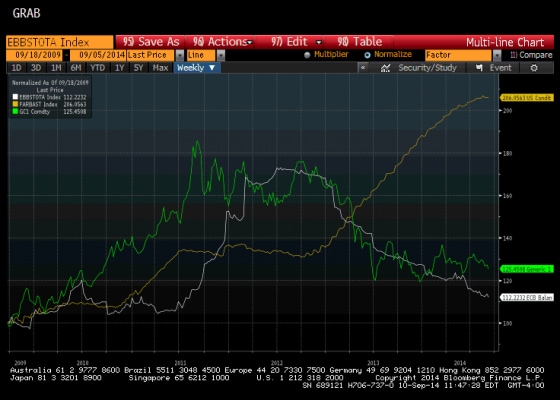 Source: Bloomberg L.P.
Another aspect of normalization traders will be looking for but may not see this time around is the Fed's balance sheet plans. QE3 has increased the size of the Fed's asset base (gold line) dramatically in recent years. The ECB, on the other hand, has been cutting back its balance sheet through its stealth taper program (the steady repayment of LTRO loans by banks). These trends appear set to reverse themselves with the ECB launching new LTRO loans this month and again in December with ABS (read QE) purchases scheduled to start in October.
Just as the Fed gave cover the ECB to shrink its balance sheet without disrupting world markets and economies, the ECB may be about to return the favour to the Fed. It's important for liquidity in the market to decrease as the economy improves or central banks run the risk of creating another round of asset bubbles.
Cutting the Fed's balance sheet may take place through three phases over a number of months or years. First, stop reinvesting interest received, second, stop replacing debt as it rolls over, third start selling securities before they mature.
The Fed has indicated it intends to make its plans for shrinking its balance sheet known by the end of the year, so we may not necessarily see it this time around but traders may look for talk of progress on a plan.
Voting and political outlook
The vote this time around looks to be pretty much a done deal for another $10B taper.
Last time around there was one hawkish dissenter, Philadelphia Fed President Plosser. This time he could be followed by two more, Cleveland Fed President Mester who has called for changes to guidance to drop the "considerable period" between the end of tapering and the first rate hike, and long-time hawk, Dallas Fed President Fisher.
If the Fed swings toward a more hawkish statement, Minneapolis Fed President Kocherlakota could dissent from his dovish perch.
The Fed has yet to name a replacement for Jeremy Stein who resigned earlier this year, while the confirmations of Stanley Fischer and Lael Brainard took some time, and the vote to confirm Dr. Yellen as new Chair was narrower than expected.
This suggests that future nominees to the FOMC Board of Governors may come under increased scrutiny from the Republicans, many of whom have publicly opposed QE programs.
Should the Republicans gain control of the Senate at the upcoming midterm elections and continue to hold the House majority, the central bank may come under more pressure to start to normalize monetary policy sooner
The potential impact of the statement on trading activity
Markets have been sending mixed signals about where the street thinks the Fed is heading and this month's statement, member outlook and Chair Yellen press conference may provide more clarity on the matter.
USD has been rallying strongly in recent weeks on anticipation of a more hawkish Fed going forward, mowing down everything in its path. It has scored big gains against other major currencies, particularly GBP, JPY and EUR. The rising dollar has also sent gold and silver plus crude oil lower, dragging down resource currencies like CAD, AUD and NZD. However the USD has become extremely overextended and may be vulnerable to a correction.
On the other hand, stock markets have rallied to new highs since the last meeting and are still trading near them suggesting equity traders are expecting the Fed to remain supportive for some time to come.
With two contradictory points of view about the Fed running through the market, something has to give eventually and this meeting could provide the catalyst. A more hawkish Fed could rip the rug out from under stock markets while a neutral to dovish Fed could undermine the gains made by USD of late.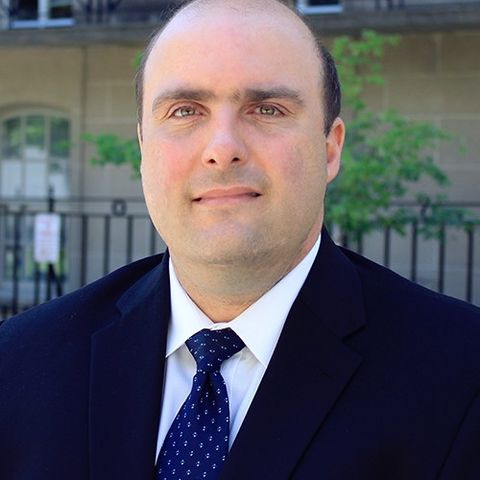 Colin Cieszynski