The ASX 200 index is down 5% over the year to date. However, this bald figure masks a lot of big gains and major losses. Generally speaking this has been a great year for high PE growth companies.  Domino's Pizza, for example, has been a big winner in the technology space. Customers love its GPS tracking app and its share price is up 83% this year.
BHP on the other hand is down 23% year to date. It has plenty of problems. Markets for its major products oil, iron ore, copper and coal are in varying degrees of oversupply and prices are falling. Analysts estimate that the loss of value from the closure its Brazilian Samarco mine after last week's dam collapse could be in the order of $US3bn. On top of that, there will be unknown remediation costs and the issue of how much these will be could be an open question for some time to come. So investors who had the foresight to increase exposure to the high growth sector and reduce holdings of some traditional industries have done relatively well this year
However, nothing lasts for ever. Despite all the positives for Dominos and all the potential negatives for BHP, recent market action has moved to the point where there could to be downside price risk for Dominos and upside for BHP. Domino's forward PE multiple, for example has increased from 38 to 49 this year. Good as its prospects are, this looks like a big multiple for a pizza vendor
In these circumstances, an active trader who is considering a short term switch doesn't have to believe that BHP's is a better long term prospect than say Domino's or Blackmores. If on balance it looks to represent a better price risk over the next few weeks or months then at least a partial switch might be considered.
BHP chart
What makes BHP potentially interesting right now is that BHP has arrived at the first of a number of possible chart support levels.
Strategically this doesn't necessarily mean traders have to try catching the proverbial falling knife just because BHP has hit this support. One common approach is to buy only if the share price rejects the support and bounces off it. If the knife just keeps falling, the trader waits for another day.
The first of the potential chart supports for BHP comes from a possible "3 drives to a low pattern" as shown on the chart below.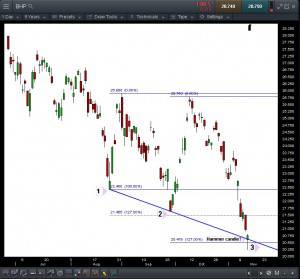 BHP Daily
Source: CMC Markets Pro Platform
The 3 drives is a close cousin of the triple bottom, consisting of 3 fairly symmetrical moves lower. You can draw a trend line loosely across the three drives and there is usually Fibonacci symmetry to the pattern as well. At around $20.50 then both Drives 2 and 3 are 1.27 times the length of the upward correction that came before them.
This afternoon BHP has flicked through the 3 drives support pattern. This is quite common. You will see plenty of reversals starting from a small head fake.
With an hour to go, today's candle is also looking like it could be a hammer (small upper body with long lower wick). This would be potentially encouraging as a sign of short term bullish reversal on the day. A quick move to close the gap created by this morning's low could be another sign that this support is being rejected
However, if BHP falls much below today's low it is probably negating this support level. If that happens there are other potential Fibonacci levels of interest around $19.70 and $18.75.