As often happens, a couple of charts I have posted recently drifted around without either setting up or being negated. However, both Germany 30 and Platinum are looking interesting again so I thought it might be time for a follow up post. 
Both these set ups could come into play if markets start to correct the Trump election moves. This might see the US Dollar and stocks weakening while precious metals recover some lost ground.
Germany 30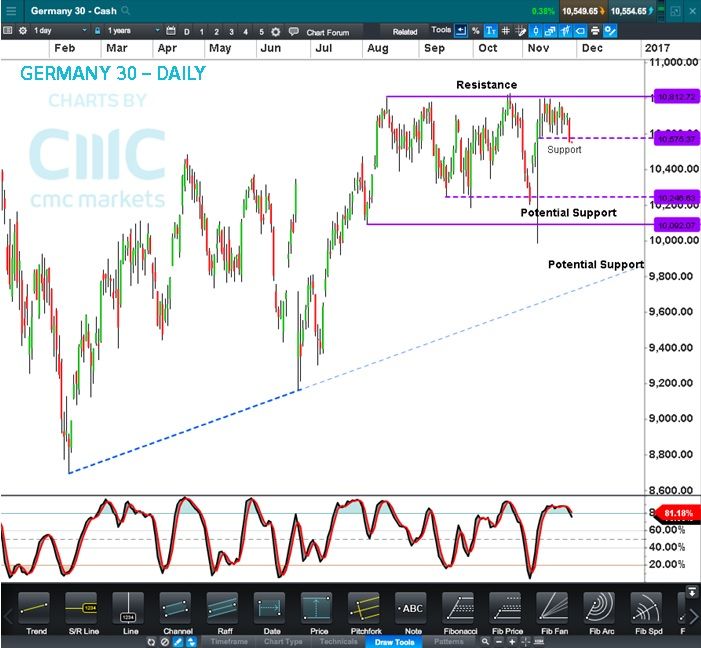 I posted this chart back on 11 November. At that time Germany 30 was shaping to peak at resistance for a fourth time. My theory was that a break below the recent low at 10,575 might confirm rejection of this resistance, setting up for a big picture move lower. 
The market didn't break down, instead it just drifted around inside this range. Last night things finally began to move with Germany 30 breaking below the 10,575 support and closing on its low. The one remaining concern is that yesterday was a big candle that only just cleared support. However, if Germany 30 falls further when the cash opens tonight, it will look like a confirmed break of near term support with potential for a return to deeper support levels.
Platinum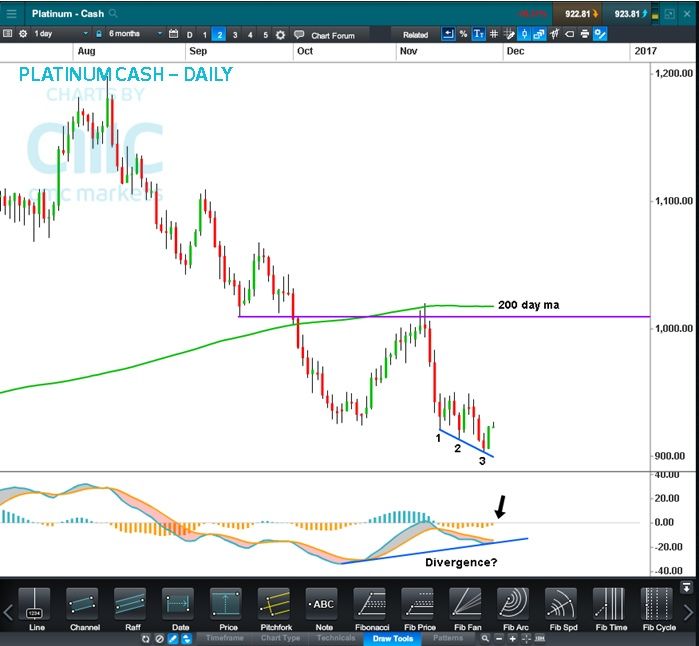 The platinum post was on 18 November. At that stage, platinum was neatly placed to form an exact double bottom
I outlined a divergence strategy for these circumstances that uses the MACD to confirm divergence and signal a trend change. The buy entry is triggered if the MACD histogram closes above 0 on the daily chart.
This didn't happen. Instead platinum drifted lower. However, this decline was gentle enough to leave the basic divergence situation intact with price making lower lows and the MACD potentially making a higher low.
Platinum's recent drift also  looks like a potential bullish 3 drives to a low pattern. If it rallies from here, the MACD may yet confirm divergence and then signal a trend change by closing above the zero line.  That could provide early entry on a rally towards resistance and the 200 day moving average