The OPEC decision and US wage growth data moved the dial on the inflation outlook last night. Key markets have responded and the chart outlook for several  including the Aussie Dollar are at an interesting stage. 
US inflation Outlook
The OPEC agreement makes a big difference to the outlook for oil. The market looks set to move towards balance early next year and that could easily see prices into the $50's where US shale producers may be able to start increasing production.
Higher oil prices will flow through to the headline CPI data next year. However, it will also lead to increases in other costs production costs like transport, helping to improve underlying measures of inflation as well.
US wage growth. US personal income data was released last night and showed further evidence of a pleasing increase in wage growth. Total wages were up 4.3% year on year. This is supported by higher numbers of people in work but average hourly wage rates have also been improving in recent months
Both these factors improve the outlook for US inflation. There are still headwinds of course, not least of which is the strengthening $US and sluggish world trade growth. Both of these tend to limit price increases for imported goods. However, last night's data shifts the dial on how conservative the Fed can still afford to be in lifting rates next year and markets have reacted accordingly.
US Ten Year Note Chart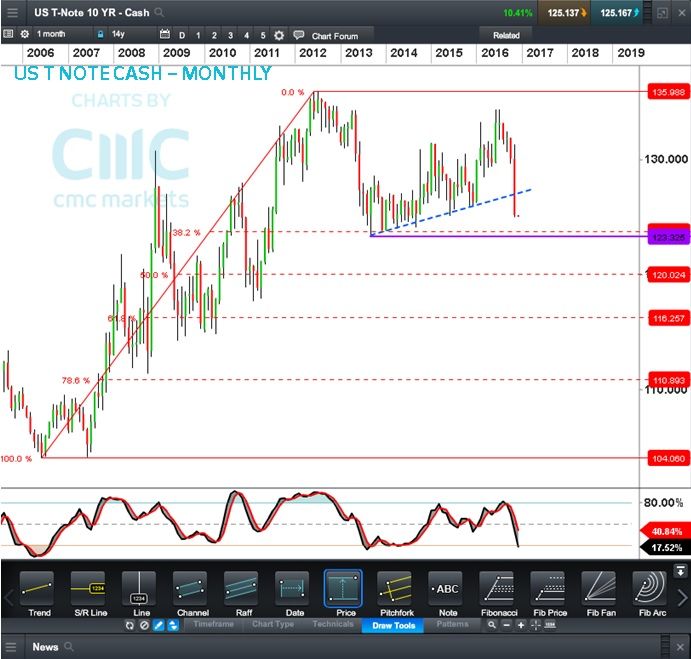 US bonds were sold again last night with the 10 year yield rising to 2.39%.
As the long term chart below shows, the 10 year bond price broke below trend line support this month. At 125.1  it's now back to the levels of June 2015.
The key level for this chart looks to be the 2013 low and 38.2% Fibonacci retracement around 123.3. A break below that level says the current move is part of the next major move lower; not just a correction of the 2013/2016 rally
USDJPY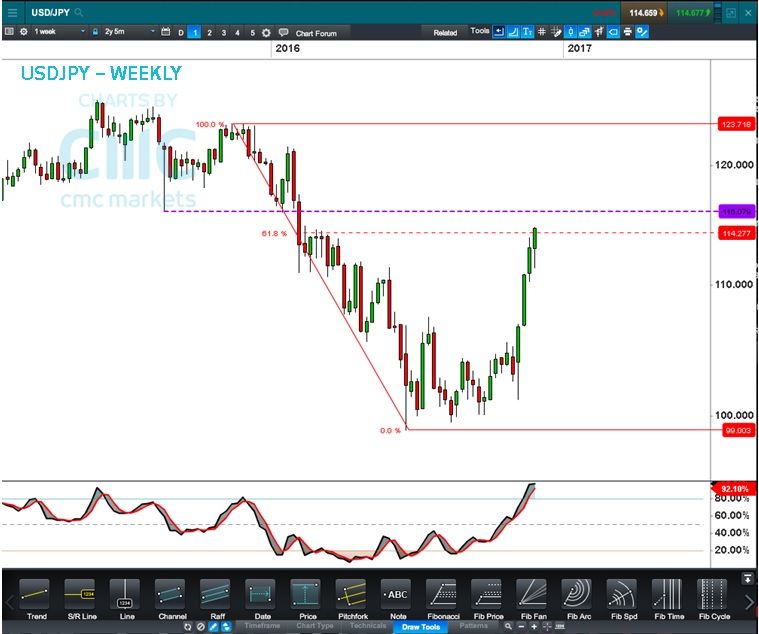 Dollar Yen is right in the firing line of the market adjustment to higher US interest rates driven by central bank divergence. Bank of Japan policy is to hold its bond rate at 0% while US bond yields are rising. 
The Dollar Yen rally continues. It's currently testing the 61.8% retracement but the August 2015 and January 2016 lows around 116 look more significant resistance
AUDUSD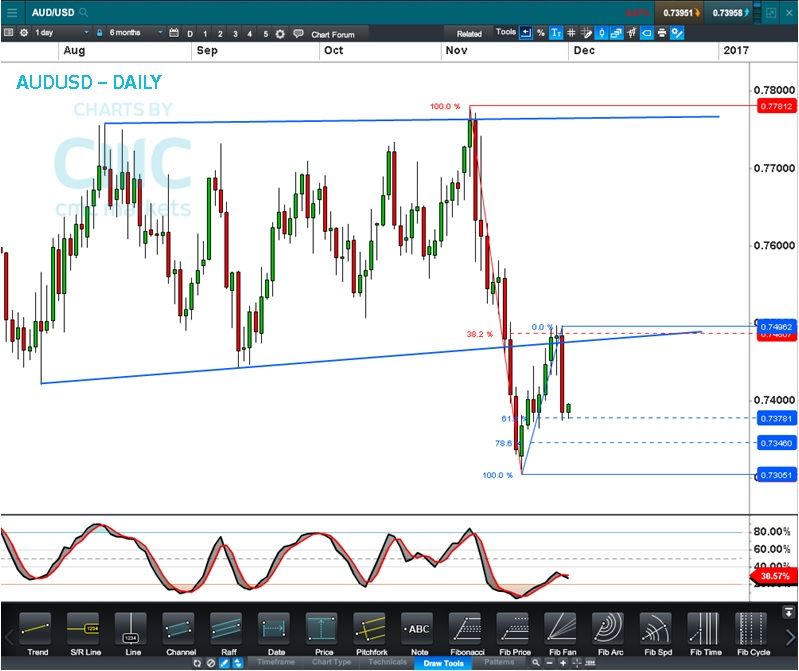 Last night's sell-off in the Aussie Dollar was turbo charged by the falling spot iron ore price. It represented a neat retest of old support and the 38.2% retracement. 
If we bounce off the minor 61.8% or 78.6% retracements in the .7350/.7380 range, we may yet see a higher Aussie.
The bearish scenario for Aussie would be a move straight below the 21 November low at 73c.  That leaves the retest looking like a relatively weak and minor upward correction with plenty of ongoing downward impulsion.