The Mexican peso continues to chart really well, making it a fascinating vehicle for traders following the US election result.
Weekly chart
The big picture weekly chart above sets the scene
USD/MXN has been in a major up trend since breaking free of a trading range in November 2014
The 200 day moving average has done a good job of defining this uptrend.
It made a major low in April this year but pulled out of that correction when it became clear Donald Trump would be the Republican nominee.  The big drop in the Peso was fuelled by concerns that Trump's policies would be bad for Mexico's economy
USD/MXN peaked just after the first Presidential debate but is now showing signs of rejecting the 200 day moving average and trend line support.
The slow stochastic in the box below the chart is trending down strongly but has potential to form a base around the 50% level.
Daily chart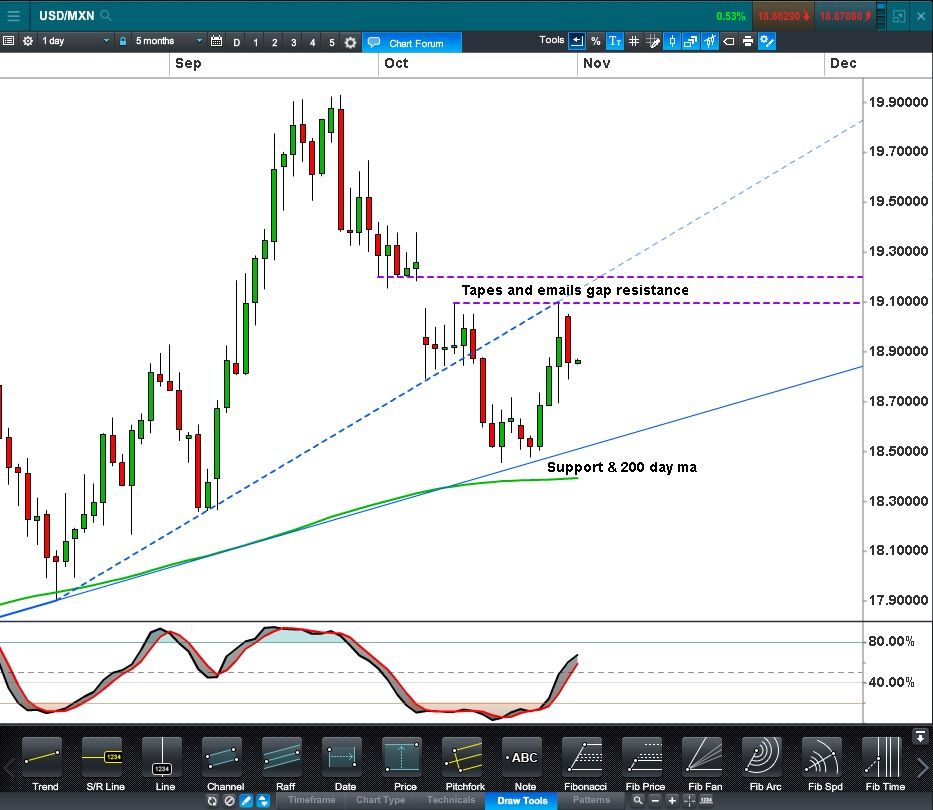 A closer look shows that the latest minor rally is faltering at the bottom of a recent gap.
That gap was created by the "Trump Tapes" which saw markets largely write him off as a presidential prospect.  However, it's now acting as resistance and looks like a significant level. This is as far as markets have so far been prepared to take the recovery on the back of the new Clinton email investigation.
Rejection of this resistance would be a pro-Clinton indicator. A break up through it would mean the market is restoring its view of Trump's prospects. 
Open a live account
Unlock our full range of products and trading tools with a live account.
Losses can exceed deposits
Free demo account
Practise trading risk-free with virtual funds on our Next Generation platform.