There is still much uncertainty in the global markets, manifested as either lackluster rallies in the major US stock indices or what some see as a rush for safety in commodities. Gold has met seasonal expectations with a nice rally since December.  
But what about that other big elephant in the room - Crude Oil (sweet, sweet West Texas Crude). A lot has happened since OPEC agreed its first global oil compact in 15 years last December in Vienna. The OPEC meeting set the stage for a potential breakout of crude's price to the upside, leaving the dominant trading range of last year behind. So keeping the words of oil tycoon Paul Getty in mind - "Formula for success: rise early, work hard, strike oil"-  let's have an early look at oil and the potential opportunities waiting over the next few sessions.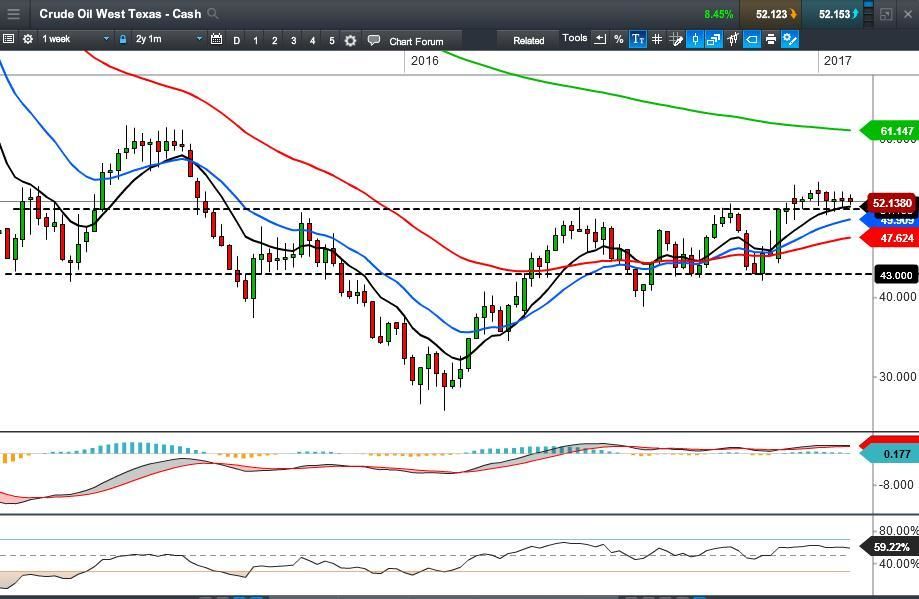 The weekly chart shows the fanning pattern in our moving averages, which is always the first indication of a good trending market. The price is trading quite close to our moving average buy zone with rather small candles. And both MACD and RSI look strong, lacking any signs of divergence.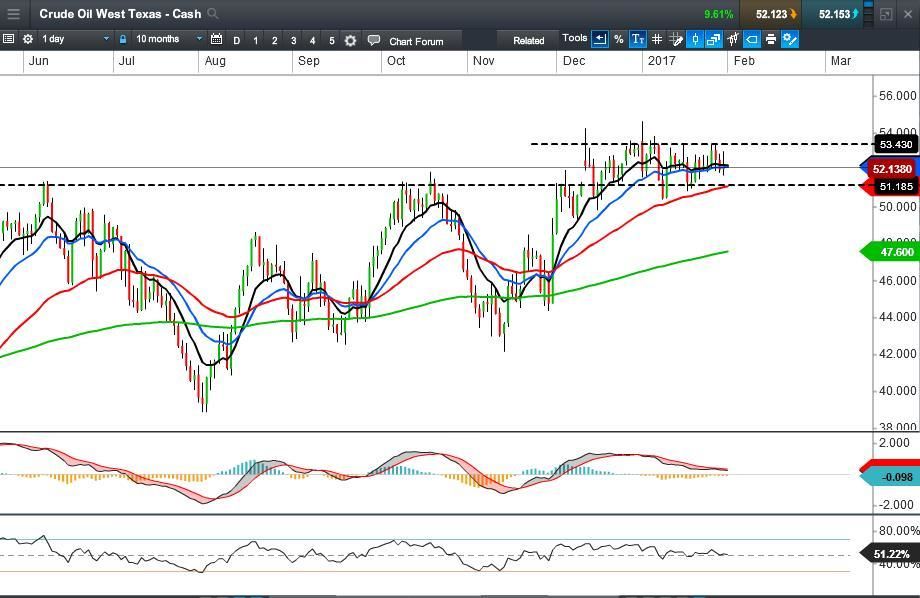 Drilling down to the daily chart, a level at 53.43 stands out. While the market did recently trade higher, the new level has only become apparent in 2017. Since then, adding further significance, the price has retested this level several times.
Going alongside those tests every retracement established a higher lower – another sign of pressure building up for a potential break out of that flat level. And for most of January, both MACD and RSI have held their ground fairly well, suggesting a potential convergence on the break of the flat level may be likely. Small candles, with moving averages close by and in correct order, complete the bullish assessment of the daily chart.
So right now, this looks like a potential setup in the making for a breakout.
Are the bulls currently chomping so hard at the bit that they will eventually strike oil and take crude much higher? Nobody knows for sure. But if this setup ticks all your personal boxes on your checklist, with proper risk management, this market could be interesting enough to deserve a spot on your watchlist.