The motivation and focus to remain at the charts is hard to sustain as we slide into the festive season. In years gone by, this laziness has often resulted in me and many other traders being happy to take an early break, and give in to the good times.
But not this year. Because there is one thing that excites me more than the thought of Christmas and all the presents, food, family and friends, and holiday travel - being able to pay for it. And right now I am seeing some of the best trending conditions I have seen all year. There is potentially rewarding movement in metals such as gold, in agricultural products like sugar, and in the US index markets. And then there is the gift that keeps on giving, JPY crosses.
Enter AUD/JPY
As far as trends go, this is about as textbook potentially perfect as you are likely to find. Moving averages fanning perfectly and in the correct order, and nice smallish candlesticks showing no crazed buying. We just see steady, smooth buying momentum with indicator convergence all the way. And CHF/JPY and NZD/JPY (below) are pretty much carbon copies.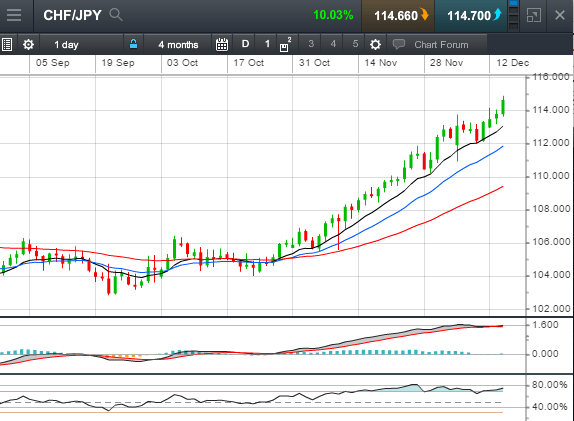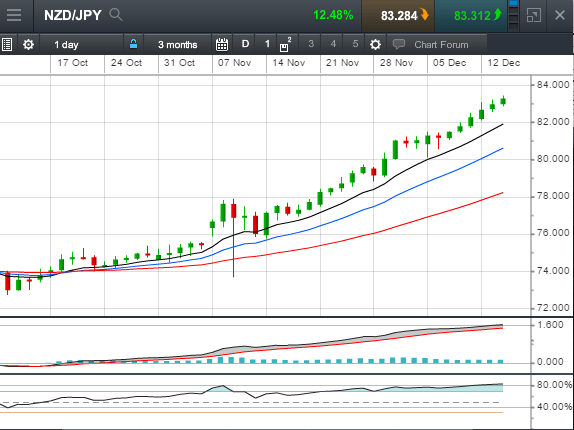 At this time of the year, I like to keep my trading options simple, and focus on the bigger picture first before I get down to the nitty gritty of the lower time frames.  One common characteristic I have seen amongst the traders who have been very successful over a long time is their ability to keep a clear head and focus on the higher time frames for direction, like the daily. That is why I love the JPY trends at the moment.
And keep in mind that traders can often achieve the same result utilising different strategies, styles and methods.  I am certainly not suggesting this is the only area where the trends are strong and therefore if you don't trade FX then you should hang the boots up for the year. It is in fact often the case that when one market is trending, there are other unrelated markets which are also trending very well. So, it wouldn't hurt to use the Christmas break to broaden your normal trading perspective, and aim to focus on the bigger picture. See how this approach works for you over the holiday season. And have a great Christmas!