Today's news that TPG Telecom will become a fourth mobile carrier has sent Telstra's share price plunging. Interestingly, this sees it approaching a potentially significant chart point.
TPG's entry as a mobile carrier in big city markets will eat into the market share of other providers.  Telstra being the biggest provider with 53% of the market has the most to lose. Its revenue base is already under pressure from mobile competition, the looming loss of NBN fees and the ongoing attrition of fixed line business.  Developing new sources of income involves capital and risk and markets are concerned that Telstra may well need to cut its dividend.
The current high dividend yield has not been enough to compensate for the risk of revenue loss and associated downturn in the share price.
I must say I find it hard to be attracted to Telstra as an investment proposition. However, the chart is approaching an interesting point which for those who trade using technical analysis, might be worth keeping an eye on
Daily chart
Telstra gapped lower on this morning's news breaking triangle support
The bottom of the gap (this morning's high) now becomes near term resistance with the triangle support providing resistance above that.
As I write, Telstra is trading at $4.25 which is nearly 2% off its low at $4.17. However, after big moves like this, it's usually best not to try to catch a falling knife without evidence that the market looks like beginning to form a base.
The other feature of the daily chart (above) is that it looks to be potentially in the 5th, and therefore final, leg down in an Elliot 5 swing decline
Weekly chart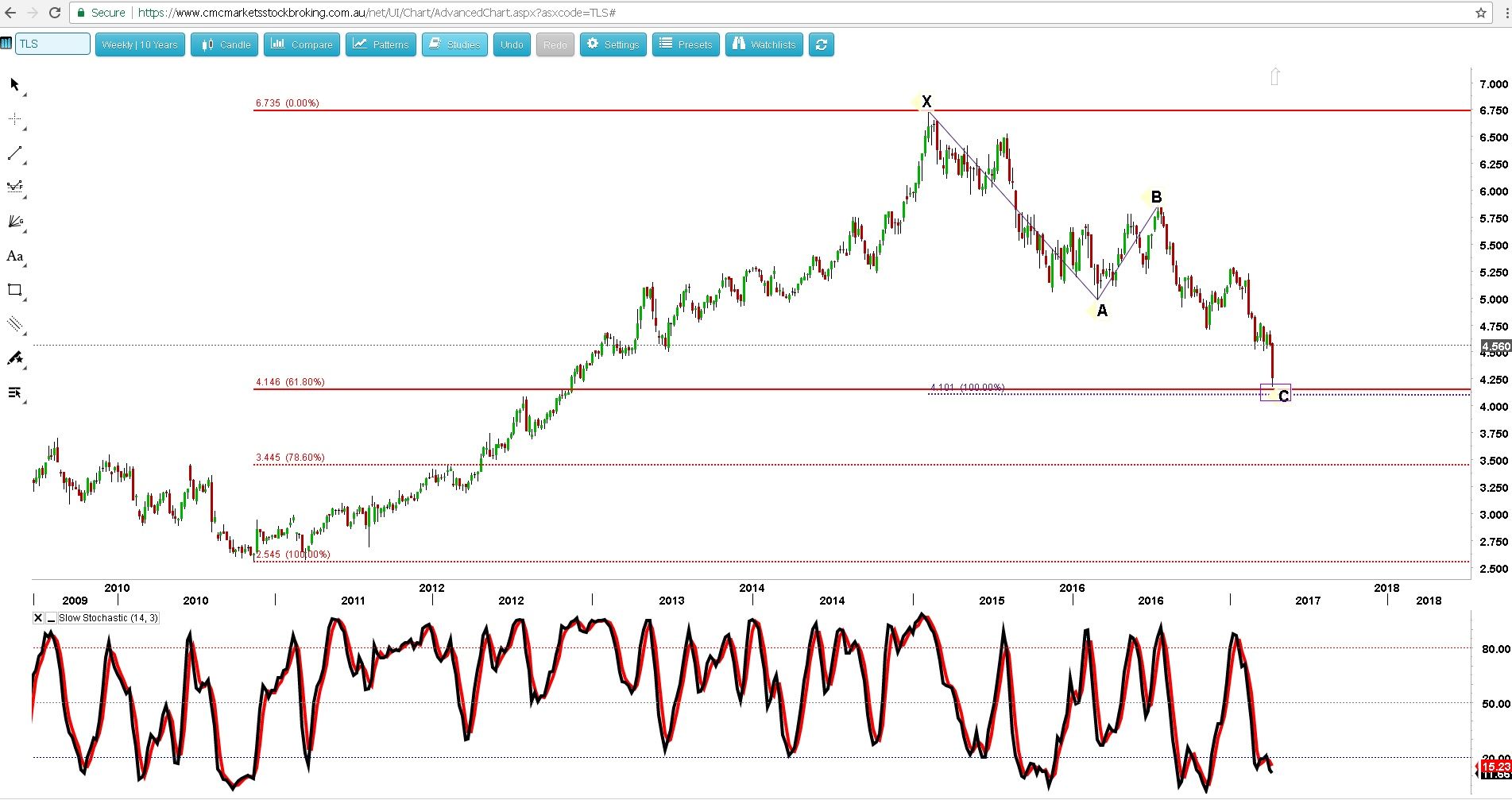 The weekly chart is approaching a classic Gartley 222 buy set up. This is where the 61.8% retracement of the whole rally from $2.55 to $6.74 coincides with a swing equivalent level where the XA swing is the same size as the BC swing.
This Gartley point is between $4.10 and $4.15, give or take a little. For a set up you need to see price reject the Gartley level or at least show signs of pausing at around this area. Simply reaching it is not enough
It may also pay to be aware that Telstra faces another potentially significant news event in the form of the upcoming ACCC decision on whether it will be forced to allow Vodafone customers to roam within Australia using the Telstra and Vodafone networks.