By Hao Sun, Trading With Precision
Getting in at the beginning of a price trend is often touted as a great way to capitalise on a big price move. The issue for financial traders is identifying a potential big move before it happens! The key to this is learning the skills that will allow you to not only identify when a trend is beginning but also one that could become established.
As an example, I'm going to focus on two Canadian Dollar pairs to demonstrate what a trend looks like when it is just beginning.
What defines a trend? It is quite simple. For an uptrend, it's the shape of price as it forms higher highs and higher lows, and for the downtrend, it's the lower highs and lower lows. So how do we identify the trend when it's still in an early stage? The answer is to identify when price is changing from an uptrend to a downtrend - from higher highs and higher lows, to lower highs and lower lows. The opposite applies when going from a downtrend to uptrend.
On the Daily chart below, USD/CAD is one of the examples currently looks to be changing from an uptrend to downtrend.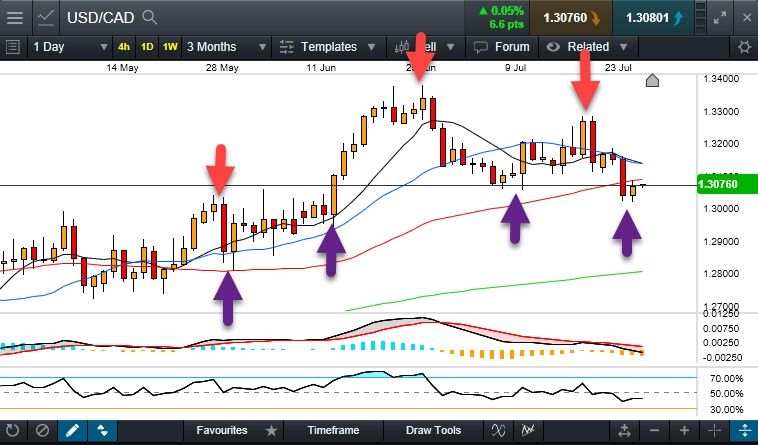 Once the Daily trend reversal has been identified, I usually go down a time frame to formulate my trade plan. On the Four-hour chart, USD/CAD is showing selling momentum, confirmed by the fanning moving averages (MAs) and convergence of MACD and RSI.
The bottom of a consolidation around 1.3108 on the Four-hour chart has been breached with momentum, which is also inside the Four-hour MA Sell Zone. The MA sell zone is the area around the declining 10 and 20 MA.
Another factor that adds to the importance of 1.3108 is the 50 percent Fibonacci retracement level. There are multiple technical factors pointing to a potential resistance around 1.3108. I will be watching for a small rejection candle around 1.3108 for a potential trend flow setup to the lower ground.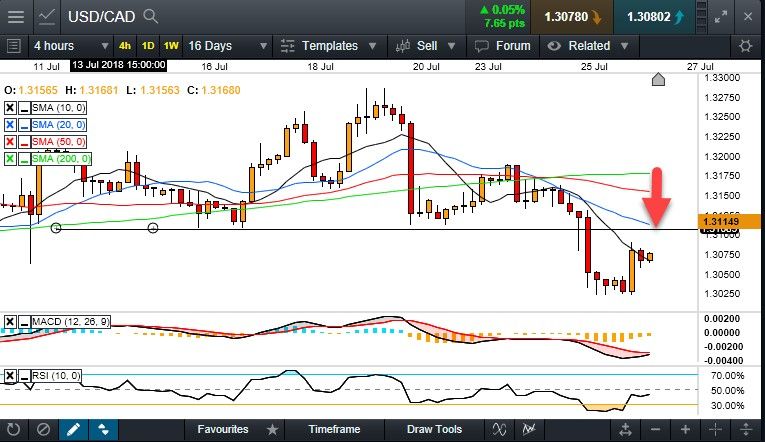 The other example is the EUR/CAD pair. After almost a month-long consolidation, price has finally broken out of the range, resulting in a new downtrend. When price breaks out of a range, it can be similar to the start of a volcanic eruption, which has the potential to shoot debris and ash high into the atmosphere. That's why I say the start of a new trend offers the potential to be part the start of a big move.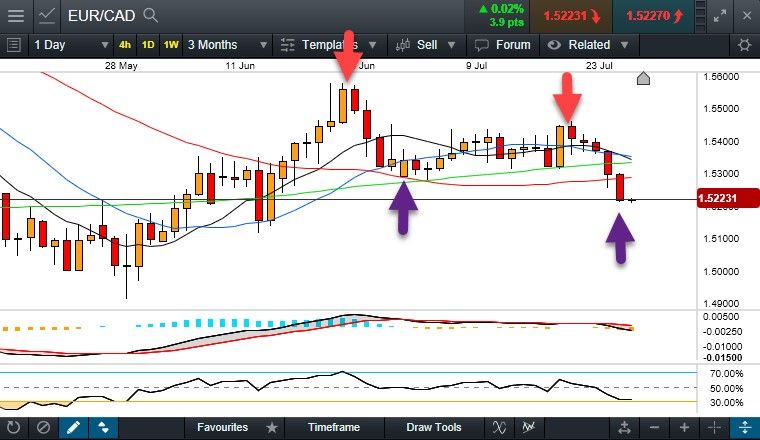 In a similar pattern to what we are seeing with USD/CAD, EUR/CAD is also breaking down to a new support level on the Four-hour chart. A potential resistance level at a round number of 1.5300 is setting up inside the MA Sell Zone, if price retests it from below and forms a small bearish candle, then a trend flow short trade may setup for me.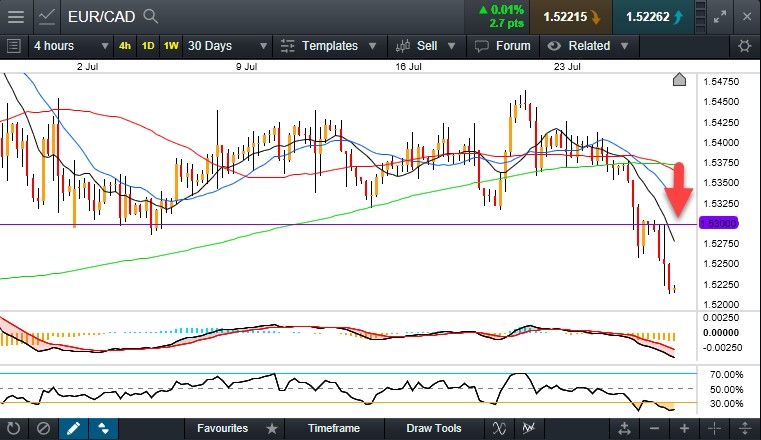 I don't know if these markets are about to start a big move. Unfortunately, no one does as it's impossible to know without the help of hindsight. But, if they are about to fall hard, I will be poised and ready to strike to ensure I am part of the next move.