Taper trade
The European Central Bank is widely expected to announce the tapering of its asset purchase program tonight. Depending on how this plays out, EURUSD might provide a triangle setup for pattern traders
ECB decision
The ECB is scheduled to release a statement at 22:45 AEST tonight. This will be followed by a press conference at 23:30.
The market has been primed for an announcement on tapering the bank's bond purchases from the current levels of €60bn per month.
The key variables for the market will be how much asset purchases are cut and how much longer the asset purchase program will last. It's not clear whether an end date will be announced or whether the ECB will leave it open like the Fed did when it began to taper. Markets could also be influenced by assurances that rate increases will not start until well after Quantitative Easing (bond purchases) ends.
 Expectations are uncertain but centre around the program being wound down over a 9 month period with an initial cut to €40bn. 
EURUSD 4 hour chart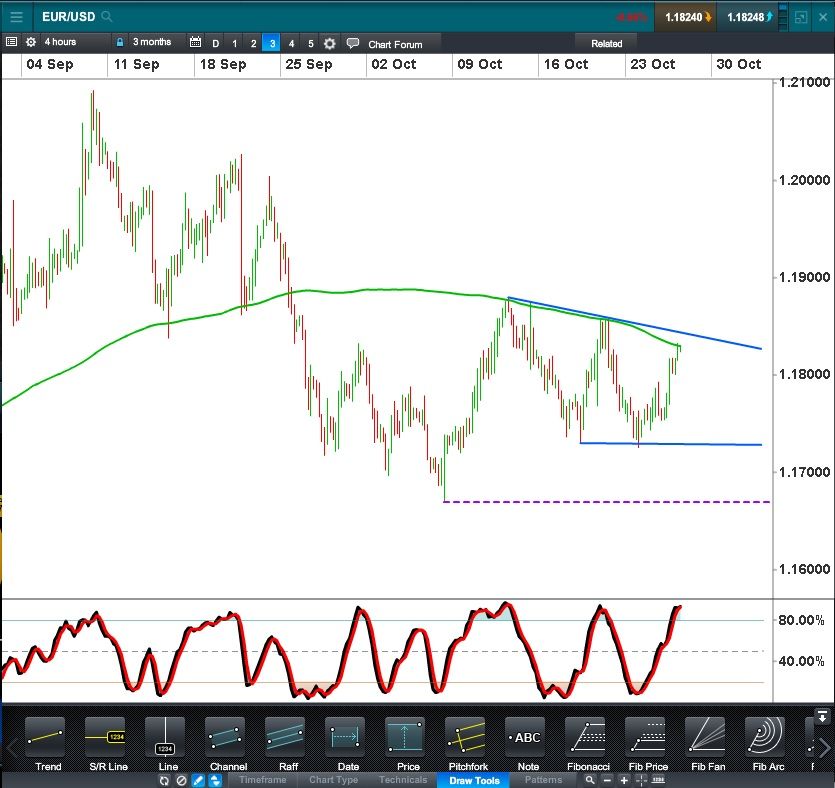 Anything could happen tonight but for me, the attractive possibility would be for EURUSD to begin falling away from resistance around the top of the triangle (blue line) or 200 period moving average (green line)
If it does, my trade would be to sell with a close buy stop above resistance. This would position for a break of the triangle support and a return towards lower support levels.
The market goes into tonight's decision with the slow stochastic over bought.  The fact that the 200 period moving average has acted as support and resistance on several occasions in recent weeks is also encouraging.
There can be a lot of volatility around these ECB decisions, especially with the press conference coming 45 minutes after release of the statement. However, in the final analysis, the bearish case for the Euro and this triangle setup will be if the taper programme is more timid than expected.