It's been a rough week for the Pound. Last weekend's announcement that 23 June has been set as the date for the UK to vote on a proposal to leave the EU has created a lot of uncertainty. Markets are very unclear about what this might mean for both the UK and European economies. There looks like being plenty of volatility over coming months.
The Pound has lost 10% against $US since it fell away from its 200 day moving average on 19 November. This decline looks to me to have and Elliot 5 wave structure and I've labelled it on the chart below.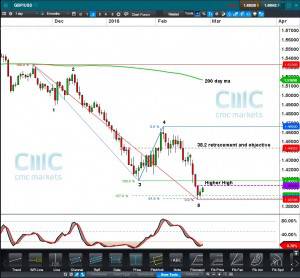 GBPUSD Daily
Click to Enlarge
There can be no certainty that the 5th wave has finished. However, one technique for identifying possible turning points is to look for clusters of Fibonacci projections.
The Pound hit one of these clusters on Wednesday and it's paused there since. This cluster projects that the final "4" to "5" swing will be:
A 127% expansion of the correction from "3" back up to "4" and
8% of the swing down form the 200 day moving average to "3"
I will be waiting for confirmation of a trend change here i.e. I will want to see a move past Wednesday's high meaning that the daily candles are making both higher lows and higher highs. If the pound does the opposite and moves below Wednesday's low first, the entry would be changed. If there is more than a very small breach of this low the whole set up will be negated.
If a rally does get under way from this cluster level, I will be looking for a minimum 38.2% retracement of the whole 5 swing decline. This implies a move up to around 1.4430. The initial stop will be hard below the low at "5".