Here's an investing riddle. If a company has an earnings profile that displays steady growth, but repeatedly overestimates its futures earnings, is it a buy or a sell?  The answer lies in the share price. Is it near highs or lows?
If you've ever eaten a Crust pizza or scoffed a Michele's pie you're a Retail Food Group customer. They also franchise Donut King, Brumby's, Gloria Jeans, The Coffee Guy and Pizza Capers, among others, and supply many of these outlets. Since 2014 RFG grew earnings per share from 27 cents to 44 cents. The problem is it misses more earnings estimates than it hits.
It's established that the reaction to earnings announcements reflects the performance in relation to forecasts – hence the focus on earnings surprise. RFG's share price reflects regular punishment for negative earnings surprise.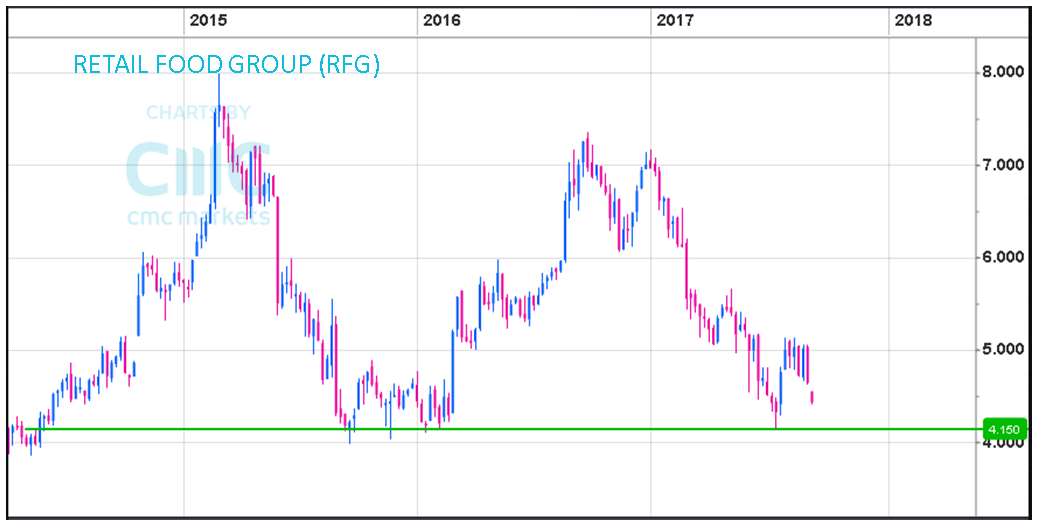 This relentless sell down has pushed RFG to levels just above long term support around $4.15. The valuation argument is stronger.  A forward PE around 10x and a dividend yield calculated on the last two dividends of 9.5% (including franking) make this one worth a look.
There are risks. In particular RFG is pushing ahead with international expansion. India, the US, Pacific nations. And the stock traded ex-dividend on Monday this week. However the much more defendable levels of the share price and potential for positive surprise could draw investor attention. Further 12.4% of RFG is short sold. A positive surprise could see its shares rocket higher.