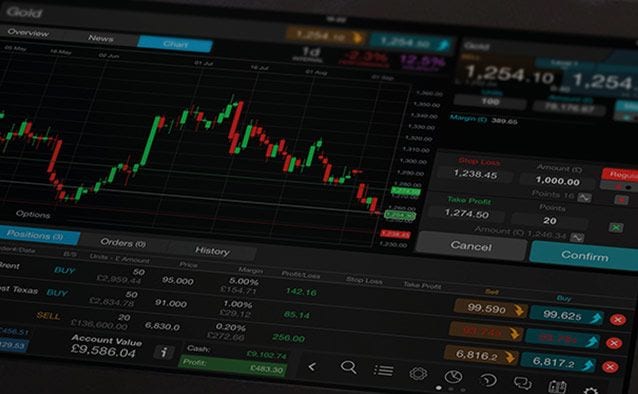 People have been predicting a calamity when the Fed lifts interest rates for a long time. So is this stock sell off the beginning of a big move?. As a trader it pays to keep an open mind. Here are some thoughts.
Valuations and interest rates
The chart below shows the S&P 500 expressed as a Price Earnings multiple. In this case forward or forecast earnings are used
The PE is currently 16.16
During the 3 years 2004 to 2007  the average forward PE for the SPX was 15.86. This average is only 3% below current levels.  During this time  US 10 year bond yields were broadly in the range of 3.75-4.75% compared to current levels of 2.55%.
The broad support area for PE values during 2004/7 was around 15.3. An adjustment for interest rates alone would probably not get us much below this level unless we also get some sort of risk event. When markets change directions they can often overshoot especially if getting out of leveraged positions is involved.  This could  might see a drop below average PE values and back towards supports. 15.3 is about 5.5% below current levels
Of course one can never rule out an even bigger stock sell off but given that history shows the beginning of Fed tightening cycles is normally bullish for stocks this seem the least likely alternative to me at the moment.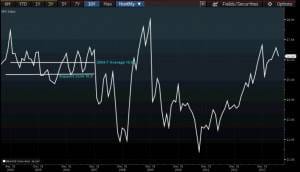 S&P 500 Forward PE
Source: Bloomberg
US SPX Index
A decline of 3% from here which would take us back to the average PE of around 15.85 would see the index  itself back to the broad zone of support represented by the bottom of the trend channel and the 200 day moving average (green line) shown on the chart below
A 5.5% correction back to a  PE of 15.3 would see the S&P 500 down to about the 38.25 Fibonacci retracement level around 1827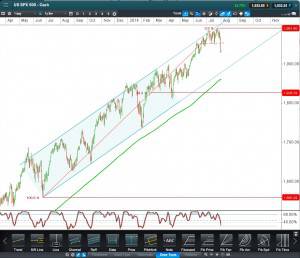 USSPX 31 July
Tonight's Non Farm Payroll
This now looks like a high stakes number for stock markets
A big negative miss could call into question the assumption that the Fed will start to move to a rate tightening bias. This might see a quick scramble back into stocks unwinding last night's selling
A figure around expectations would not change things and may see the current downtrend left in place over coming days/weeks
A big upside beat might make the downward correction in stocks a quick/brutal affair with a pretty much vertical return to support levels much like that seen in January
As an aside, one of the many things that fascinates me about markets is the way they sometimes all move together and at other times have delayed reactions. In this case $US  started to rally in earnest about a month ago as it started to factor in higher US interest rates. While stocks respected trend channel resistance they only drifted sideways held up by a better than expected reporting season. It wasn't until last night that they really started to break support. So far we are yet to see much of a move in bond markets.