By John Sheridan, Trade With Precision
When we find a currency pair which consists of a stronger currency paired with a weaker one, we will often find a decent trading opportunity worth considering. And we find ourselves in this situation with GBP/USD. 
The US Dollar is showing strength across the board with the Dollar Index at a high for 2018, and Sterling has weakened against most major currencies. With the Bank of England unlikely to raise interest rates anytime soon, there doesn't seem to be much on the horizon to halt the Pound's decline. 
So, while we base our trading decision on technical analysis rather than fundamental information, this situation could create a trading opportunity and warrants further investigation.
We can see that GBP/USD on the Monthly timeframe (below) trended down consistently from 2014 to 2017. There has been a resurgence in this pair over the past 18 months however it would appear that the 1.4000 level, which coincides with a 61.8% Fibonacci retracement level, has proved to be a resistance level as price has stalled here over the past few months. Recently, bearish momentum looks to have increased as the price has fallen away from the cluster of resistance.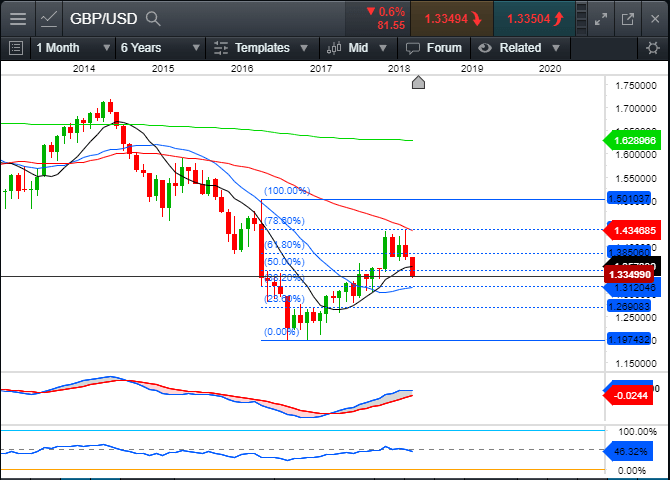 Moving down to the Weekly timeframe (below), we can see that price was in an uptrend that has now broken down. Price just about made a higher high in April, with a suggestion of indicator divergence, before falling downwards and making a lower low. Strictly speaking, the current price action could only be termed a downtrend when a lower high is formed. But we can certainly say that moment is currently bearish over the past 5 or 6 weeks.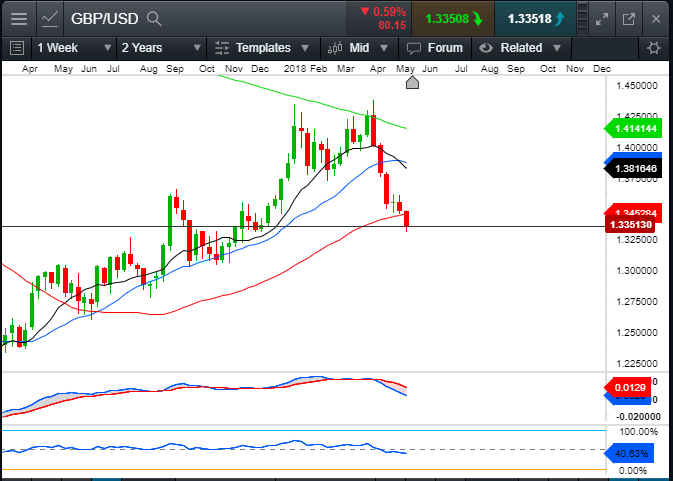 On the Daily chart (below), the strength of the downward move is apparent. The trend is down with all of the moving averages showing the optimal geometry for a downtrend with the exception of the slower moving 200 period moving average (MA). However, this longer-term MA is starting to reverse.
Price had formed some minor support at about 1.34590 but has recently broken though and has moved decisively down. The move is confirmed by bearish convergence on the RSI, although the MACD is relatively flat. Price has now become over-extended from the MA, which means that we are most likely due for a pullback before the move continues downwards.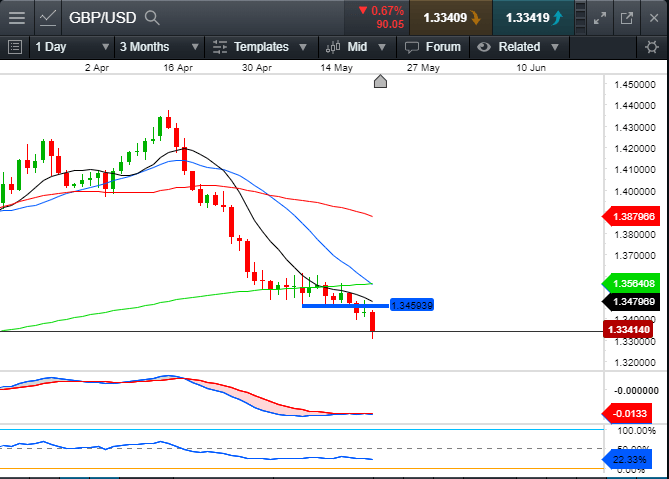 I will be watching GBP/USD for potential trade setups around the 1.34590 level.  Ideally price will pull back to this level of what was support, and should then act as resistance, and is clustering with the MA Sell Zone (the zone between the declining 10 and 20 period MA). A pullback to, and rejection of, this level could present me with a trading opportunity, whether taken on the Daily chart or with a tighter entry on the lower timeframes.
With a bearish picture being painted across the Monthly, Weekly and Daily timeframes - in conjunction with ongoing Dollar strength and Pound weakness -GBP/USD is firmly on my watchlist at this moment in time.