Faithfulness might not be one of the first virtues that come to mind when you think about trading. Usually, you would look for a great setup, place the trade and then move on to the next one. But, from a trend following perspective, it can make perfect sense to keep a market that has already given you a nice setup on your watchlist. An established trend has the potential to supply numerous opportunities to capitalise on market flow before the trend comes to an end.
A good example of keeping a trending market on your watchlist is Mueller Water Products. Since the end of January 2016, price has been in a steady uptrend which can be seen just by looking at the moving average geometry on both the daily and the weekly charts. This bullish move has offered up numerous good trading opportunities that could have resulted in successful trades.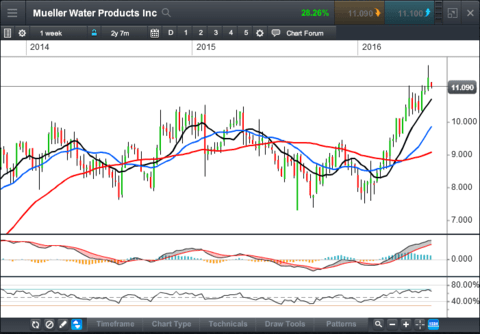 On April 7th, price action formed a small bullish candle in the buy zone and presented us with a Trend Flow trading opportunity (marked as trade 1 on the chart below) with a good reward: risk ratio. This trade hit its profit targets pretty quickly with the next opportunity (2) occurring on May 6th which was also Trend Flow setup with a bullish trigger candle in the buy zone. This trade hit several profit targets too. At this point in time, price traded mostly sideways until June 6th. While trading sideways, price established a flat level at 11.14 with three touches. A Momentum Breakout trade triggered (3) with MACD and RSI indicating a build in momentum on the break of the flat level – this setup has already hit its first profit target since then.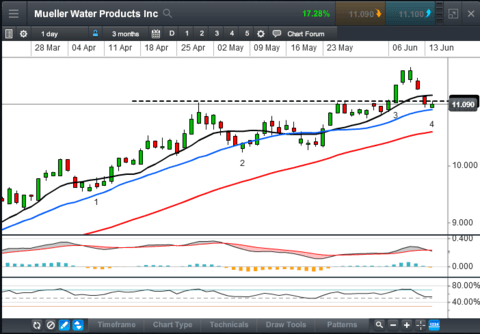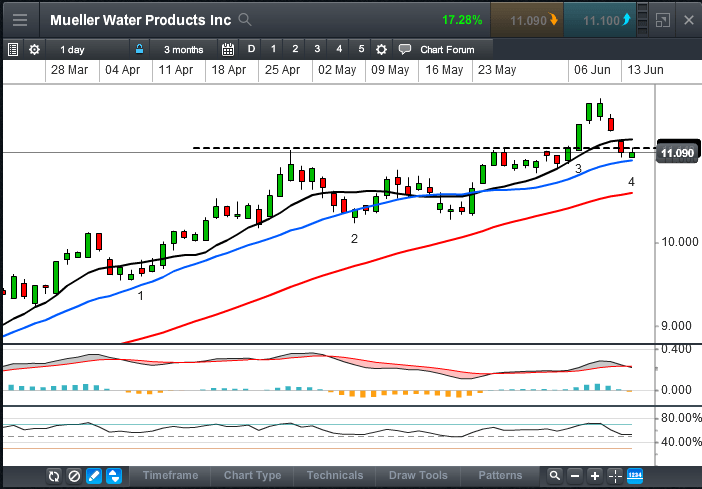 Right now price has pulled back once more into the buy zone and is forming a bullish trigger candle. The extra icing on the cake for this potential Trend Flow setup is the same flat level, that already worked as entry for the previous Momentum Breakout trade. If price trades above today's high at 11.16, this might trigger a long setup. Our stop loss location would be located below today's low) receiving further protection from the flat level that we could expect to act as support.
Trading is just like life and all good things must come to an end. Will the trend in Mueller Water Products continue and give us the fourth successful setup in a row? Nobody knows! However, in the end, each potential setup has its own pros and cons and should be weighed up in isolation. So the question is, why not stay faithful and remain on board market flow, after all whilst the market is offering opportunities its worthwhile taking as much advantage as possible.
Good luck & happy trading!