By Hao Sun, Trade With Precision
US dollar strength is still prevailing across the board, in line with the recent market consensus. The Federal Reserve kept the benchmark interest rate on hold this morning after yesterday's Federal Open Market Committee (FOMC) meeting.  However, with the August 2018 non-farm payroll data due at US Time 8:30am EST on Friday (10:30pm AEST), today's market reaction to the Fed action could shed some light on the potential future of the dollar.
Today we're going to focus on the USD/JPY pair. It is trading within a larger range on the Weekly chart. The top end of the range is around 114.50, while the bottom is around 107.75. On the right-hand side of the chart, we see that price has been trending up since March. The indication is that this move could continue towards the top of the range which is about 290 pips above the current price level.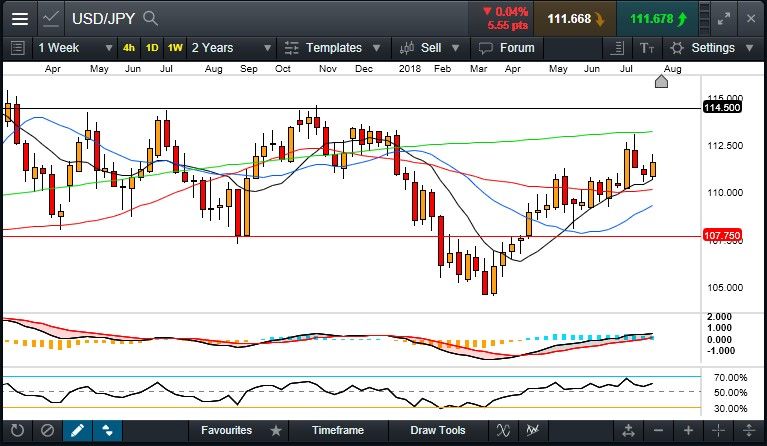 On the Daily chart below, after a strong breakout of the 110.00 round number on 11 July, price has pulled back and has been resting at the same level for more than a week. Support at 110.00 has been confirmed by a strong move to the upside on 31 July. And yesterday, when FOMC met, price formed a doji candle – a test of buying strength. As we can see, price has now sold off, which could be read as a good sign of underlying buying momentum.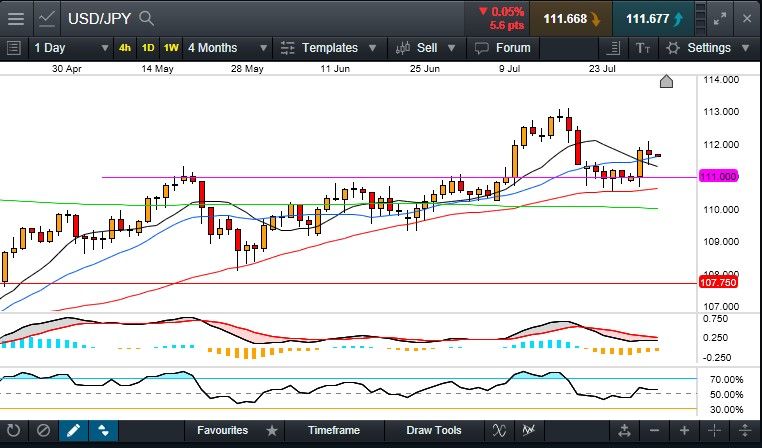 Going down to the Four-hour chart, price has broken out of a multi-day consolidation, which has resulted in the start of a new uptrend. Moving averages (MAs) are fanning up, confirming the upward momentum. Price is now back inside the MA Buy Zone on the Four-hour chart, producing a small bullish candle.
If price breaks the high of the last Four-hour candle, I would anticipate a higher price move from there with a potential first target at 112.10 - the old high on the Four-hour chart - and then at 113.00, the high on the Daily chart.