By Adam Harris
Over the past few weeks, while the USD appears to have been deliberating on its next move, there have been some clean trends in play across various other cross markets. Specifically, both the AUD and NZD have been showing clear weakness across their respective pairs, while the CAD has also been softening in response to recent policy statements by U.S. President Donald Trump on tariffs.
Over the long longer timeframe, NZD/CAD has been trending upwards quite aggressively, and until recently had become over-extended on the weekly chart. Since then, a very bearish candle has emerged, and while the chart looks to make a healthy retracement on the weekly, it has produced a clean, optimal downtrend on the lower timeframes.
Both the two-hour and four-hour charts hold some attraction. In this case, I am stalking a decent sell entry on the four-hour time frame.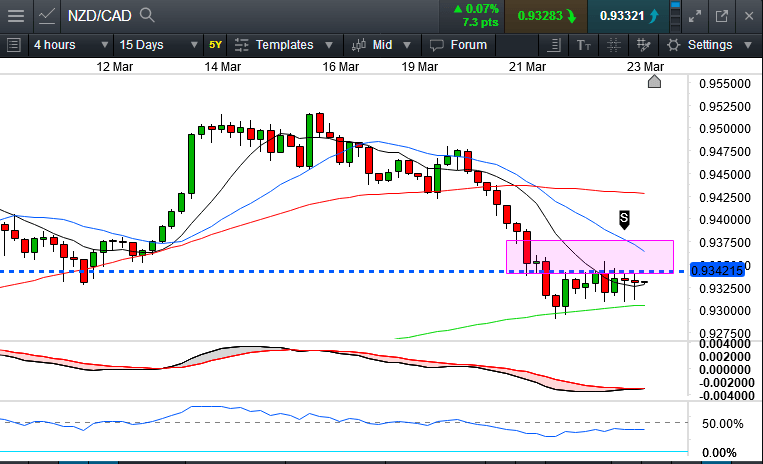 As price retraces back up into the Sell Zone, the area in and around the 10 & 20 moving averages (MAs) between 0.9330 and 0.9360, a relatively small bearish candle forming here will bode well for my plan. An entry on the break of the low of this candle would constitute an entry I would classify as "good", with a relatively tight stop-loss above the candle's high.
Alternatively, let's take a look at Crude Oil. Both Brent and West Texas Crude are looking bullish on monthly, weekly and daily timeframes, with West Texas in particular offering a potential entry on the four-hour chart.
An optimal bullish price action has formed on this timeframe, and while keeping the potential for temporary resistance to be found at the 66.00 level, this would also make a great area for taking profits from entries in the Buy Zone of the 10 & 20 MAs between 64.0 and 64.8.
A small bullish candle has formed in the area, with a reasonable entry and stop-loss on either side, which offers me a relatively smooth opportunity to join this trend.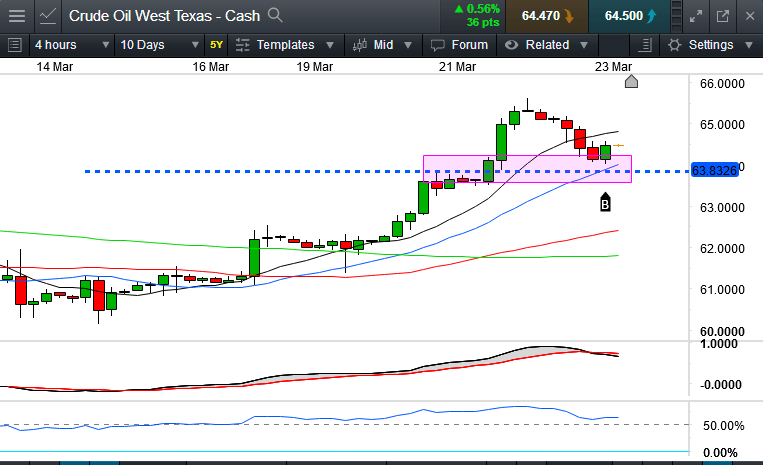 With such healthy momentum, it is possible Crude Oil could continue to maintain its upward momentum, with similar entry opportunities occurring on these timeframes over the coming days and weeks.