Stalking bearish divergence
Oil has been bid in the Asian markets today. This follows weekend announcements that almost all the countries participating in the Saudi/Russia sponsored oil production cut had agreed to extend it prior to Thursday's formal discussions. Canada is a major oil exporter and an improved oil outlook would be good news for its currency.
EURCAD chart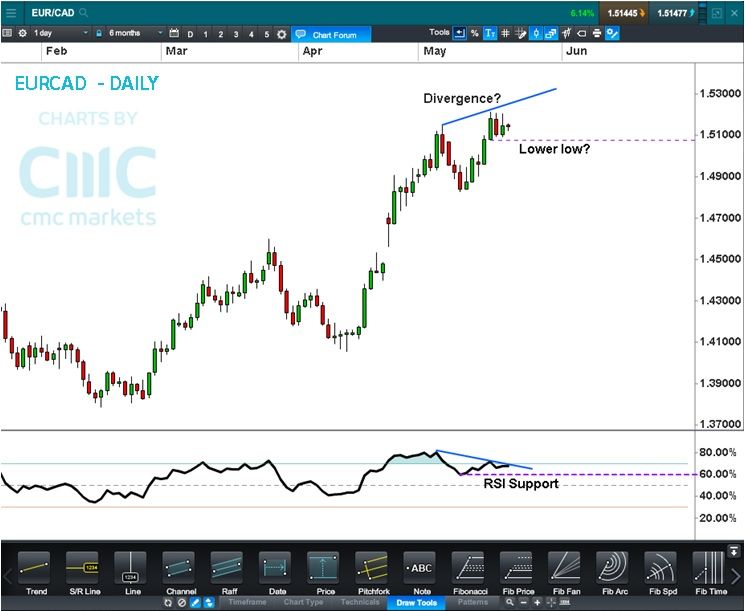 The EURCAD chart is showing signs of bearish divergence. This could be useful for those looking at a potential trigger for a long set up for the Canadian Dollar (i.e. to sell Euro against Canadian Dollar)
The rally in the daily EURCAD chart has faltered since last Wednesday. Since then the daily candles have made a lower high but are yet to make a lower low (i.e. to move below the support of Wednesday's candle)
Maybe this is just a pause in the uptrend and there will be no lower low.
However if there is, it will leave a trend peak and that peak will exhibit bearish divergence with the 14 day RSI. The price peak will be higher than the last one. However, the RSI in the box below the chart will confirm a lower high. The lower highs in the RSI indicate that the strength of the uptrend is fading
One strategy for trading bearish RSI divergence is to sell once divergence is confirmed AND price goes on to break below the latest RSI support.  If that happens, the RSI is confirmed as trending down; making lower highs and lower lows and potentially leading price lower.
The support on the RSI is shown on the chart and is at about 57%. A break below that could lead to a double top style formation on the price chart. That could see a move towards and potentially a break below, support at around 1.4825.