By Chloe Edwards, Trade With Precision
As the virus-versus-human war rages on worldwide, so the effect on the markets continues to be seen across the board. And Crude Oil is one of the commodities that has been hit hard, for a multitude of reasons.
The Saudi-Russia trade wars had already resulted in a flooded market. Now demand has fallen dramatically due to the massive reduction in global travel and industrial activity. Storage capacity is not unlimited, and a combination of these factors has seen the price of oil fall heavily in recent weeks.
Keeping risk management at the forefront of my mind in these uncertain times, I am going to continue to look for opportunities to take advantage of the resulting bearish trend.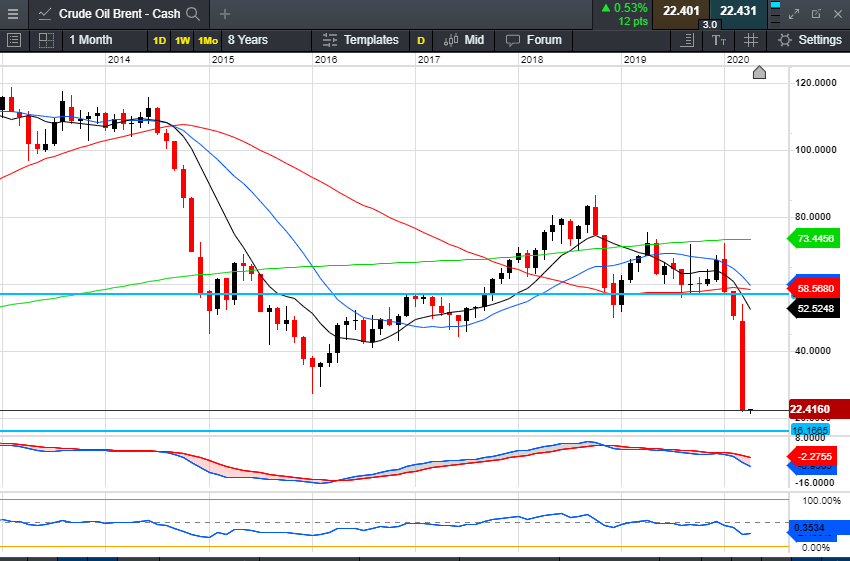 Looking at the monthly chart of Crude Oil Brent above, I can see that after an extremely bearish month, the price closed at $21.67, well below the lows of $27.13 last seen in January 2016, and price is in fact now sitting at a level not seen since 2002.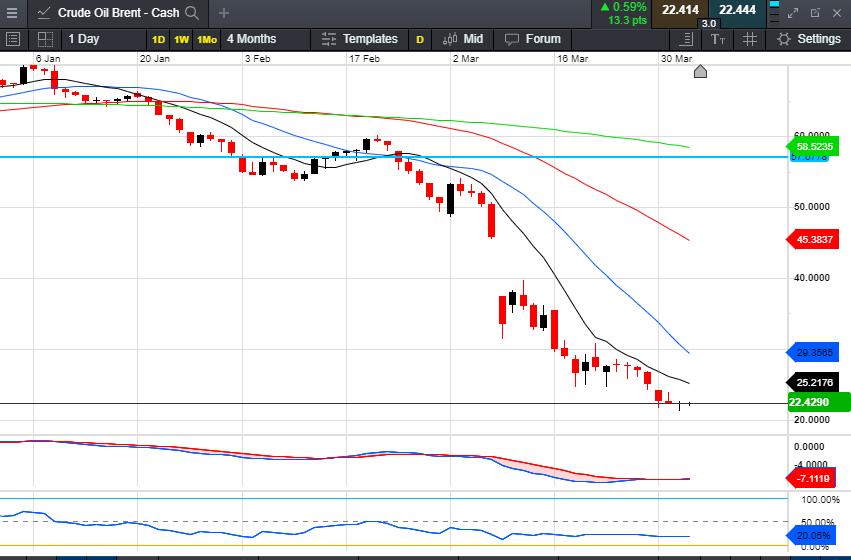 On the daily chart, I can see a downtrend in place, with price action forming lower lows and lower highs, and the 10, 20, 50 and 200 Moving Averages (MAs) lined up and showing good bearish geometry. Both the MACD and the RSI indicators are trending lower in a bearish fashion, which could confirm the trend momentum to the downside.
The combination of this price action and the indicators suggests to me the potential for possible short swing trading opportunities, so I am currently looking for a pullback into the area around the 10 and 20 MAs on this timeframe. I will then look for a small bearish bar to form around this area, and if this happens I will use it as the basis for a short entry.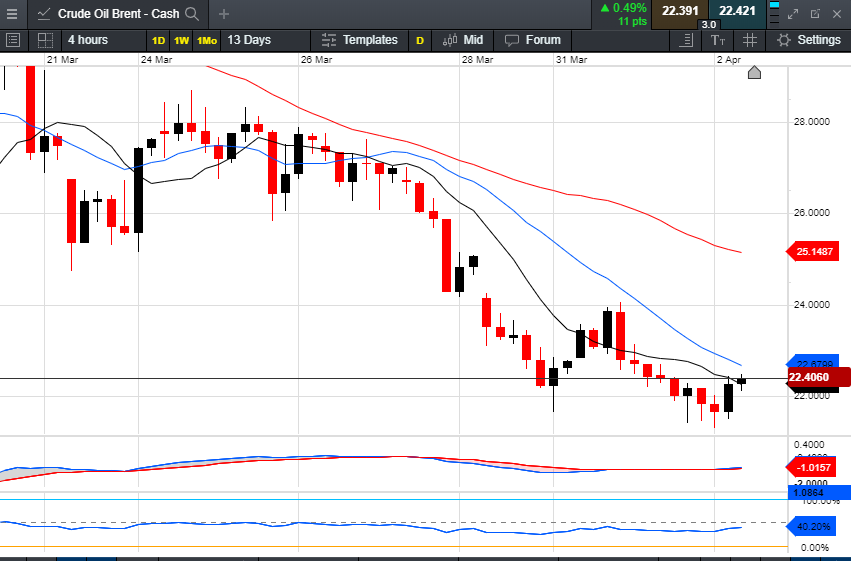 With prices falling as quickly as they currently are, it may be that price does not get a chance to pull back on the daily timeframe, and for that reason I am also looking for potential entry opportunities on the four-hourly timeframe.
I notice the same bearish geometry of the MAs with lower highs and lower lows in price action. I will be awaiting a pullback into the MAs on this timeframe also, along with a small bearish bar printing in this area, in order to look for a short trading opportunity. The current 4-hour candle is key, I will be monitoring it to see how it closes and whether price then breaks below its low to trigger my strategy short. Due to the volatility of the current market conditions, I will be keeping my risk low.
Stay safe and healthy.