By Chloe Edwards, Trade With Precision
It has been a while since Cable (GBP/USD) has been at the top of my watchlist. But it has been showing signs of a bear trend since last week, so I will discuss potential opportunities here.
Since the important 1.2000 level was tested and held in August and September last year, we saw a rally in the following months, peaking on the result of the UK general election in December, at around 1.35.
Since then, for most of this year so far, price has ranged sideways, held up by a support level at around 1.2950 (shown in pink on the daily chart below). There is also another, less significant support level formed by the two recent lows in February at around 1.2870, and this is the level that currently interests me.
A series of lower highs also started forming during February, the 1.2950 level was broken, and the support level formed at 1.2870 was also broken at the end of the month.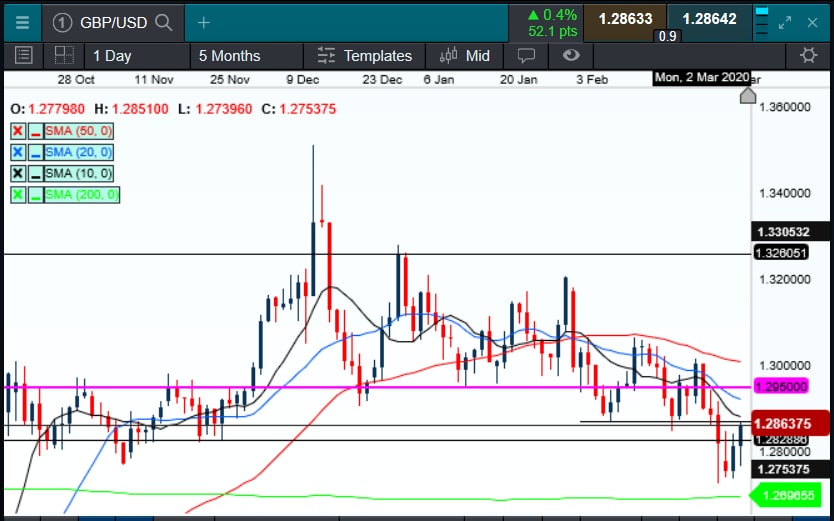 Looking more closely at this 1.2870 level, I notice that price has now pulled back up into, and is currently sitting at, this level. There is bearish moving average (MA) geometry of the 10, 20 and 50 MAs, indicating a downtrend, and the
MACD
and RSI indicators are showing bearish momentum and giving me further confidence that there is further downside potential.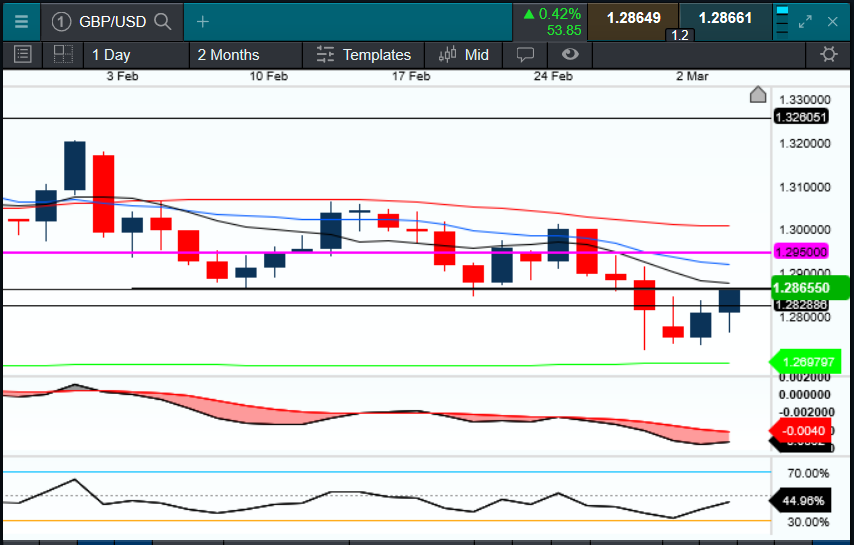 With price having pulled back into the horizontal level, as well as the sell zone around the 10 and 20 MAs, this could indicate an area for a possible lower high to form, and therefore a potential swing trading opportunity short.
I will be looking for a small-sized bearish candle to print in the sell zone in order to indicate a potential entry. I would like to see at least a 1:1 reward-to-risk before the potential support of the daily 200 MA.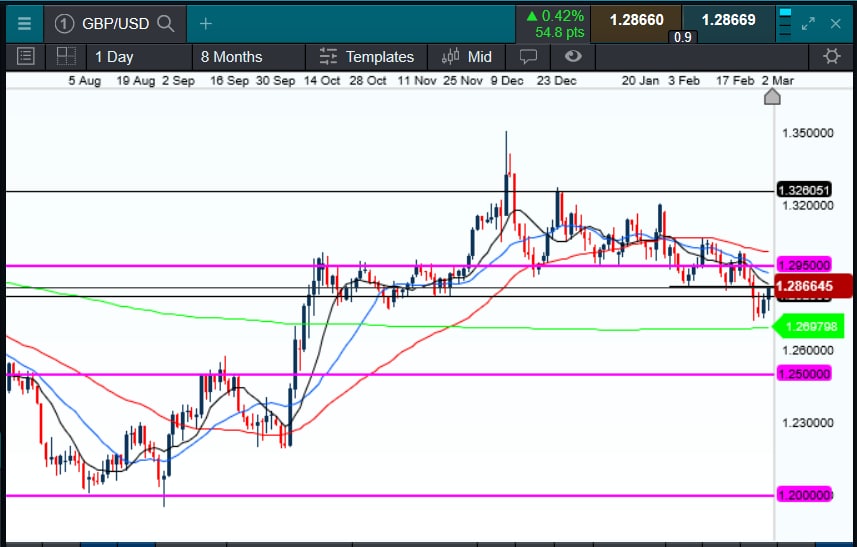 The chart above indicates two horizontal levels beyond this, which could be possible targets for the trade – at 1.2500 and a very distant long-term target of 1.2000. If price makes it down to these levels, the reward to risk on the trade could be high. Despite this, the increased risk and lower probability of attempting to trade through the daily 200 MA should be taken into account when considering risk and trade management on this potential opportunity.