By Philipp Pfitzenmaier
In times of turmoil and uncertainty it's common for people to seek out safe harbours for their hard-earned assets. And precious metals like Gold and Silver are often amongst the first commodities that are in demand when the going gets tough. Sure enough, when North Korea leader Kim Jong Un opted to send a missile across Japan's airspace this week, many headlines greeted the news with variations on "North Korean Missile Launch sends Gold Higher".
So far, so as expected, you may think. But in fact, the price relationship wasn't the obvious one. Yes, Gold broke out of the trading range it has been in since the start of the year. But that happened several hours before the missile launch, and while Japan was fast asleep. The missile launch did send prices higher once the news broke, but this additional demand seems to have been short-lived.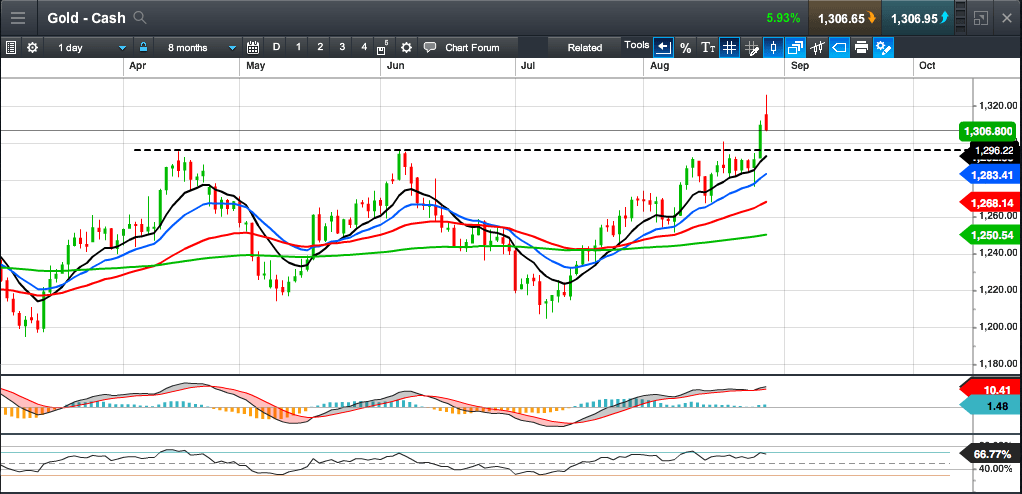 The daily chart of Gold is in a solid uptrend, and has finally seen price break above the well-defined level of $1,296 which has dominated for the majority of 2017. The uptrend can easily be confirmed visually by noting the strong fanning of the moving averages and convergence in both MACD and RSI as price broke out. But the move propelled by the missile launch news may have occurred too quickly, with price now looking over-extended and forming a bearish candle.
So what could the potential targets be for a pullback The obvious point to revisit is the previous breakout level. Once we add Fibonacci Retracements from the most recent swing point low, to the high of the latest move, and from another previous low to the very same high, we see that this level clusters almost perfectly with the 38.2% retracement and the 61.8% retracement. Which all adds further significance to this level.
Depending on the desired timeframe, a short trade for a re-test of this cluster might be in line with your trading rules for very fast timeframes. A more laid-back approach on the higher timeframe might include waiting for the pullback to finish, and then looking for a decent buying opportunity close to the $1,300 level for a trend continuation.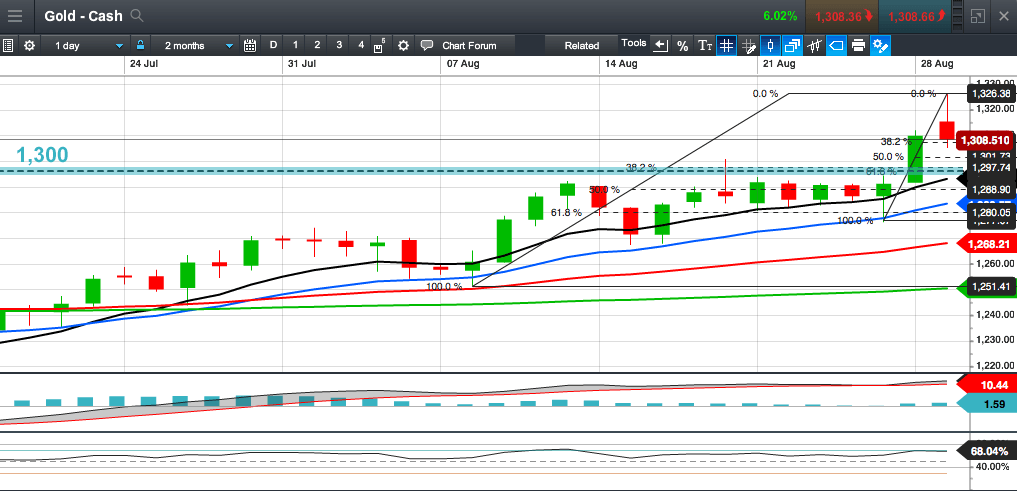 We never know what will happen next - whether it's in the markets or in geopolitics. But we can  analyse the charts to help us deduce whether some trends are more likely to happen than others.
"If the world does well, gold will be fine. If the world doesn't do well, gold will also do fine... but a lot of other things could collapse." - Thomas Kaplan