By John Sheridan, Trade With Precision
The UK travel sector is currently feeling the squeeze, with the long-established budget airline; EasyJet being at the forefront of the decline.
A number of factors may have contributed to EasyJet's woes - Brexit, increased fuel costs, and the drone disruption that occurred at London's second biggest airport; Gatwick. As technical traders, these factors are of interest to us. However, our main concern is how this translates into price action.
Looking at the monthly chart below, we can see that price is in an established downtrend, having formed a lower high and lower low. The moving averages (MAs) aren't yet in the optimal alignment for a downtrend as the 20-period MA isn't yet below the 50-period moving average but it is very close.  
We also note that a Head and Shoulder pattern has formed, with price now having broken the neckline.  While this is not a pattern that I would look to trade, when seen on a higher timeframe it could lend support to a longer-term bearish outlook. The trend momentum is also confirmed by the bullish convergence on both the MACD & RSI.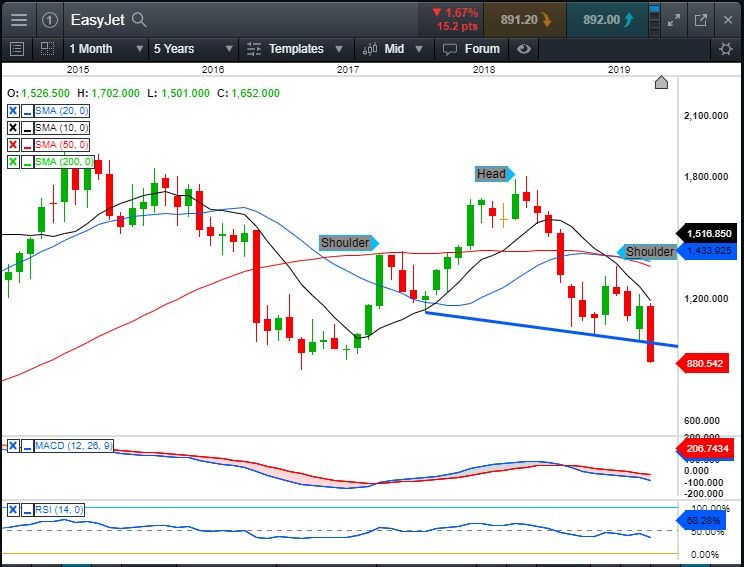 On the weekly chart, we can see that a downtrend has become established with an obvious lower high and lower low.  Also, on this timeframe the MAs are exhibiting a favourable geometry for a down trend and again there is indicator convergence to confirm trend momentum. Price has become a little overextended as it's a fair distance away from the MAs, suggesting that it may be due for a pullback.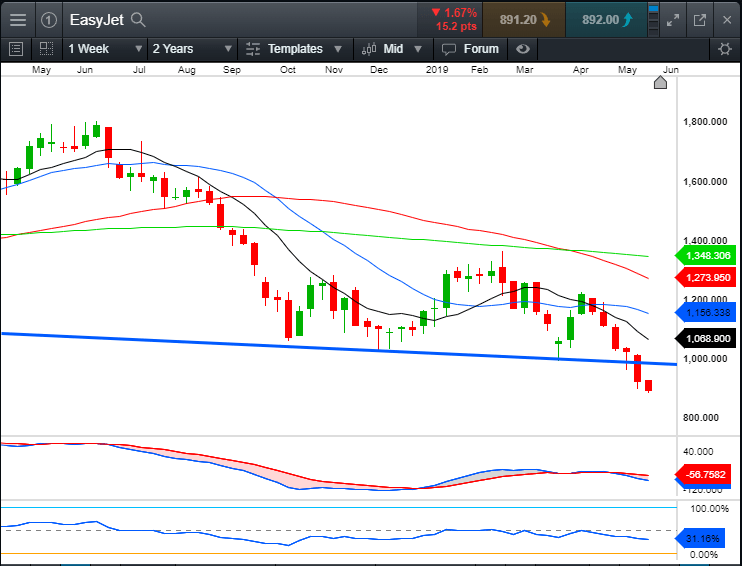 Moving our analysis down to the daily chart we can see that price is down trending and exhibiting the classic behaviour of moving down, pulling back to the zone around the 10 & 20 period MAs, before taking the next leg down. The MAs are all fanning downwards and there is convergence with the indicators.
As on the weekly chart, price is a little over-extended from the MAs, suggesting that it could be due for a pullback, which could present a potential trading opportunity. A possible level to retrace to would be in the zone between the 10 & 20 MAs, where we also have the neckline from the head and shoulder pattern as indicated by the blue sloping trend line marked below.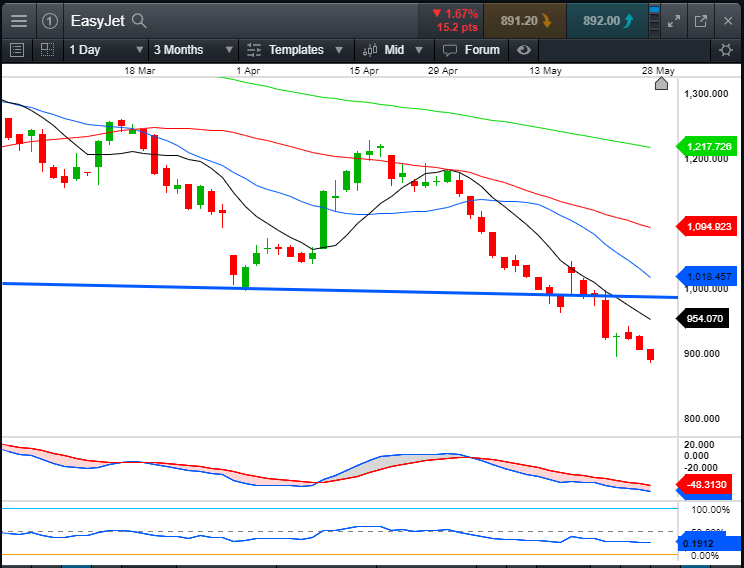 Applying a Fibonacci retracement study on the daily chart, we can see that the H&S neckline coincides with a 61.8% fib level plus the large 1,000 number just above. This adds additional weight and suggests we could anticipate a bearish reaction at this level.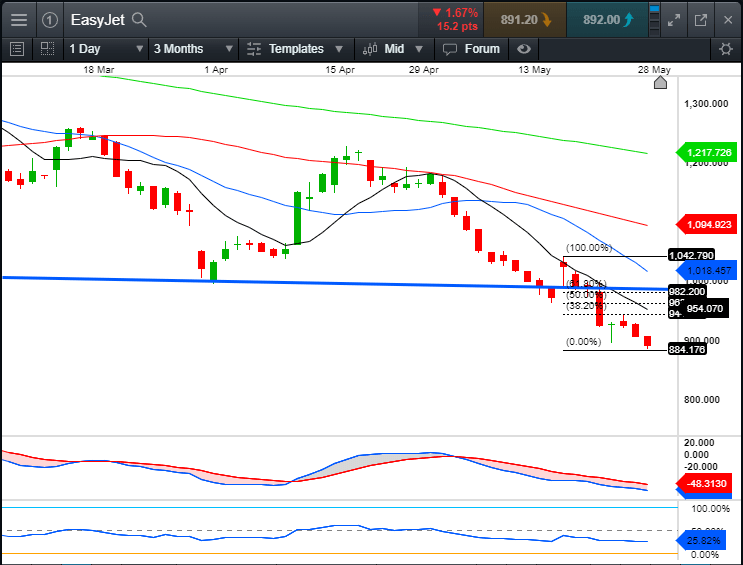 This configuration, in conjunction with the bearish outlook on the higher timeframes puts EasyJet on my watchlist as a potential short swing trade opportunity.
I will be looking for a pull back to the neckline/61.8% fib level which could be a trigger for the next move to the down side.