US SPX 500 resistance held neatly last night. What happens form here might tell us something about how far this stock market rally has to go
SPX 500 resistance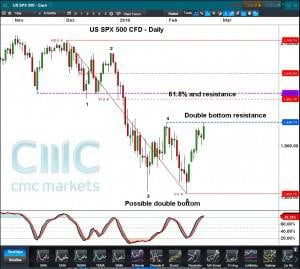 US SPX 500 CFD Daily
Click to Enlarge
Research by Thomas Bulkowski in his "Encyclopedia of Chart Patterns",reveals that until a double bottom pattern resistance is broken, there is actually more chance of new lows than a push to new highs.
If the SPX fails at this double bottom resistance, we will be left with a rectangle pattern. That could see a partial pull back into the pattern. More bearishly, it also creates the possibility of a move back to the rectangle support and the threat of a break to new lows.
The bullish alternative is a clear break through the resistance. That would  also confirm the Elliot 5 wave pattern I've put on the chart. With that finished, we might be in for a larger rally.
The first big hurdle for the bullish scenario could be the resistance around 2000. This is formed by the November and December lows. The 61.8% Fibonacci retracement is also at this level, making it one to watch. This resistance is not far away, only 2.5 % above the double top pattern.
If this first hurdle can be cleared, SPX will be back up into the range of its Santa Rally.  That could bring the double bottom target into play. A double bottom target projects the height of the pattern from its resistance line and cuts in around 2090.
Valuations
The recent rally has seen the forward price earnings ratio of the S&P 500 recover from 15.25 to 16.2 times earnings. I suspect this is partly about the current profit season. Earnings are down 6.5% due to weaker results from oil, mining and tech stocks. However, they are not as bad as many expected. Around 70% of companies have so far beaten consensus earnings according to Bloomberg.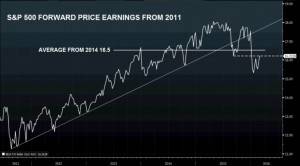 S&P 500 Forward PE
Source: Bloomberg
That said, makets do have a lot to worry about at the moment. The list includes:
Fed rate hikes
Low economic growth
China and a lower for longer commodities scenario
Credit market concerns arising from lower commodity prices
Brexit and the situation in Europe
The US Presidential election. As far as I can see all of the major candidates have economic policies that will worry markets in one way or another.
Things on this list can change quickly (for better or worse). Unless we do see some big changes though, this doesn't feel like a market where investors are about to take a she'll be right attitude and push index valuations right back to really optimistic levels around 17 or 18 time earnings.
Capped rally and ongoing volatility
Right now, with all the risk factors currently in play, failure at the SPX 500 resistance or a relatively minor rally above it followed by ongoing volatility seem more likely than a move to major new highs
That would fit in with PE values failing at the resistance of the dashed line or moving up to around average levels at 16.5 times earnings. This average for the past 2 years is also a resistance line.