Valuations for the US SPX 500 have become pretty rich. This week's earning's reports might need to beat expectations to prevent the index being sold. Apple reports tomorrow and will be one of the key drivers of market sentiment.
US SPX 500 valuations
The S&P 500 index closed yesterday at 17.8 times forward earnings. That's pretty close to last year's peak at 18.1 . It's also well above the 17 average since the beginning of last year. Chart followers will be concerned that the PE chart has run up under the potential resistance of the old support line.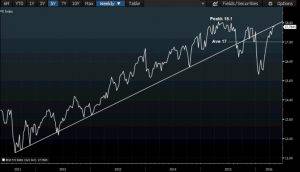 S&P 500 Forward PE
Source: Bloomberg
The market still has plenty of medium term worries on its plate. These include the likelihood of higher US interest rates, low world growth; the medium term outlook  China and sustainability of the recent commodity rally.
For a bullish scenario to develop from here the reporting season might need to produce a solid beat. That would not only boost confidence but allow the index itself to move higher without  Price:Earnings multiples needing to push much higher. If we are going to see the index itself test or move through the past highs, improved earnings forecasts,not higher PE multiples look the most likely reason.
If not, another sell-off and continued volatile range trading looks a likely alternative. The slow stochastic is up in the oversold zone as it was at the last 2 major peaks (see box below the chart). This suggests the market is vulnerable to a volatile sell- off.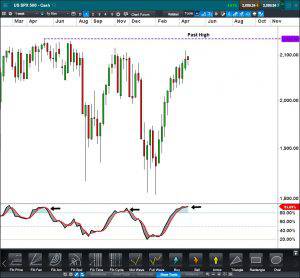 US SPX 500 CFD Weekly
Click to Enlarge
Apple Earnings Expectations
The market heads into Apple's report with bearish expectations. Earnings per share and revenue are expected to be down around 7-8% compared to the March quarter last year. EPS is expected to be $2 per share and revenue to be about $52bn.
The key concern for markets are expected soft IPhone sales. In developed economies, the mobile market has become a mature; "replacement only" market. In emerging economies, Apple is meeting stiff competition from cheaper phones
Apple Chart
Apple's price is going to be driven by what its earnings turn out to be. However, in terms of chart dynamics it looks to be in the opposite situation to the overall index. This is potentially a positive for market . Apple is  oversold on the daily chart and has arrived at the top end of a potential support zone. This is made up of the 38.2% Fibonacci retracement; the double top target which projects the height of the double top pattern from it's support; and the early March peak
All that implies that if Apple's results come in as expected or a little better, it could have quite a significant relief rally.
Trading on only 11.6 times earnings there is scope for the valuation to be increased if the market has less reason than expected to be nervous about IPhone sales