From Hao Sun, at Trade with Precision: One of the key skills to master as a technical trader is how to read price trends correctly.
This skill becomes an art when it comes to analysing the higher timeframes such as the daily, weekly and monthly charts. The core focus of analysing trends is to seek out market momentum. The idea is if we can identify the start of a new up/down trend, the potential risk: reward is then at its greatest. Today, I would like to illustrate this idea using silver to find out who is currently controlling this precious metal; the bears? Or are the bulls muscling their way back into the frame?
The 14.50 level plays a major role on the silver monthly chart below. It has been a major support/resistance level since 2006 and price has reacted off this level ever since; and most recently in 2014 and 2015.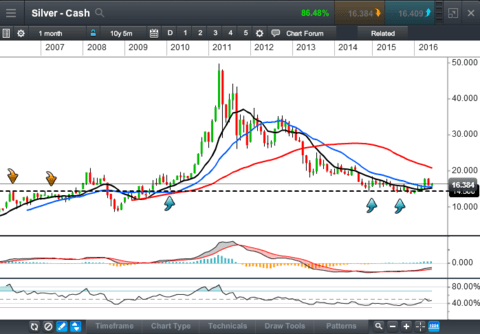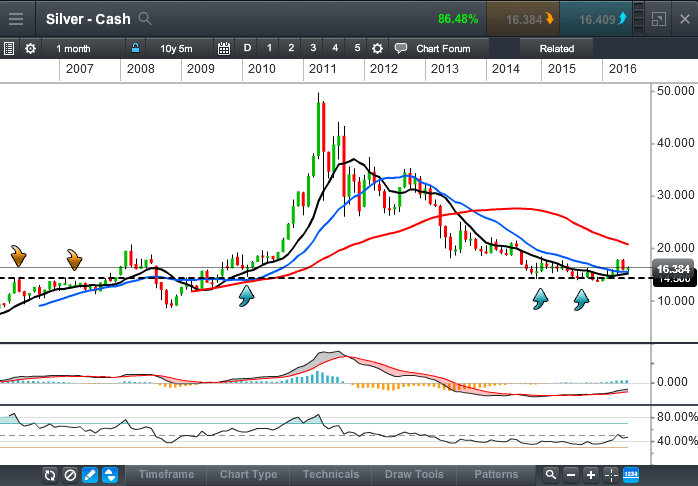 Zooming in to the most recent monthly price action on the chart below, a false breakout below 14.50 happened in November/December last year with a quick recovery above support in January, February and March. April marked a significant advance to the upside with buyers really stepping in at this point.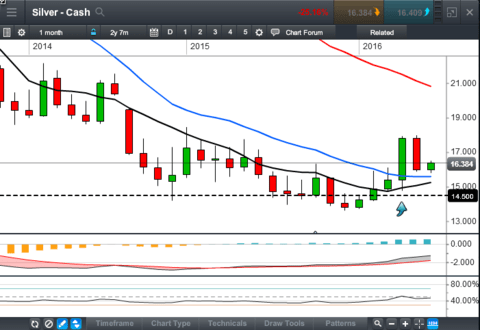 The trend on the weekly chart (below) has now reversed into an uptrend with the bullish advance breaking another psychological level of 16.00. Price pulled back into the 16.00 level in May and was supported by a cluster of technical factors such as a Fibonacci retracement level as well as the previous resistance now acting as support. Last week's candlestick formed in the moving average buy zone (the zone between the 10 and 20 period moving averages) with price this week pushing higher and breaching last week's high. This is significant as it could signal that the next push higher is imminent and mean that the bears are about to lose their 5 yearlong battle to the bulls.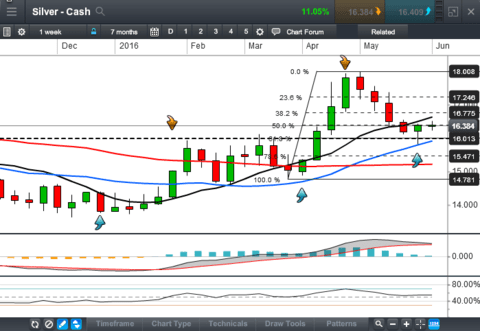 How do I plan to capitalising on this potential big move? Drilling down to the 4-hour chart, a flat level has formed at 16.56 with three touches already. If price approaches 16.56 on the 4th attempt and consolidates below it with small candles, then a potential momentum breakout setup may emerge which is one of my main trading strategies.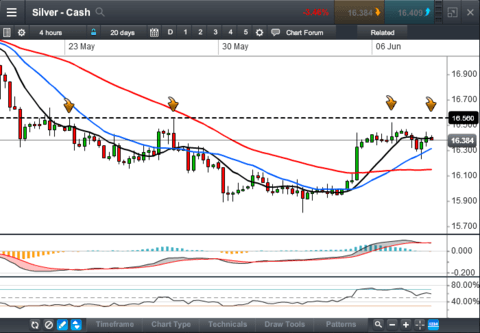 There is a good chance of this setting up, in which case the potential targets would be the old high on the weekly chart at 18.00 and the 20.00 psychological level. If I can find a good entry with tight stop on the 4-hour chart, this could offer me a great risk: reward trade setup and allow me to catch the first major push in the bullish onslaught.